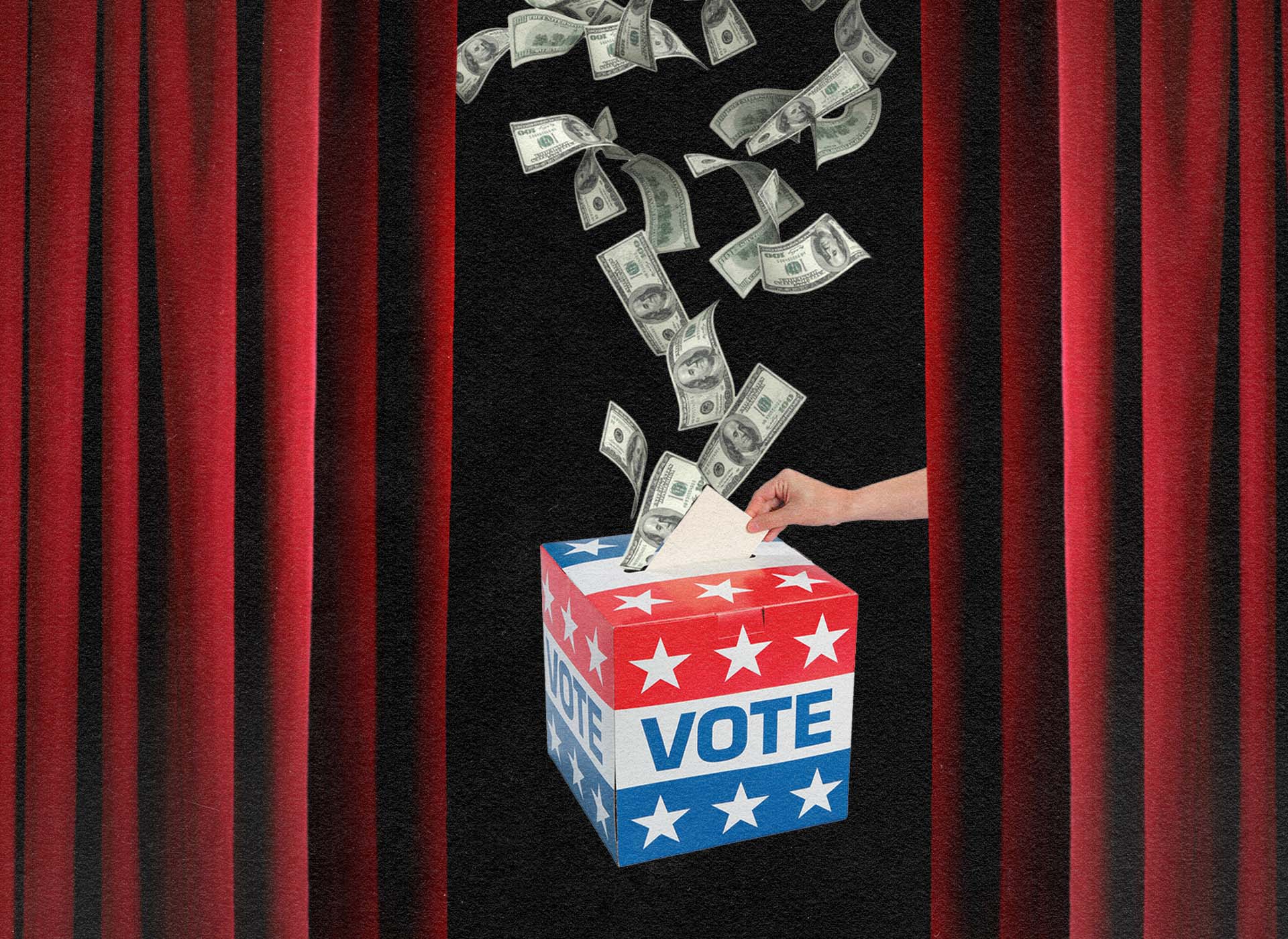 Who Spent What in the GOP TN-5 Primary Election
A quick glance at how Republican candidates spent money during the 5th district primary race.
The Tennessee 5th district U.S. Congressional Republican primary race was unlike any race we've ever seen. The array of candidates offered an interesting perspective on the state of the Republican party in Tennessee. From established candidates, to write-ins, to fresh-faced civilian politicians, there is a lot to glean from the race now that the dust is settled. Let's take a look at how the top performing candidates secured your vote with their own treasury.
CAMPAIGN MONEY SPENT
We now know the outcome of the race, but how much money did each candidate spend for each vote cast in their favor? Candidates had to make their last campaign finance report by July 15th.
Using that data, here's a visual of how much a vote cost each candidate accounting only for expenditures from their own treasury: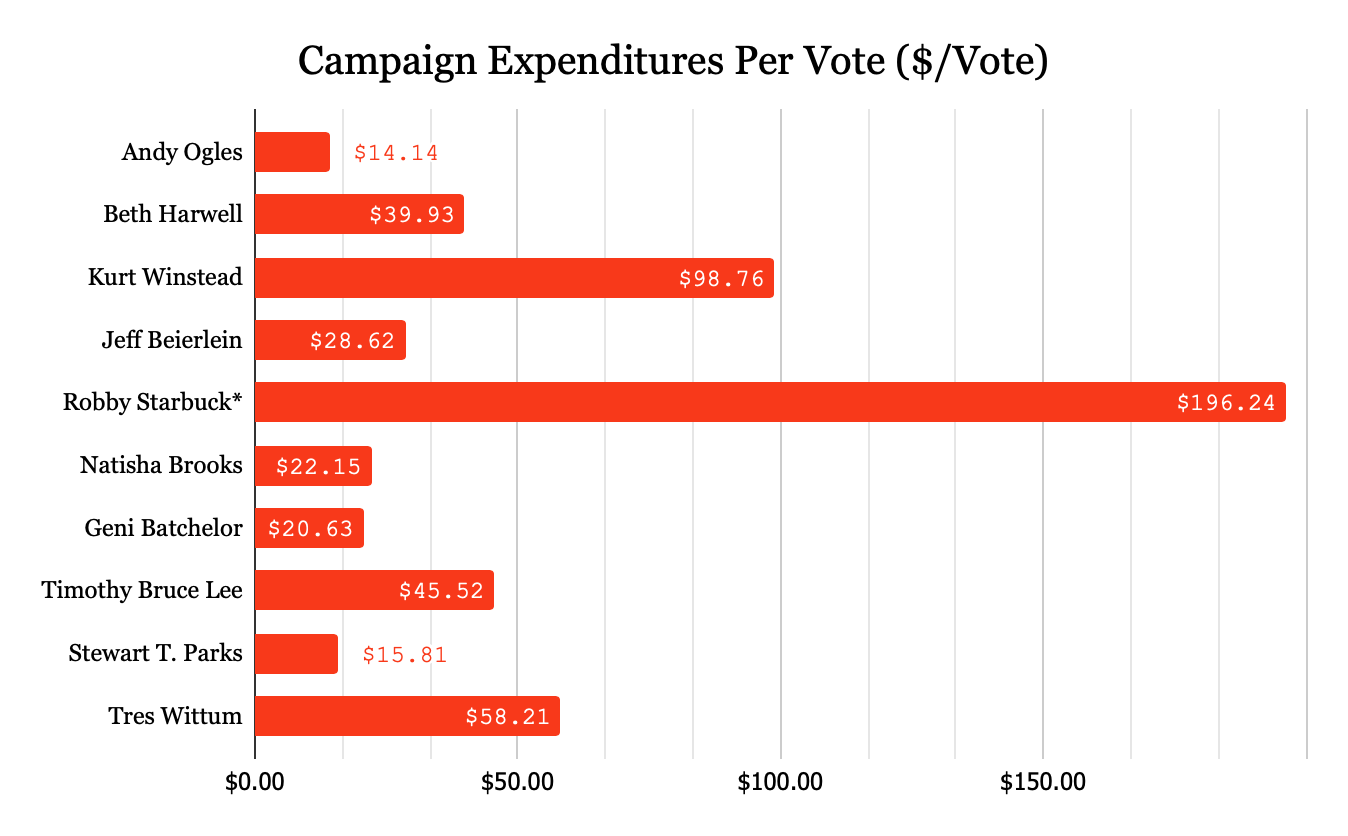 Now, just one graph doesn't tell the whole story. This information is exclusively focused on how efficiently candidates managed their own campaign treasury. PACs coordinating endorsements and attack ads also play a crucial role in influencing voters. Before we shed light on those influences, let's take a look at how candidates spent their own money and where contributions came from.
WHOSE MONEY WAS IT?
Though this is a Tennessee race, campaign contributions can give a clearer picture of who had vested interests in each candidate. Tennesseans don't tend to be shy about putting their money where their mouth is, but who were they backing?
Taking a look at individual contributions, long-established and well-known Tennesseans running as Republican politicians had clear favor. Not only did they secure the most votes, but they also secured the highest percentage of individual campaign contributions from Tennesseans:
Andy Ogles (primary winner, 21,298 votes)  = 83% contributions from TN ($215,019)
Beth Harwell (1st runner-up, 14,998 votes) = 72% contributions from TN ($648,251)
Kurt Winstead (2nd runner-up, 12,709 votes) = 93% contributions from TN ($891,250)
Coming in as the third runner-up on the ballot, Jeff Beierlein secured 4,086 votes with 40% of his individual campaign contributions coming from Tennesseans. Beierlein was essentially unknown until the campaign season, but the story is slightly different for fourth runner-up Robby Starbuck.
Starbuck initiated his campaign well before the new Tennessee district lines were even drawn. Though Starbuck had to run as a write-in after getting booted from the ballot, his established local support ended up securing him 2,092 votes. While $136,377.79 of his individual campaign contributions came from out-of-state, 59% of his total contributions came from Tennesseans.
WHAT WAS THE MONEY SPENT ON?
Now that we've nailed down how much Tennesseans contributed directly to campaigns, let's look at how candidates spent your dime. The numbers show the difference in strategies executed by candidates. The biggest difference was in how much each candidate invested in traditional campaign media (such as radio and television ads) vs. digital media. While all three of the top candidates invested in traditional media, Kurt Winstead took the pot spending around $791K. Winstead was also the top spender for digital media and dropped nearly $112K.
While Andy Ogles did spend money on both traditional and digital media, Beth Harwell's campaign hardly put its focus on digital media according to disclosure information available. Robby Starbuck took the opposite approach and focused his energy almost exclusively online and spent over $40K doing so.
WORTH NOTING
Some of the top performers were anomalies in this race. Jeff Beierlein gained more recognition as he put boots on the ground during his campaign by spending around $82K on media marketing such as television and radio advertising. Robby Starbuck took the Tennessee Republican Party to court and $135K in legal fees are reflected in his campaign finance reports.
Onward to money that didn't come out of Tennessean's pockets.
PAC MONEY IN THE RACE
As you know, PACs have a significant influence when it comes to the mudslinging which defines campaign season. While candidates have power over their own treasury, groups outside the campaign can step in with ads and funding and subtly, nimbly turn the tide of an election. With that in mind, let's take a look at who spent money on the Republican primary for Tennessee's 5th district.
IN SUPPORT OF ANDY OGLES
Total Reported Here $1,256,707.59
OPPOSING ANDY OGLES
The Tennessee Star reported that an attack ad against Andy Ogles was paid for by Tennessee Conservatives PAC. The Star also pointed out that this PAC is both linked to Morgan Ortagus and backed by former Oracle CEO Larry Ellison.
SUPPORTING BETH HARWELL
According to The Tennessee Journal, a PAC called  Government of the People ran ads supporting Beth Harwell and attacking Andy Ogles.
OPPOSING BETH HARWELL
$358,268.38 was spent by the School Freedom Fund, which also spent money supporting Andy Ogles.
OPPOSING KURT WINSTEAD
$358,268.38 spent by the School Freedom Fund (which, again, also spent money supporting Andy Ogles).
We've barely scratched the surface but, you get the picture.