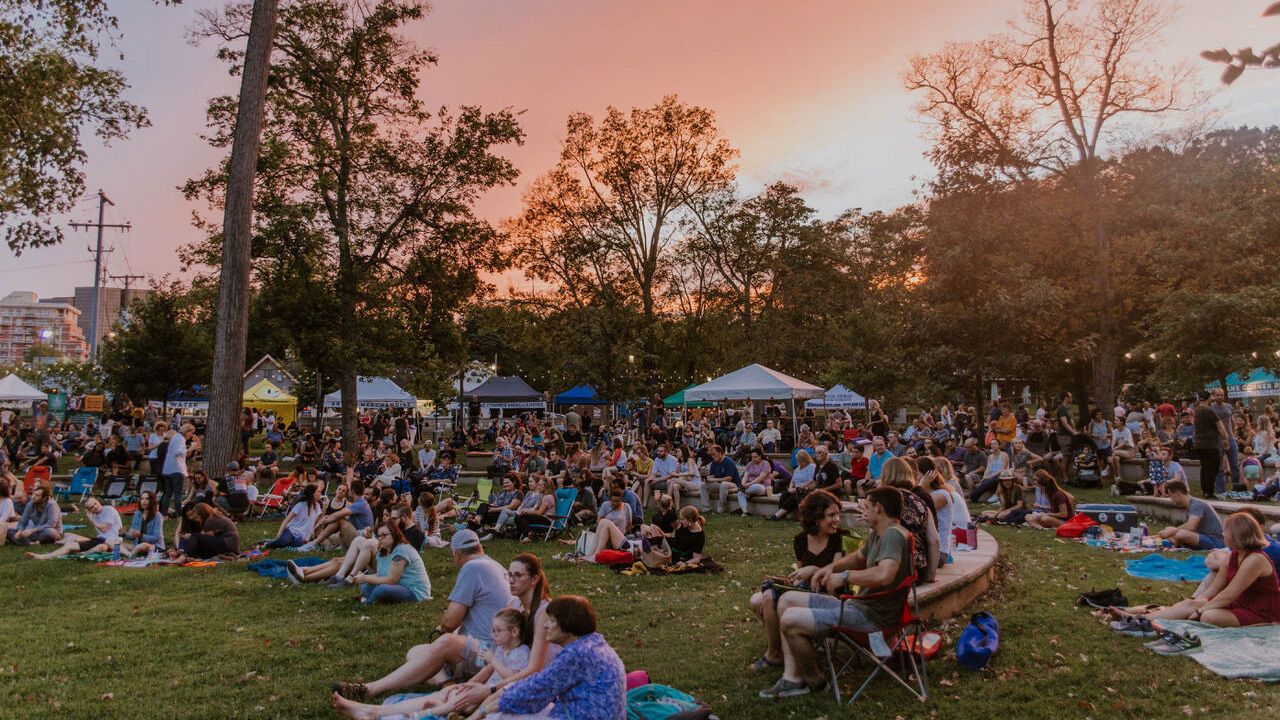 Waltzing into the Weekend
It'll be a hot weekend in Nashville and as live music rolls back around, it's important to remember we live in Music City. So, if you're looking to get out, here are some concerts and other diversions to fill your weekend.
🎶 Musician's Corner returns this weekend with a three-day, free concert series in Centennial Park including a bunch of local artists. The series opens Friday night and will run all-day Saturday and Sunday. It's a very easy thing to dip in and out of at your leisure, Info
Friday, 6.11
🏎 7th Annual Spring Red Neck Rumble in Lebanon, TN, Info, All-day
    + Hot Rods, customs, rat rods, motorcycles—some of the best builders from across the US! Tennessee's biggest swap meet, artists and pinstripers, vintage campers and more!
🎸 The Wood Brothers @ The Caverns Above Ground, Tickets, 7p
    + 1.5 hour drive near Monteagle, but the Wood Brothers are fantastic
⚾️ Nashville Sounds vs. Indianapolis Indians, Tickets, 7p
🎸 Lauren Morrow @ The Basement East, Tickets, 8p
    + Classic country with a South Georgia drawl
Saturday, 6.1
🐴 World's Toughest Rodeo @ Bridgestone Arena, Tickets, 1p & 8p
    + Promotional video for the event, Watch
    + Buckin' Broncos, Bull Rides, Barrel Racers, Rodeo Clowns, etc.
🪕 Cornelia Fort Pickin' Party @ Shelby Bottoms, Tickets, 7p
    + Acts include Kyle Tuttle and Greenwood Rye
    + Located at the Cornelia Fort airpark in Shelby Bottoms
    + Just what it sounds like. Bluegrass by the river.
🎸 The Wood Brothers @ The Caverns Above Ground, Tickets, 7p
    + 1.5 hour drive near Monteagle, but the Wood Brothers are fantastic
⚾️ Nashville Sounds vs. Indianapolis Indians, Tickets, 7p
🎸 The Long Players Perform The Beatles HELP! @ 3rd & Lindsley, Tickets, 9:30p
Sunday, 6.13
⚾️ Nashville Sounds vs. Indianapolis Indians, Tickets, 2p
⚡️ Lightning 100 Sunday Night w/ Arlo McKinley @ 3rd & Lindsley, Tickets, 8p
    + Downer country, folk, soul blend. Stiff drinks encouraged.
Inflation is here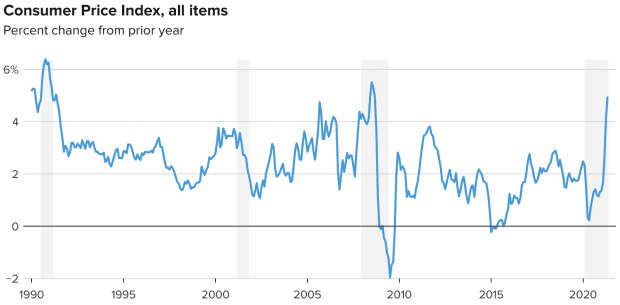 The consumer price index in May increased 5% year over year, higher than the 4.7% increase that was expected, and the highest it's been since 2008. Used car prices rose 7.3% accounting for about 1/3 of the index's rise. Food prices only increased 0.4%. For what it's worth, Chipotle announced a 4% increase in its prices this week in response to its attempt to bring the average wage of all employees up to $15/hour. Adjusted prices like Chipotle's won't get factored into CPI until next month. Inflation is here, and, as we said yesterday, Yellen and Powell, the supposed authorities on the issue, are not reliable source of info on this front. Not to mention, the CPI measurement itself has its own problems and actual inflation is likely higher.
The US government is among the biggest debtors in the world, and inflation is great for debtors. As Thomas Sowell succinctly stated: "Inflation is a quiet but effective way for the government to transfer resources from the people to itself, without raising taxes." Modulating inflation is the basis of running an "infinite deficit" like the US does. Spend away, build up debt, then inflate the pain away to finance more debt. What are the beneficiaries of the infinite US credit line buying? Recently, it's been single family homes at 20-50% above asking price.
Headlines
🔥 Suppressive Fire
The NYT ran a suppressive fire story for the CDC whose strategy as regards COVID-19 has more of a whack-a-mole like feel to it than a reasoned scientific one. The story profiles CDC director Rochelle Walensky whose warning of "impending doom" (her words) two months ago colors the public's perception of her. The CDC recently announced that they will stop counting "breakthrough cases" (e.g., people who get sick after receiving the vaccine) in their case count. Meanwhile, Fauci launched an impassioned, desparate condemnation of those who criticize him saying, "You're really attacking, not only Dr. Anthony Fauci, you are attacking science."
💰 Wealth Tax
ProPublica's "bombshell" story detailing how little income tax billionaires like Bezos, Musk, and Buffet pay (hint: unrealized gains cannot be taxed 🤯) has become the locus of conspiratorial speculation. Who released the information? As Tyler Cowen notes, to compile these documents, a single person cannot simply press CTRL+F and type in "Bezos." The endeavor requires a high level of sophistication. The real story is not that assets cannot be taxed before they are sold, it is how the information was obtained and for what ends. In light of the Biden admin's flirtations with a wealth tax, it makes you wonder...
🛢 Keystone Closed
Keystone XL Oil Project abandoned by developer. This was expected after the Biden administration revoked a key permit for the pipeline on his first day in office. Meanwhile, the Biden administration, who halted the dispersal of new drilling permits on Federal lands, lifted sanctions on more than a dozen former Iranian officials and energy companies yesterday.
New this week
In case you missed it:
Nashville Politics
Nashville Development
Churches Around the World
⛪️ A compilation of the most beautiful churches around the world (Look)
New Ocean Just Dropped
🌊 National Geographic denoted the water surrounding Antarctica as the Southern Ocean in a recent announcement (Read)
Have a Great Weekend!