No. 267: Wearing Forbidden Symbols to the Country Fair
⁂ Nashville's Alt-Daily ⁂ Flags · Starbuck · Tract · Housing · Dream Machine · Budgets · Much More!
Good morning, everyone.
CMA Fest is next week, but it's not the lineup that's made the news recently. It's the festival's decision to ban attendees from displaying Confederate imagery that's adorned the headlines. The policy is explicitly laid out in the "Prohibited Items & Activities" section of the FAQ portion of the website alongside things like bikes, fireworks, outside alcohol, and laser pointers.
Curiously absent is any mention of National Socialist, Communist, or pertinent to today, Russian insignia. Presumably, there's some higher shared moral code that would prevent such symbols from appearing in as civilized a locale as the CMA Fest, right?
That said, none of the above are explicitly prohibited, so you won't be turned away if you show up with a swastika on your hat.
Onward.
Today, we look at Robby Starbuck's second attempt to get back on the GOP primary ballot, assess home prices in Nashville, look at a fresh new album from Dream Machine, and look at who's living paycheck to paycheck.
You can follow us on Twitter (@realpamphleteer), LinkedIn (@realpamphleteer), or Instagram (@realpamphleteer) for additional content.
Also, be sure to check out our podcast. New episodes every Monday. Available wherever you get your podcasts.
Thanks for reading.
♬ WEEKEND PLAYLIST ♬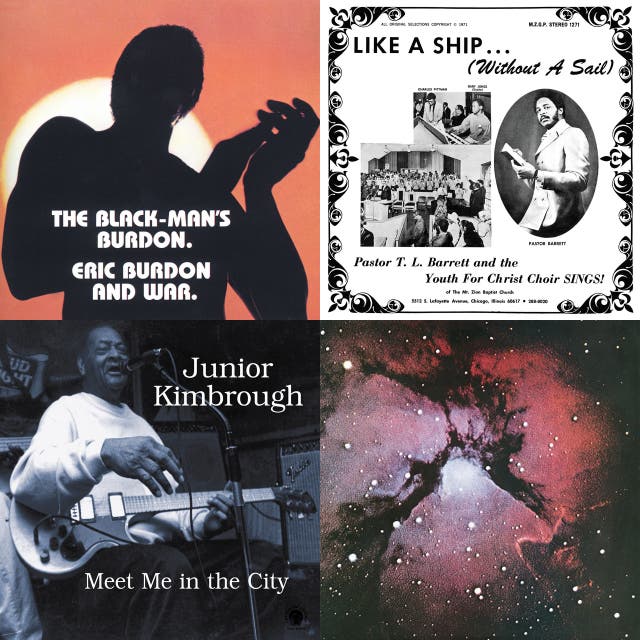 ✱ STARBUCK HAS HIS SECOND DAY IN COURT
Yesterday, Davidson Chancery Court Judge Russell Perkins heard the arguments regarding disqualified 5th district US Congressional Republican candidate Robby Starbuck's case against the Tennessee Republican Party (TRP) and the TRP State Executive Committee (SEC). The civil lawsuit filed by Starbuck against the party called for a temporary injunction to void the decisions made during an SEC board meeting where three Republican party candidates (Robby Starbuck included) were disqualified from the 2022 August Republican primary ballot.
The backbone of his case relied heavily upon the notion that the TRP violated its own bylaws. When looking at the actual wording within the TRP's bylaws, it is clear that it didn't. Even if Judge Perkins finds a problem with the lack of transparency during the SEC meeting and grants a temporary injunction to void their decision, it will come at a cost and create an entirely new precedent that will have implications for Freedom of Association rights. It also doesn't guarantee that the State Election Commission (who prepares the ballots for the primary election) will violate its own protocol and reinstate Robby Starbuck to the ballot in time for the August primary election, regardless of such a ruling. What seems more likely to come from this lawsuit is Tennessee Republican Party infighting regarding protocol, power, and hierarchy within the local ranks.
We lay all out the details of yesterday's hearing in much greater detail on the website.
⤴ IN THE NEWS: NASHVILLE HOUSING PRICES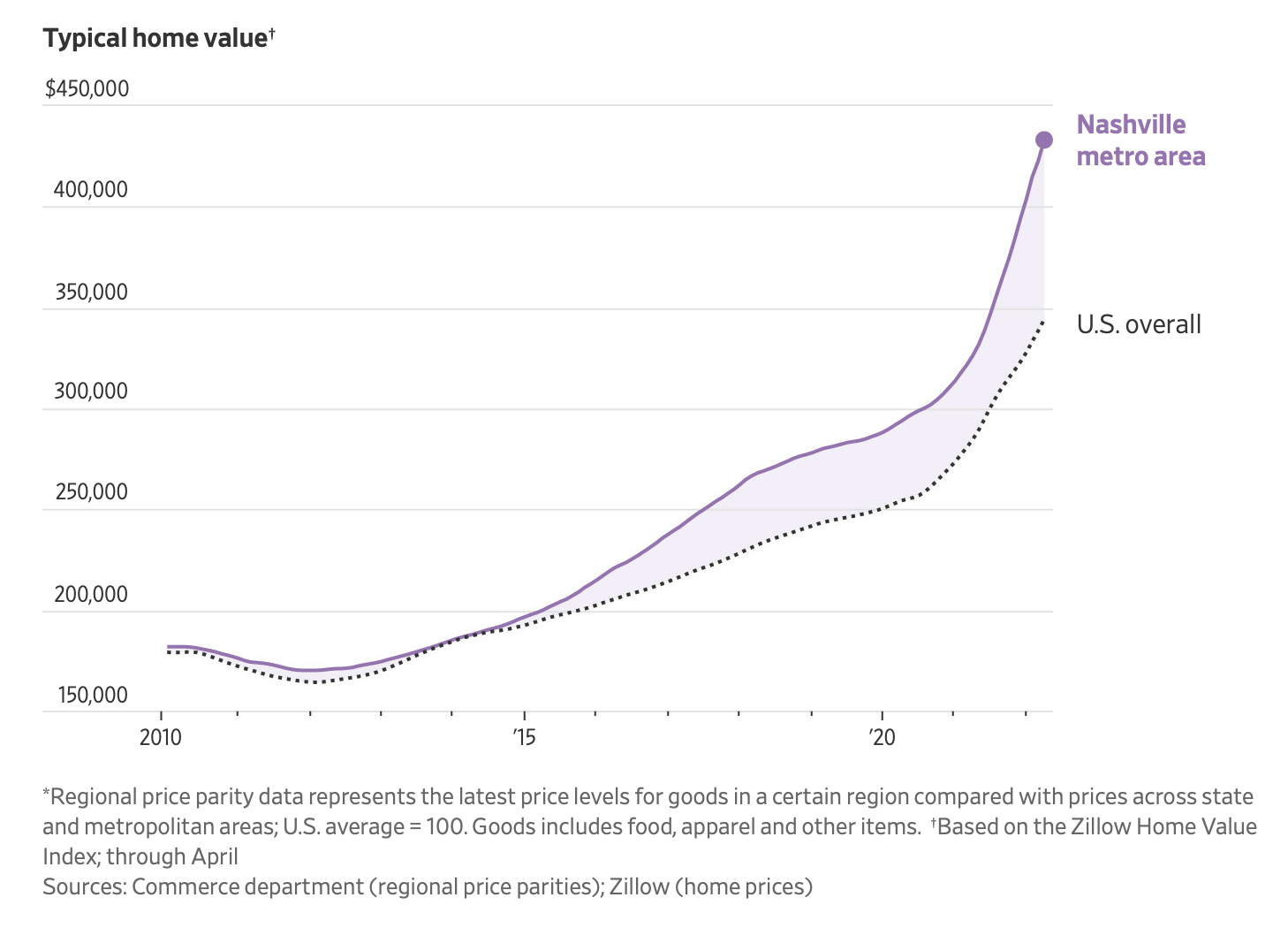 Housing prices in Nashville have more than doubled over the past 10 years, partly because of a population boom that has brought nearly 400,000 new residents to the metropolitan area. That has pushed some locals farther away from the city center, adding hours to their weekly commutes. Meager public-transit options mean soaring fuel prices are hitting them especially hard.
Source:
Housing, Child Care, Utilities—Nashville Faces Exceptional Inflation Hit From All Sides
WSJ, 1 June 2022, Read Online
☗ TRACT HOUSING IN DRAG ☗
Our semi-regular segment admiring Nashville's latest architectural achievements (More Info)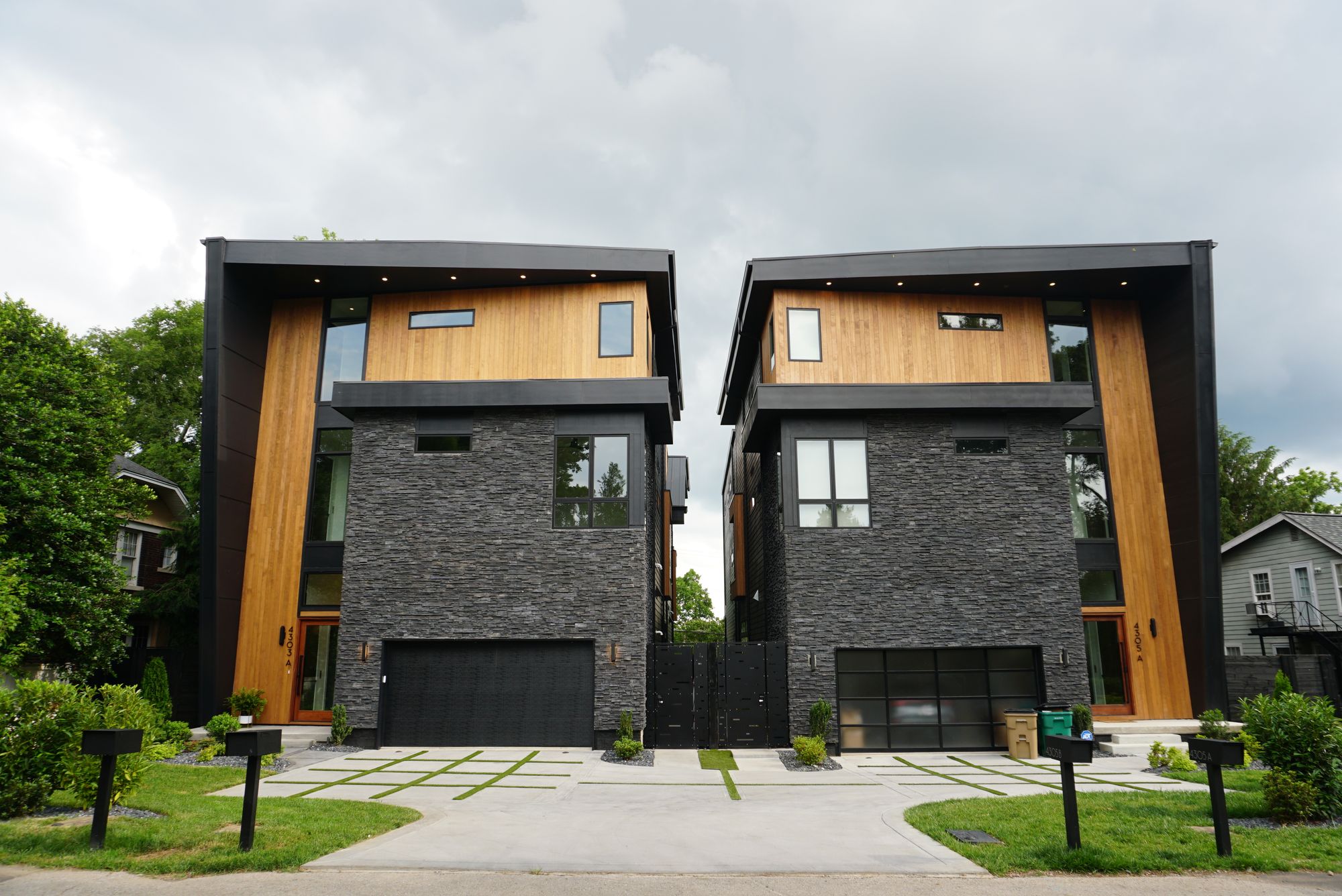 HEADLINES
POLITICS
DEVELOPMENT

⍉ [Album Review] Dream Machine:  Living the Dream
In a world where self-censorship has run rampant and many are afraid to speak freely, we have at least one reason to remain hopeful for the future — Dream Machine is back. Their highly anticipated 3rd studio album Living the Dream is out today (June 3, 2022) on Fuzz City Records. You can listen to the album on Bandcamp and Spotify.
Living the Dream is a groovy departure from the slightly heavier, darker sounds of their last album. This time, they offer up an inspiring dream-themed journey punctuated with epic guitar and synth solos. The husband and wife duo Matthew and Doris Melton are joined by Billy Odyssey on drums.
Their penchant for vintage analog instruments and recording is displayed at full force, as well as their shared admiration for the musical stylings of the 70s and 80s. Dream Machine is building on the classics with their most confident and polished work to date.
Matthew and Doris are fostering positive change with their fearless commentary and thought provoking music, invoking many of the greats that came before them. They have gone hard in the paint, as it were, in support of free speech — bringing them notoriety, especially in spaces where music fans still appreciate freedom of expression in the arts.  

Not long ago, in 2017, the husband and wife duo were abruptly dropped from their record label and denounced publicly for crimes including suggesting female musicians should be proficient at their instruments or that illegal immigrants with a criminal record should be deported. Instead of cowering they instead fought back, shifting to self-release on Matthew's record label Fuzz City Records and continuing to build upon their adoring fanbase with their excellent YouTube channel.
Continue reading...
⬇ GRAPH OF THE DAY: EVEN THE RICH ARE POOR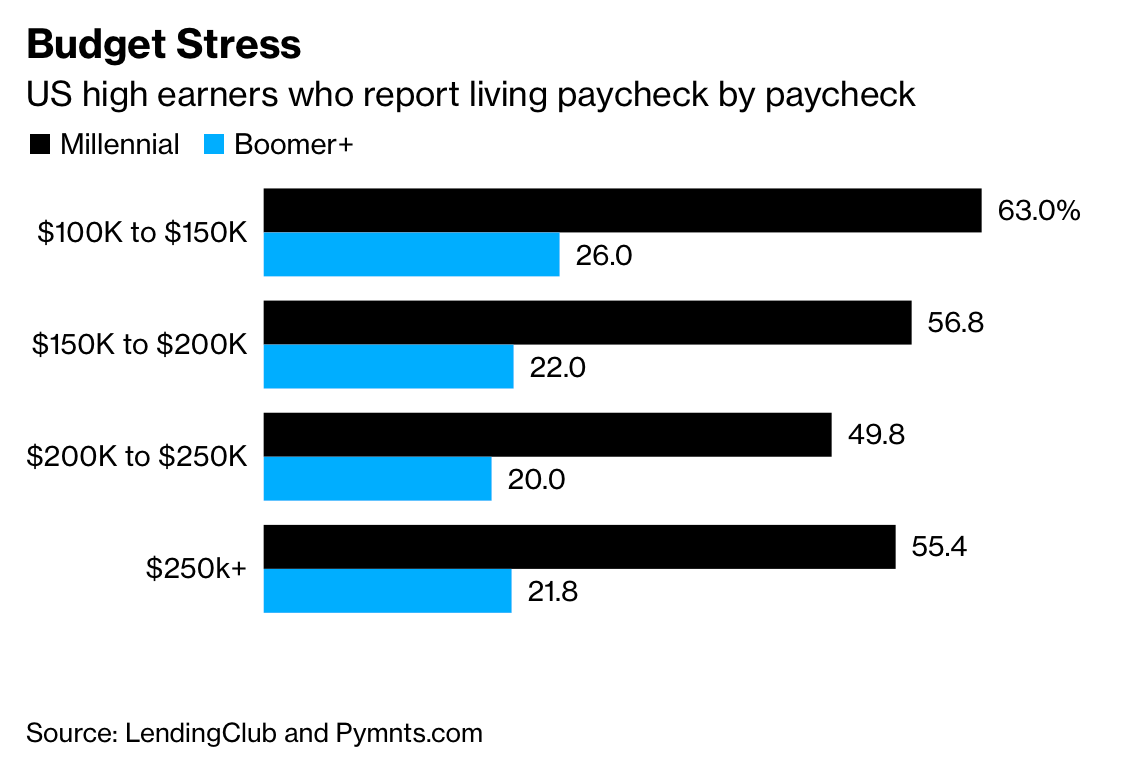 ⚔ MISSIVES ⚔

THINGS TO DO
View our full event calendar here.
🍺 The Pamphleteer hosts Bar Hours on the last Thursday of every month at Lucky's 3 Star Bar from 6-8 PM. The first ten guests get drinks on the company tab.
🎪 Check out our favorite driving distance festivals this summer. Chattanooga's Riverbend Festival is June 3-5.
👨🏻‍🌾 The Pamphleteer farmer's market guide.
👂 Listen to The Pamphleteer's Picks, a playlist of the bands featured in this week's calendar.
TONIGHT
🎻 The Cowpokes @ Acme Feed & Seed, 12p, Free, Info
🎙 Musicians Corner @ Centennial Park, 5p, Free, Info
+ Look out for Karina Daza and Pepper Said
🍀 Live Irish Music @ McNamara's Irish Pub, 6p, Free, Info
🎸 Kelly's Heroes @ Robert's Western World, 6:30p, Free, Info
🐅 Brew at the Zoo @ Nashville Zoo, 7:30p, $95, Info
👁 Beethoven's 9th @ Schermerhorn, 8p, $25+, Info
TOMORROW
🏎 Cars and Coffee @ Nashville Superspeedway, 8a, Free, Info
🎙 Musicians Corner @ Centennial Park, 12p, Free, Info‌‌‌‌
🏎 Drag Race @ Music City Raceway, 2p, Free, Info
🏅 Sylvan Park Olympiad @ Park Ave, 2p, $125 (to compete), Info
🛋 Live in the Living Room @ The W, 5p, Free, Info
🍀 Live Irish Music @ McNamara's Irish Pub, 6p, Free, Info
🎸 Kelly's Heroes @ Robert's Western World, 6:30p, Free, Info
💃 Big Band Dance @ Centennial Park, 7:30p, Free, Info
+ Live band and a free lesson
👁 Beethoven's 9th @ Schermerhorn, 8p, $25+, Info
SUNDAY
🎻 Bluegrass Brunch @ Von Elrod's, 10a, Info
👁 Beethoven's 9th @ Schermerhorn, 2p, $25+, Info
🎅🏽  Santa's Ice Cold Pickers @ Santa's Pub, 7p, Free, No Info‌‌
🍳 Big K.R.I.T. @ Brooklyn Bowl, 8p, $25, Info
⚡️ Lightning 100 Nashville Sunday Night @ 3rd & Lindsley, 8p, $15, Info
ON THE RADAR
🚨 Eprom @ Eastside Bowl, (6/25), $25.50, Info
🏎 Nascar Ally 400 @ Nashville Superspeedway, (6/24-26) $11+, Info
🏜 Hiatus Kaiyote @ Marathon Music Works, (8/14), $35+, Info
🐂 Professional Bull Riding @ Bridgestone, (8/19-21), $20+ Info
🐖 Roger Waters @ Bridgestone, (8/27), $39, Info
🎹 Stereolab @ Marathon Music Works, (9/6), $35, Info
🎸 My Morning Jacket (9/23) @ Ascend Amphitheater, 7p, $22.88, Info
🎸 Smashing Pumpkins (10/10) @ Bridgestone Arena, 6:30p, $133+, Info

FROM THE ARCHIVE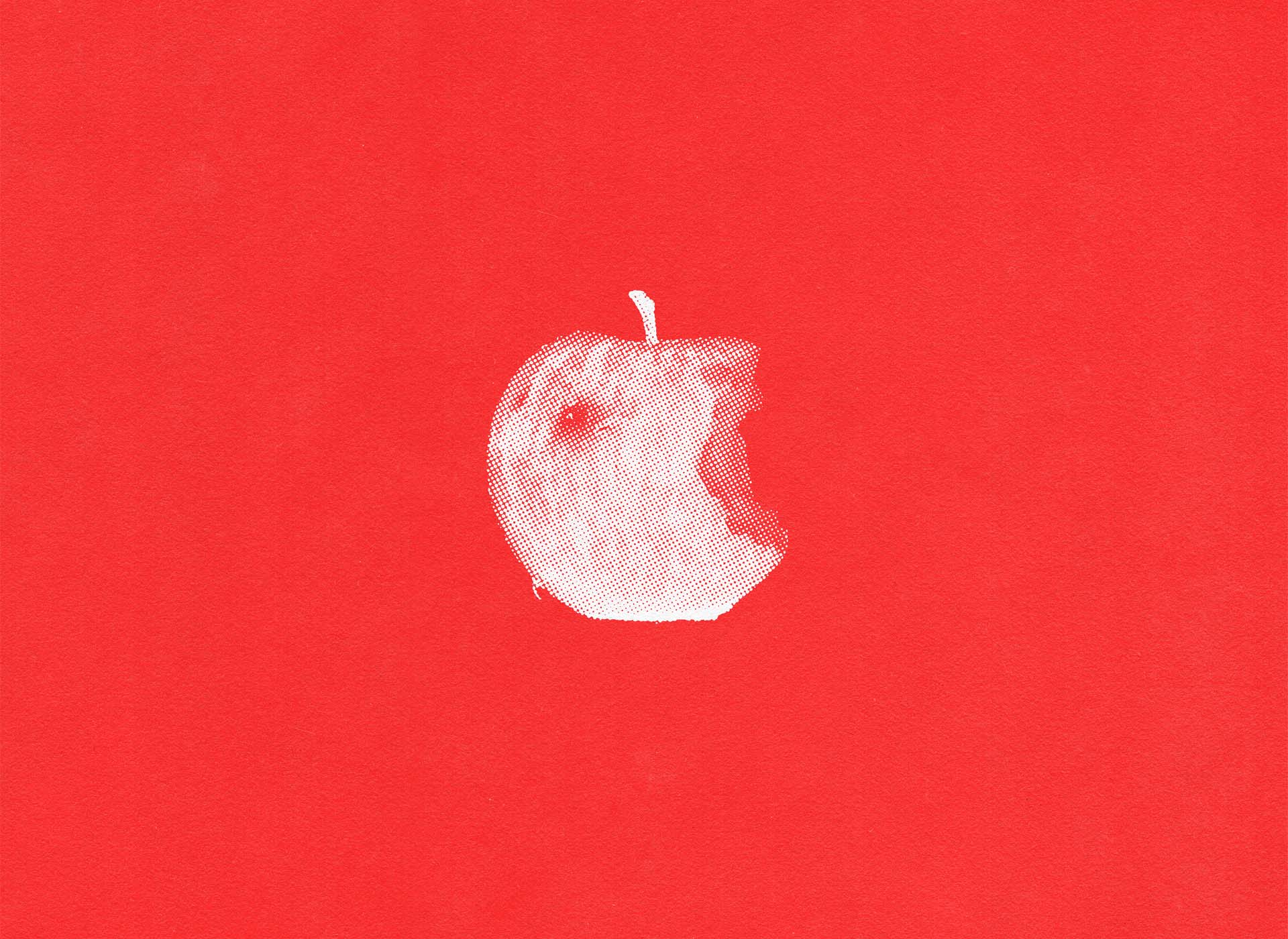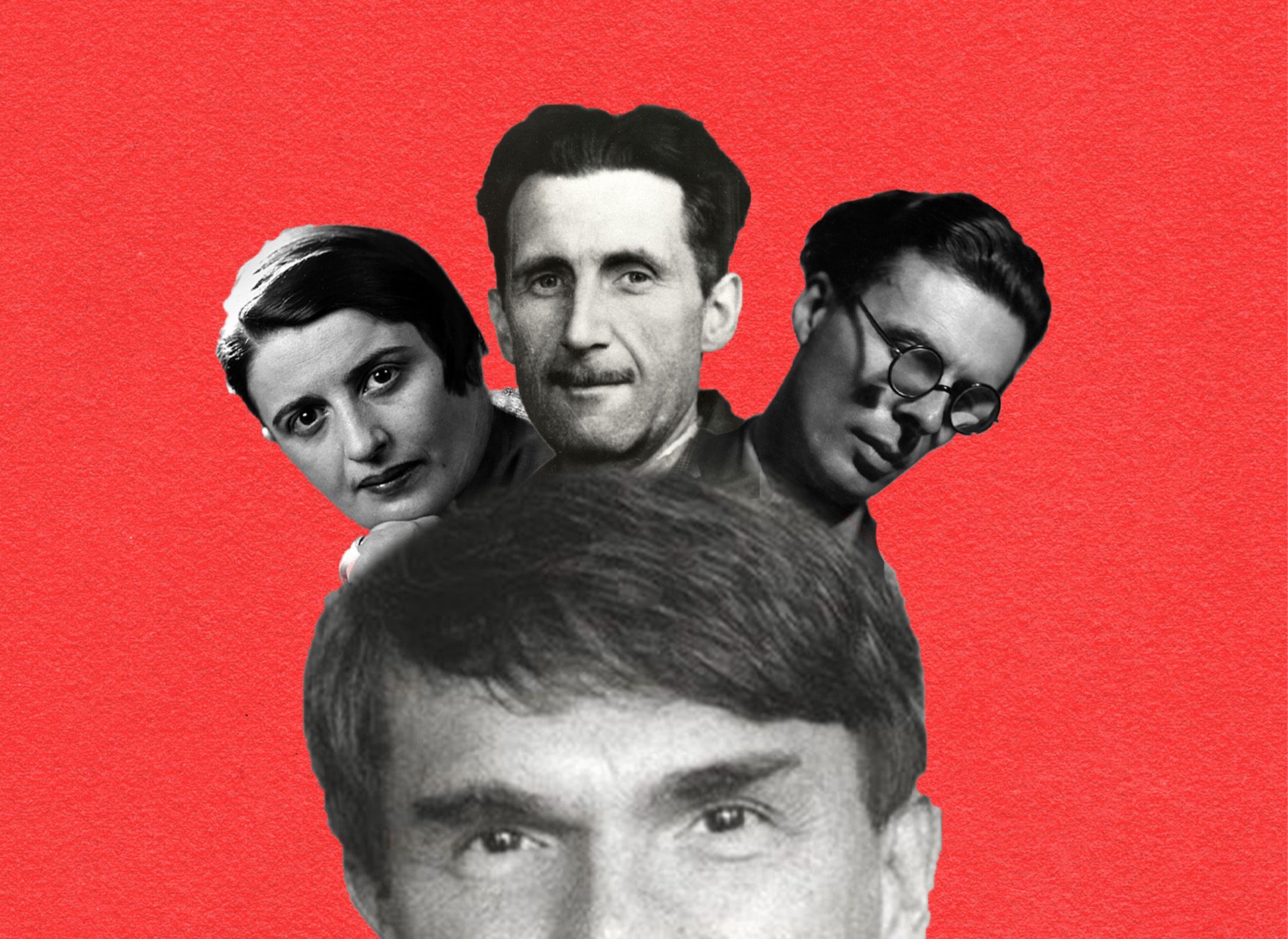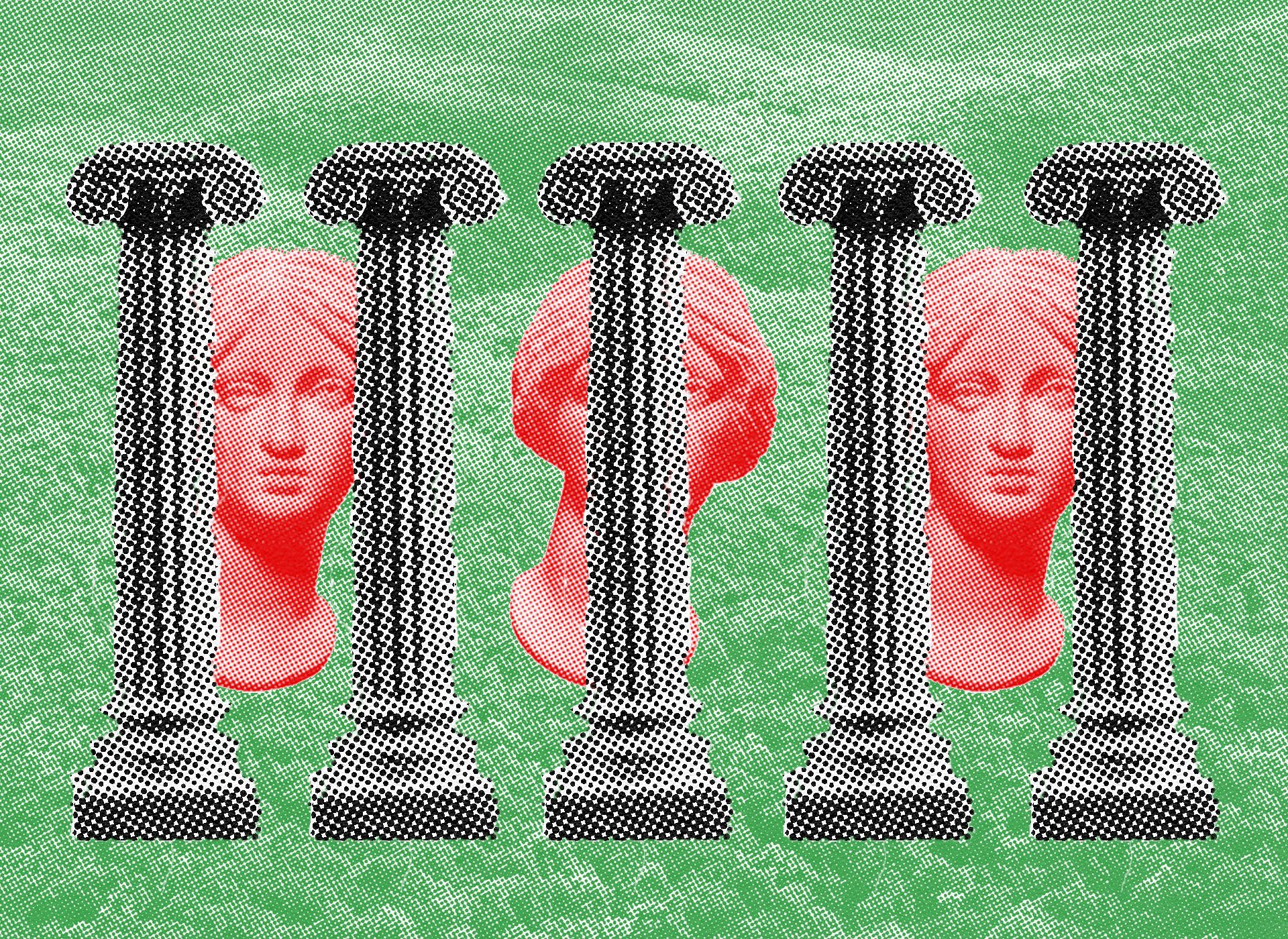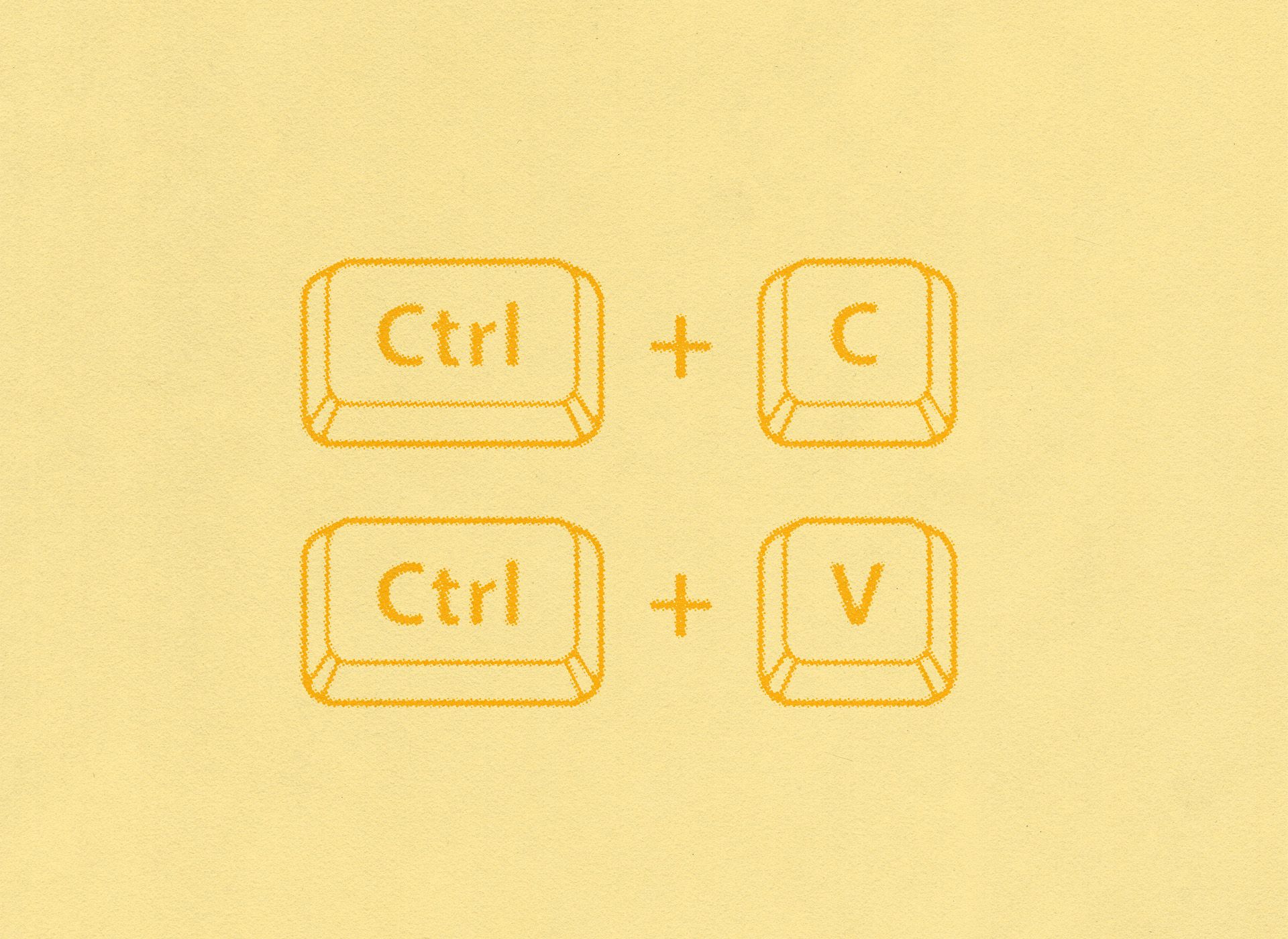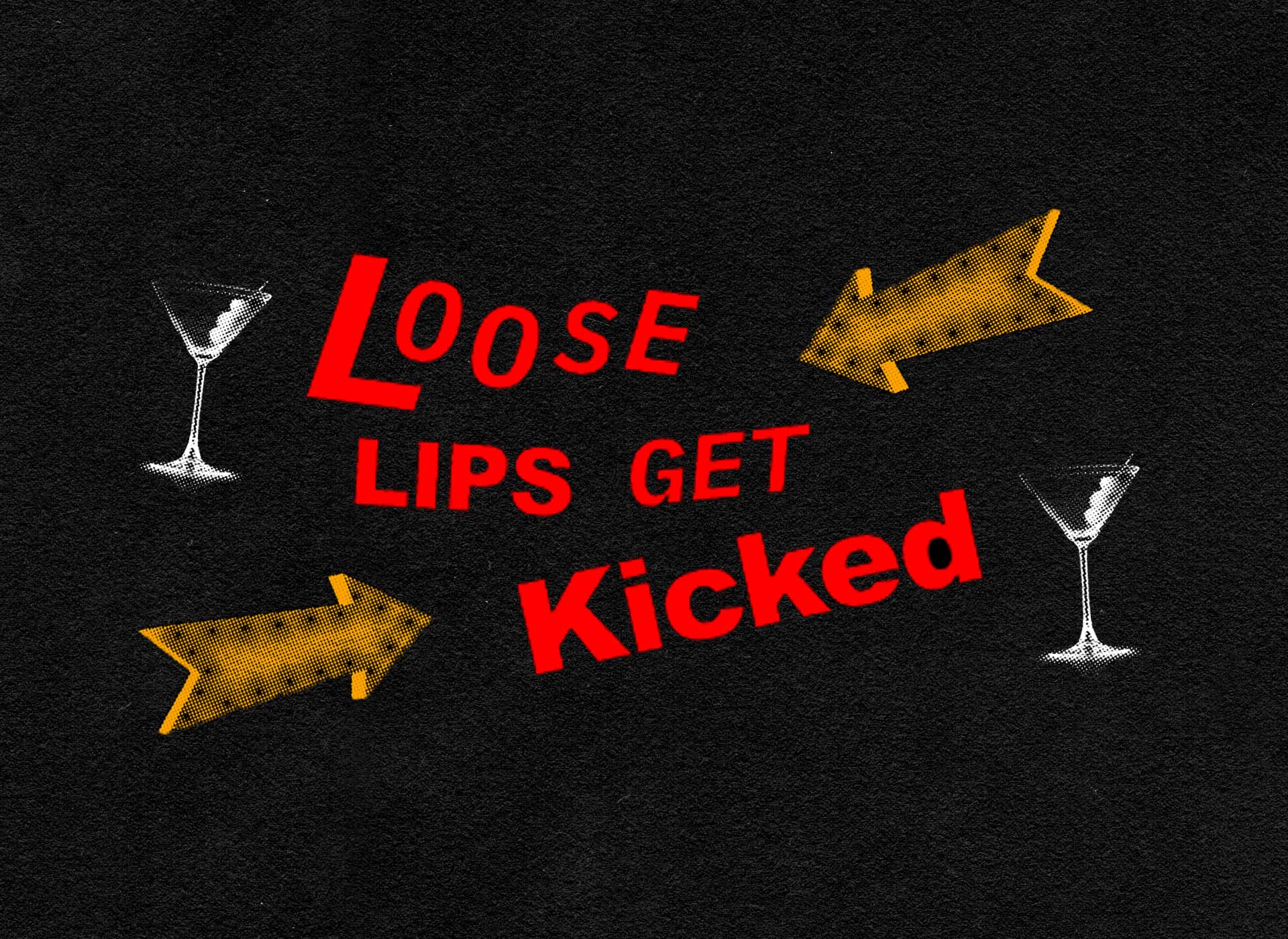 Around the Web
◉ The COVID Cult Did Lasting Damage to Our Kids New 'discoveries' of the harm caused by school closures are as disingenuous and politically motivated as the original policies themselves
➫ Escaping the Botnet: A Practical Guide Ten steps for building a grid of your own
♩ Spotify Podcasters Are Making $18,000 a Month With Nothing But White Noise Some of the audio app's biggest podcast hits are full of soothing static and calming sounds
You May Also Like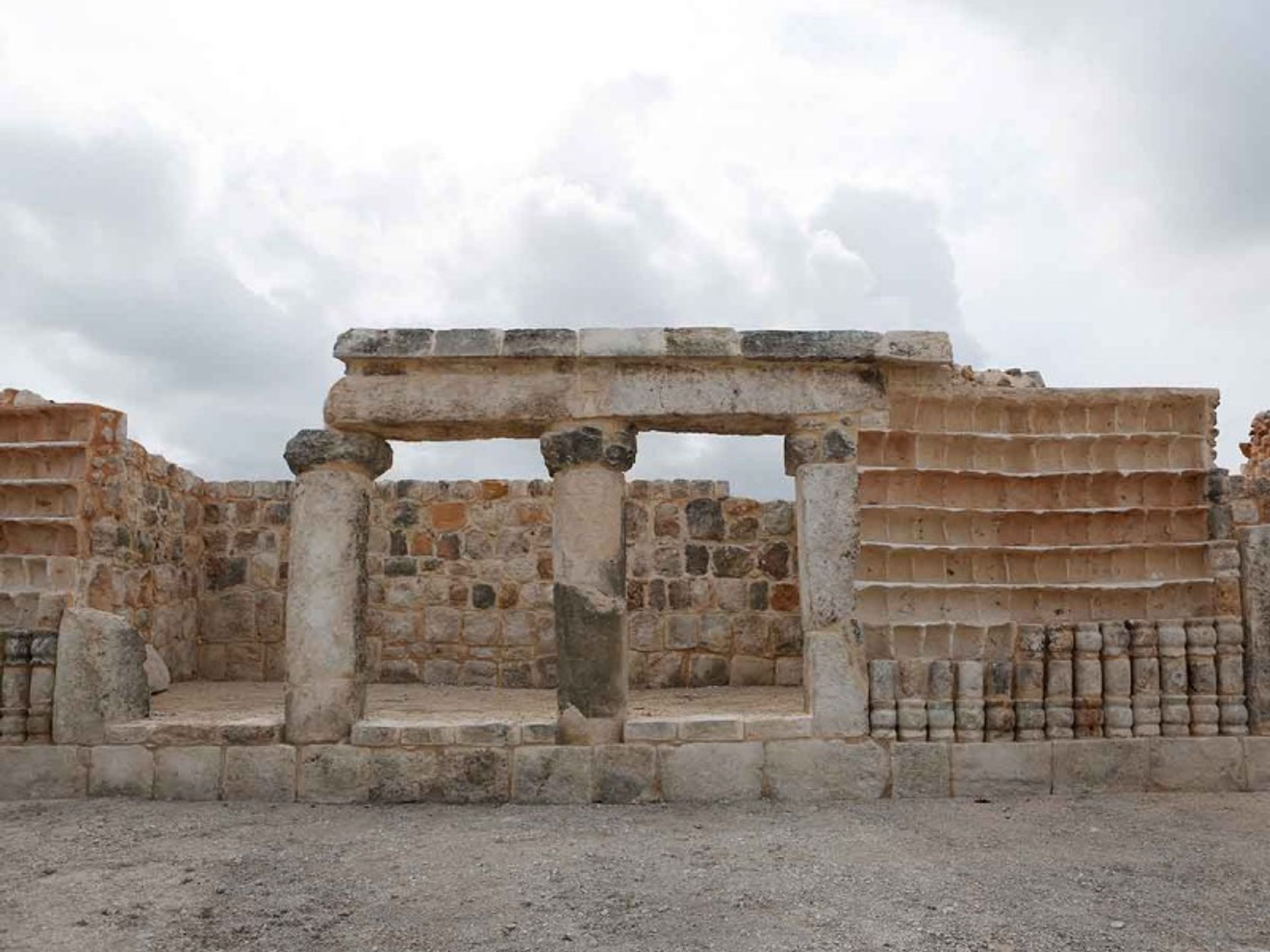 Words of Wisdom
"Money is never spent to so much advantage as when you have been cheated out of it; for at one stroke you have purchased prudence."

Schopenhauer
Today's newsletter is brought to you by Megan Podsiedlik (Nashville), Edward Landstreet (Local Noise), and Davis Hunt (everything else).