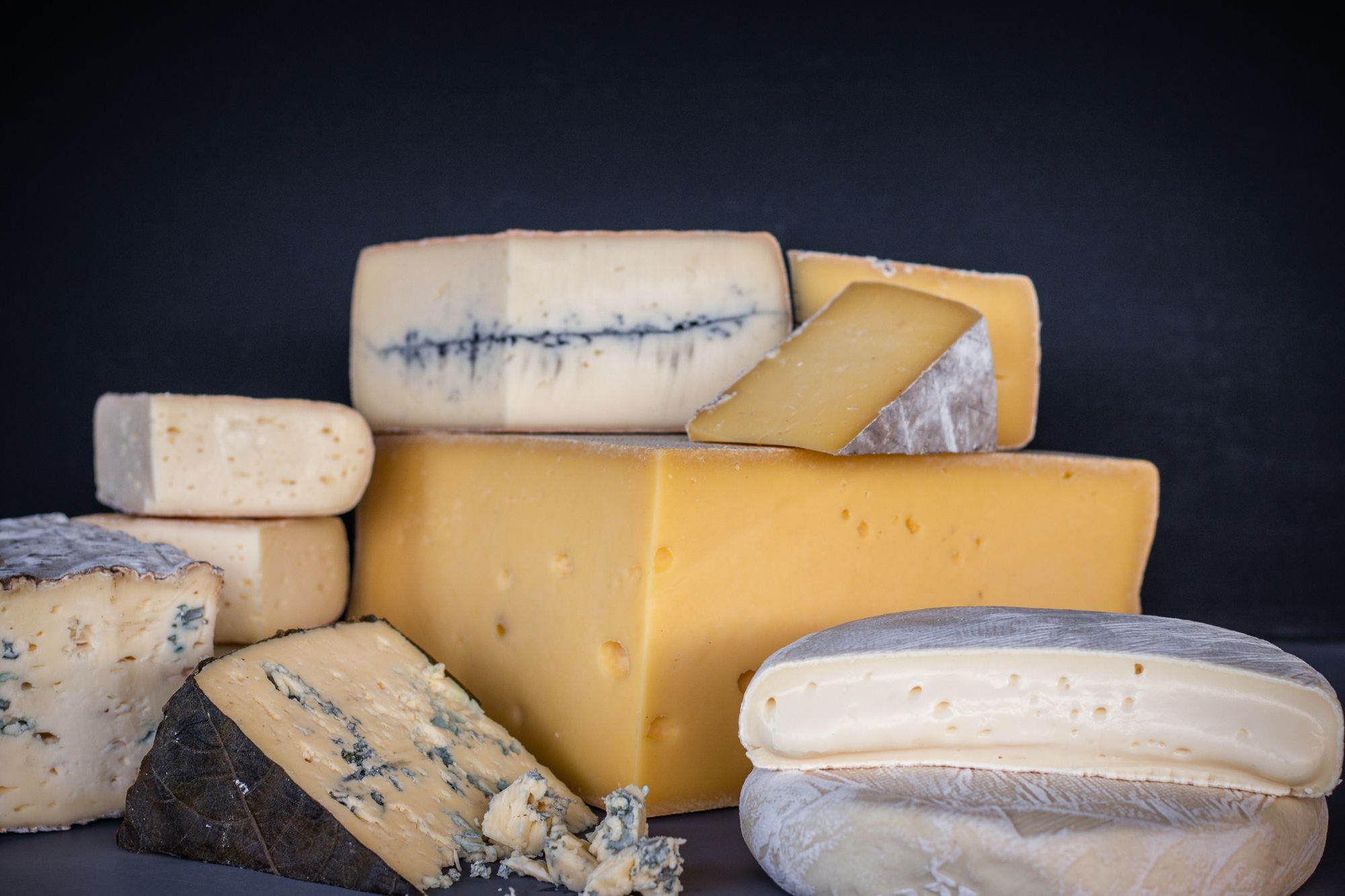 No. 417: The Sated Artist
⁂ Nashville's Alt-Daily ⁂ Sequatchie Cove · TN AG · Film Rundown · Rainbow · Much More!
From Geneva DeCobert
Driving through the rolling hills about two hours southeast of Nashville and taking in the perfumed air, it was easy to see how one could devote their life to the land there. Padgett and Nathan Arnold of Sequatchie Cove Creamery embrace that devotion not only with responsible stewardship of the soil, but in the creation of a product that clearly expresses that stewardship: fine artisan cheese.
Everything from the land itself, to the seasonal transformation of local milk, to the cows that provide it and the microorganisms in the air come together to give birth to what Nathan—the resident cheesemaker—conceives. "All of the lifeforce here connects back to the region," marvels Padgett. Each cheese they create is a "snapshot of this place and time and season and this lifeforce."
Healthy animals and healthy soil are the beginning of providing healthy food, but cheese is unique: as a fermented product, climate and altitude come into the dance. Padgett Arnold, who handles a variety of business-end variables for the creamery, finds fermented products special in their "special ability to harness these elements in a way you can't really see."
THE VERY BEGINNING
The Arnold's fascination with agriculture came long before their involvement with Sequatchie Cove Creamery. In 1998, the couple helped found Crabtree Farms—an urban farm and community center—in Chattanooga. At that time their energy was largely spent on growing vegetables and flowers at the farm, which eventually evolved into a CSA. It wasn't until 2003 that they began working in Sequatchie.
As Nathan's involvement with the creamery grew, he handed Crabtree completely over to Padgett, immersing himself in the art of cheesemaking. On a tour of the greatest cheesemaking regions in the world — Vermont, Canada, Switzerland, and southern alpine France — he listened, learned, and practiced. Upon returning to Sequatchie, he began hand milking cows for fresh milk, bringing it home, and trying his hand at perfecting his own cheeses. This was the very beginning of Sequatchie Cove Creamery as a provider of particularly fine cheese.
In 2009, things started coming together on both ends: After many attempts, Crabtree finally established a farmer's market called Main Street Farmer's Market in Chattanooga. At the same time, the Arnolds were working in development with the creamery, starting with the construction of the cheesehouse. In 2010, they got a license to sell their cheeses, and both shifted their focus to the creamery more fully.
Continue reading...
⧖⧗⧖ ENJOY THE PAMPHLETEER? ⧗⧖⧗
Consider a donation. Help us grow our coverage, expand our reach, and explore a wider variety of topics.
HEADLINES
$92M for new Nashville juvenile justice campus to top mayor's 2023 spending plan (Tennessean) The biggest item on Nashville Mayor John Cooper's latest spending proposal is $92 million for a new juvenile justice campus featuring an expanded courthouse and designated space for family support services.
Court Settlement Lowers Tennessee Concealed Carry Age to 18 (Star) The settlement came as the result of a suit following Tennessee's law on open carry restricting those who are 18 to 21 from being part of the allowance.
Vision Zero's War on Cars (Scene) A 15-member task force will convene for the first time on Jan. 30 to "coordinate with Metro staff" on the city's implementation of Vision Zero, a national campaign to eliminate roadway deaths.
Tennessee airports continue request for $125M in annual state funding (Center Square) The state has put an individual company cap on annual fuel tax payments starting at $10.5 million in 2015 and dropping to a $5 million cap in 2023. That means that funding in the state Transportation Equity Fund dropped from $56.6 million in 2018 to $14 million in 2023.
POLITICS
Attorney General Jonathan Skrmetti continues to stand firm. . Since being sworn into office on September 1, 2022, AG Skrmetti has held the line for Tennessee on multiple issues,  ranging from environmental, social, and governance (ESG) and consumer protection to opioids and Title IX. Here's what he's been up to lately.
On January 24, 2023, AG Skrmetti, along with the Department of Justice and seven other attorneys general, hit Google's ad tech monopoly with a do not pass go—do not collect $200—go straight to jail card in the form of a civil antitrust lawsuit. "A complex web of interrelated technologies that stifles competition has hurt consumers and inhibited innovation," Skrmetti said. "Tennessee is proud to be part of this bipartisan effort to hold Google accountable and protect consumers from its harmful ad tech monopoly."
On December 22, 2022, Skrmetti joined 13 other states in urging US Attorney General Merrick Garland and the Department of Justice to defend America against the threat of Chinese and Russian foreign third-party litigation funding (TPLF). The threat of foreign adversaries leveraging our judicial system to undermine US interests was at the center of this press release, which described in detail how China and Russia could use TPLF to their advantage: "[They] could. . .  fuel targeted lawsuits designed to weaken US national defense companies in the business of protecting our national security interests. Likewise, costly litigation aimed at sabotaging major energy sectors. . .poses a direct threat to our economic security interests and global independence."
DEVELOPMENT

THINGS TO DO
View the full calendar here.
🎻 SPBGMA's (The Society for the Preservation of Bluegrass Music of America) National Bluegrass Convention, Awards, and Championship is taking place at the Sheraton near the airport this weekend. It's a beautiful thing, trust us. Here's our coverage of last year's event.
👨🏻‍🌾 Check out our Nashville farmer's market guide and our 2023 southern festival guide.
🎧 On our Spotify Pamphleteer's Picks, a playlist of our favorite bands in town this week; On the Radar, a playlist of the best bands coming through town in the future; Nashville Sounds, an ever-growing sample of the local music scene.
TONIGHT
🍀 Live Irish Music @ McNamara's Irish Pub, 6p, Free, Info
🎸 Kelly's Heroes @ Robert's Western World, 6:30p, Free, Info
🎸 Open Mic @ Fox & Locke, 6:30p, Free, Info
+ vet community here
⛸ Predators vs. Devils @ Bridgestone Arena, 7p, $28, Info
🎸 Ryan Scott @ Dee's Lounge, 8p, $10, Info
🎙 Stephie James (opener) @ The 5 Spot, 9p, $10, Info
✹ WEEKLY FILM RUNDOWN: 1/26-2/2
The latest releases and special screenings hitting Music City this week.
Following Tuesday's announcement of this year's Oscar nominations, Best Picture contenders Everything Everywhere All at Once, Elvis, The Fabelmans, The Banshees of Inisherin, and Tár return to theaters while Women Talking expands nationwide. Avatar: The Way of Water remains the #1 theatrical release in the country for the sixth week. Top Gun: Maverick is streaming on Paramount+. All Quiet on the Western Front is available on Netflix.
Infinity Pool A flailing novelist (Alexander Skarsgård) cuts loose on an island paradise until he realizes all crimes are punishable by death. But not to worry, those of his stock can clone their replacements in this body-horror mind bender. Now playing in theaters.
Living Nobel-winning novelist Kazuo Ishiguro is up for a Best Adapted Screenplay Oscar for this morality tale of a British civil servant (also Oscar-nominated Bill Nighy) fighting against bureaucracy to build a park for locals after a terminal cancer diagnosis. A remake of Akiria Kurosawa's classic Ikiru (an adaptation of Leo Tolstoy's novella The Death of Ivan Ilyich) that distinguishes itself thanks to its damning portrait of government inefficiency's toll on the human spirit. Now playing at AMC Thoroughbred 20, The Belcourt, and Regal Streets of Indian Lake 16.
Ikiru also screens at the Belcourt in 35 mm Saturday and Sunday as a double feature with Living.
Broker South Korea's Hirokazu Kore-eda follows up his 2018 win at Cannes for Shoplifters by turning his attention to two brokers who undermine the legal adoption process for their wealthy clients. When a mother insists they ensure her child finds the right home, the trio embarks on a mission that challenges their cynical ideas of family. Now playing at AMC Thoroughbred 20 and The Belcourt.
Fear A group of lifelong friends retreats to a remote lodge to escape a global pandemic only to find that fear is airborne in this achingly topical horror film that apparently decided lighting wasn't a necessary budget item. With rapper T.I. Now playing in theaters.
Maybe I Do Emma Roberts and Luke Bracey can't decide if marriage is for them, so they give themselves 24 hours to meet each other's dysfunctional parents (Susan Sarandon, Diane Keaton, Richard Gere, and William H. Macy) as hijinks ensue. Collider writes that it "examines the concept of marriage, albeit from an exclusively heterosexual point of view." Sounds like manna from Heaven for audiences and theaters in a post-Bros world. Now playing in theaters.