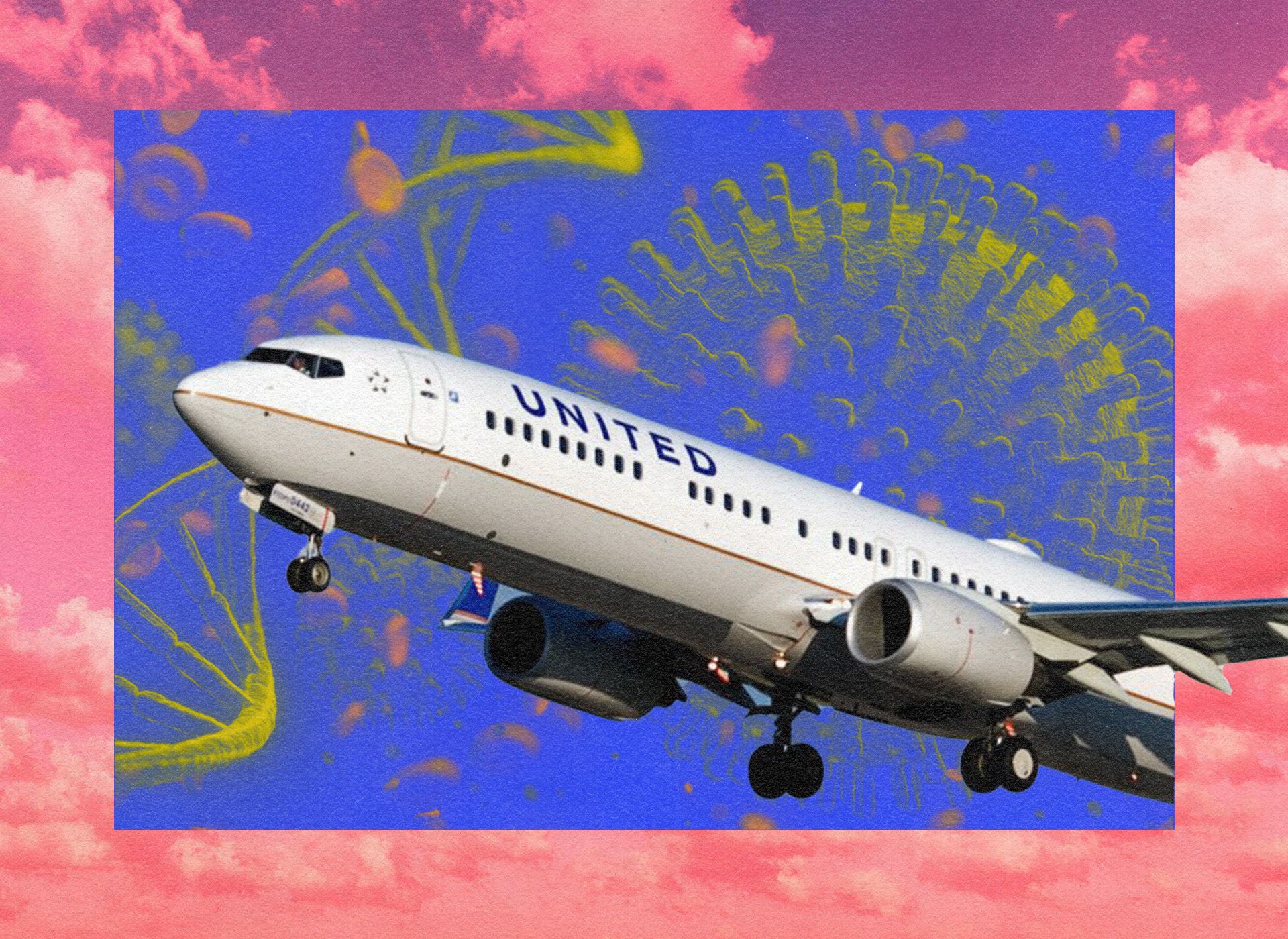 No. 420: United Employees Fight For Their Civil Liberties
⁂ Nashville's Alt-Daily ⁂ Thirty United Airlines employees stand up to the airline juggernaut over its misguided vaccine mandate.
On January 19, 2023, a group of former and current United Airlines employees filed a lawsuit against the mammoth corporation. The case is unique in the sense that the thirty plaintiffs are pursuing their rights to refuse the Covid-19 vaccines through both the Civil Rights Act of 1964 and genetic discrimination protection outlined by the Genetic Information Nondiscrimination Act of 2008.  
The pandemic-era struggles of those who refused what some viewed as experimental therapy is a tired reel that seems to be stuck on repeat; last October, I covered a similar situation experienced by members of the Tennessee National Guard. Now, on the heels of President Biden's announcement that he will end the national emergencies on May 11th, these United employees aren't looking for reinstatement or reimbursement—they want to set the record straight.
CALL IT WHAT IT IS: GENE THERAPY
"We never wanted it to come to this. We never wanted to sue," admitted plaintiff Thomas Anderson. Throughout the background outlined in the complaint, the vaccines are referred to as gene therapy. It goes on to further explain why referring to the products developed by Moderna, Pfizer-BioNTech, and Johnson & Johnson as "vaccinations" is a misnomer. One of the more unique violations outlined in this case involves the Genetic Information Non-Disclosure Act (GINA). The act, which prohibits employment discrimination on the basis of genetic information, is both cited in the complaint and contingent on whether the Covid vaccines are considered different from every other required vaccination. The plaintiffs' view is made clear by Anderson: "This is gene therapy. It's been shown—and medically proven—to alter your DNA for the purpose of what it's designed for."
If this case comes out in favor of the plaintiffs, the distinction between vaccinations and gene therapy may affect future efforts to market or mandate vaccines or other therapeutic treatments. Up until September 2021, the Centers for Disease Control and Prevention (CDC) described vaccines as "producing immunity." The term immunity has since been swapped for protection: which, according to plaintiff Tom Floyd, is a convenient change-up, an easy switch to accommodate these experimental inoculations: "They don't prevent you from getting it, they don't prevent you from spreading it, they don't prevent you from dying from it, and they don't last." Even Bill Gates has admitted this, stating that the vaccines are "not infection-blocking. . . not broad, and have a very short duration."
From Megan Podsiedlik
Continue reading...
⧖⧗⧖ ENJOY THE PAMPHLETEER? ⧗⧖⧗
Consider a donation. Help us grow our coverage, expand our reach, and explore a wider variety of topics.

HEADLINES
Titans could be in play for Tom Brady or Aaron Rodgers (Axios) Neither quarterback has said if they will retire or return to play another season. But if they come back, the Titans are seen by analysts as a possible landing spot. Brady is a free agent and therefore able to sign with any team he chooses. Rodgers is under contract to the Green Bay Packers, but if he returns, a trade is possible.
TN parents concerned about new bill to eliminate class size maximums (Fox 17) Tennessee lawmakers are considering a bill that would eliminate K-12 class size maximums. State law caps class sizes at 25 to 35 students depending on the grade level. This bill would get rid of those caps and allow local districts to decide class sizes.
Tennessee energy providers to receive $126M combined in USDA energy loans (Center Square) Two rural Tennessee electricity providers received loans in the U.S. Department of Agriculture's Rural Development Electric Loan and Loan Guarantee Program as part of $2.7 billion in loans announced on Monday. Gibson Electric Membership Corp. received $81 million in loan while French Broad Electric Membership Corp. received $45 million.
President Joe Biden Appoints Vanderbilt Professor to National Science Board (Star) President Biden recently appointed Keivan Stassun, Vanderbilt University's Stevenson Professor of Physics and Astronomy and director of the Frist Center for Autism and Innovation, to serve on the National Science Board (NSB).
POLITICS
⭐️ Mayor John Cooper will not run for reelection (Post) The news came as a surprise to some, as Cooper had already held a fundraiser and filed official paperwork setting the stage for a 2023 campaign. He was elected to the office in 2019 after a term on Metro Council.
Bill to cut Nashville city center funding calls into question tax plan for new $2.2B Titans stadium (Center Square) The bill—filed Thursday by Sen. Jack Johnson, R-Franklin, on behalf of Lt. Gov. Randy McNally, R-Oak Ridge—would change the way taxes flow to Metro Nashville to pay debt from the Music City Center, which opened in 2013. The bill does not yet have a House sponsor.
DEVELOPMENT
Brewery-area industrial site sells for $2.7M (Post)
Fitness franchise brand set for future Gulch tower (Post)

THINGS TO DO
View the full calendar here.
🌱 Antiques and Garden Show at the convention center, all day Friday through Sunday.
🐔 It's Nashville Hot Chicken Week. Get deals and vote for the best hot chicken in Nashville.
👨🏻‍🌾 Check out our Nashville farmer's market guide and our 2023 southern festival guide.
🎧 On our Spotify: Pamphleteer's Picks, a playlist of our favorite bands in town this week, On the Radar, a playlist of the best bands in town in the future, and Nashville Sounds, an ever-growing sample of the local music scene.
TONIGHT
🎸 Honky Tonk Tuesday @ American Legion Post 82, 5p, Free, Info‌‌‌‌‌‌‌‌‌‌‌‌‌‌‌‌‌‌
+ Two-step lessons @ 7p, The Cowpokes @ 8p
🎻 Bluegrass/Old Time Jam @ The 5 Spot, 8:30p, Free, Info
🎙 James Carothers @ Nashville Palace, 8p, Free, Info
+ Honky Tonk
🎺 Todd Day Wait @ The Underdog, 11:30p, Free, Info‌‌‌‌‌‌‌‌‌‌‌‌‌‌‌‌‌‌
+ Honky Tonk Tuesday afterparty, down the street
ON THE RADAR
🎸 Lotus @ Brooklyn Bowl, 2/16, 8p, $20, Info
🎙 Weyes Blood @ Brooklyn Bowl, 2/22, 8p, $23+, Info
+ Folk-pop, a modern Joan Baez
🎻 Billy Strings @ Bridgestone, 2/24-25, 8p, Info
🎻 Billy Strings @ Ryman, 2/26, 8p, Info
+ Only eligible if you purchased a ticket to one of his previous nights' Bridgestone shows
🥁 Os Mutantes @ The Blue Room, 3/1, 7p, $25, Info
+ Brazilian psychedelic rock band, part of the Tropicália movement of the late 1960s
🕺 Lettuce @ The Brooklyn Bowl, 3/17-18, $32, Info
+ Funk
🎸 Goose @ The Ryman, 3/31-4/1, Info
+ Funky jam band