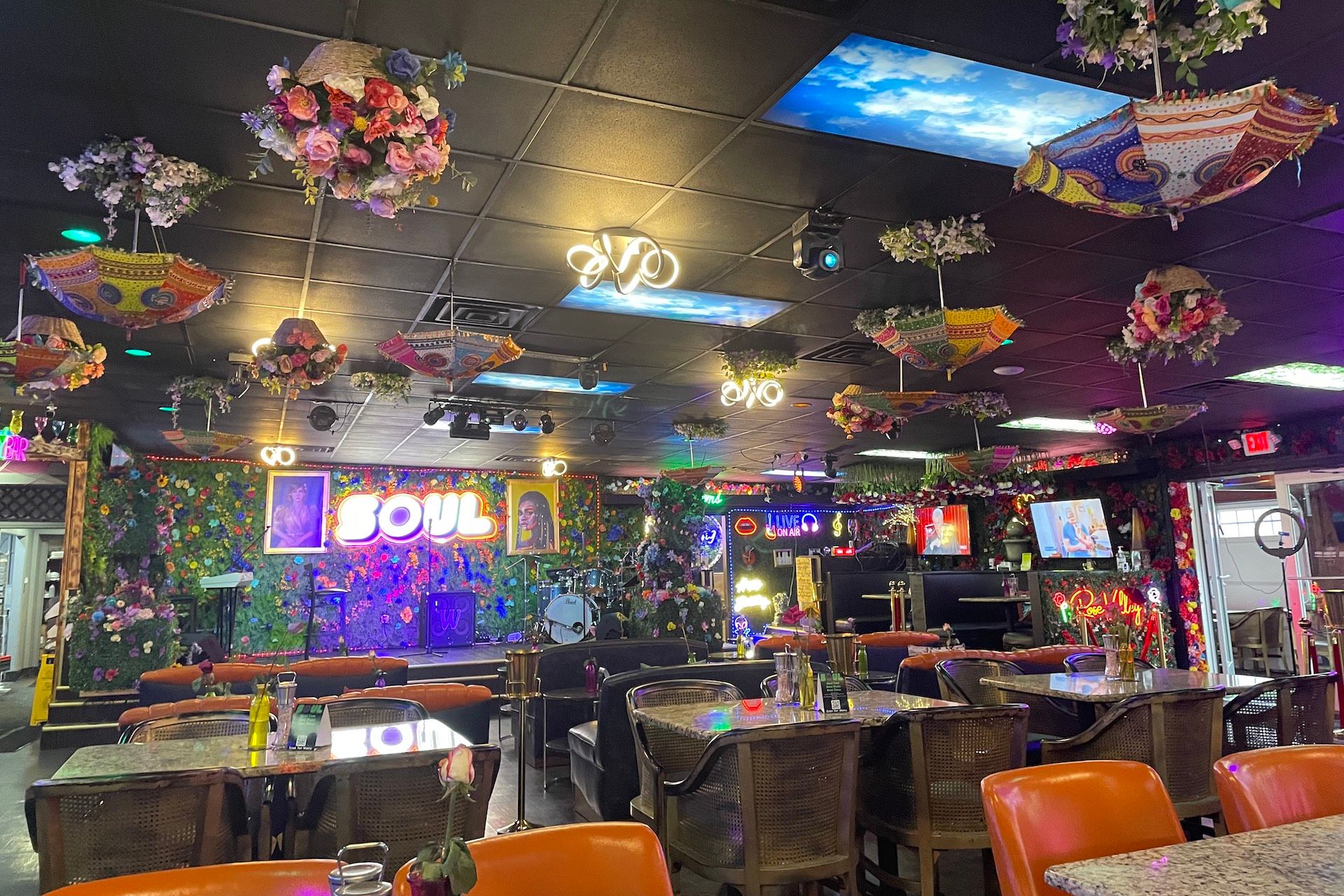 No. 418: Soul of the West (Nashville)
⁂ Nashville's Alt-Daily ⁂ Soul · Trends · Delta-8 · SPBGMA · Much More!
It was always perplexing to hear the words "NashVegas," thrown around by locals on my first trip to Nashville back in 2004. I didn't understand what this city of rolling hills with a head-scratching layout had to do with the neon beams bursting through the desert in the middle of nowhere, Nevada. Then I eventually made it to Broadway – where I still didn't understand what it had to with Vegas – but came to realize the reveling and debauchery that goes on down there had its own kind of Hillbilly Hollywood mixed with Nevada neon. My trip to Soul, a restaurant, bar, and club on the west side of Nashville at 6317 Charlotte Pike about to celebrate its one-year anniversary, was actually the closest I've come to feel like I was in an off-strip Vegas hookah lounge, where the karaoke might be exceptional, and the food is anyone's guess.
The minute I stepped through the door, past the neon "feed your soul" sign and the plastic tropical plants outside, I felt like I had slipped into a dream. A mix of greenery and neon-filled the room, multi-colored lights swirled around the ceilings and the sultry sounds of Sade boomed from the speakers with ample low end. The main dining room is surrounded by large booths with plenty of room for hookah, while flatscreens line the walls. To the back is a stage where bands play on weekend nights and Sunday brunch, and where karaoke takes place on Tuesdays. This is a place to come disappear for a few hours and forget about your troubles and maybe, forget about what city you're in for a while. What I wasn't sure about was is this a place to eat. I'd had two people recommend the place to me for different reasons: "There are some dope-ass bands who play there," and "you've gotta try the smoked fried chicken." I love smoked chicken and fried chicken so I was game for a mashup (even though I could smell Popeye's from the parking lot, a few doors down.)
What I learned about the exercise is that chicken should either be smoked or fried, not both. There was a dryness and lack of seasoning to the meat that just couldn't be saved by dunking it into a frier or cast-iron pan. The skin was ok – it is chicken skin after all, one of the most delicious things on the planet – but there was a lack of crust or texture to the whole package that made me realize this chicken was having a bit of an identity crisis. It couldn't figure out whether to be smoked chicken or fried chicken, opting for some middle ground that tasted more like heating up day-old smoked chicken by sautéing it in a pan of oil. For $25, I'm expecting a little more than that. The three sides that came with it: rice, beans in a rich broth, and stewed cabbage were adequate, but the whole plate lacked depth and needed salt, which Soul provides in the way of pink Himalayan Sea salt grinders on every table. A wrinkle my tastebuds were thankful for.
My advice to anyone interested in checking out Soul – and I do recommend it as a fun venue, hangout spot, a place to let go and vibe out for a while – is to stick to the tried-and-true fried bar food. Taking a bag of breaded pickles, fries or catfish out of the freezer and dunking it into a frier may not be high art, but it's usually delicious, as were the fried pickles.
One thing to take note: many of the online reviews have mentioned the 18 percent service charge added to the check without any warning and the lack of a printed check. Handheld point-of-sale systems have become so common it can be difficult to figure out why your bill may be higher than you anticipated. As to whether this 18 percent charge was going to my server, I wasn't really sure, and neither was she. There was an option to add a higher percentage but neither one of us was sure where that percentage was going. It would behoove management to clear that up or at least make it a point to mention the service charge when presenting the bill or approaching the table with the handheld point-of-sale.
The idea of "soul" – often an intangible descriptor used to describe music, food, cooking, and other arts – can be hard to pin down. Sometimes you just have to go with the feeling and not get too wrapped up in the details. I wouldn't go to Soul to spend much money on entrees or splurge on the lobster ravioli. But I'll go back to hang out and get lost in the music and the vibe, and as the neon sign that hung next to my head said: "let your soul glow."
From Mike Wolf

HEADLINES
Rise Among Tennesseans of Working, Retirement Age Drove Increase in 2021 State Population (UTK) Tennessee netted a 55,000-person population increase in 2021, but those gains were entirely from people aged 20 years and older. The number of children in the state fell slightly. Data showed that the largest population increases were among individuals over age 65.
Old Hickory Residents Organize Against Proposed Asphalt Plant (Scene) 'Old Hickory is kind of tired of people coming over there and dumping on us,' says Councilmember Hagar.
POLITICS
Mayor proposes funding for new schools, juvenile justice center (Post) Mayor John Cooper is proposing hundreds of millions of dollars in spending on capital improvements as part of his 2023 capital spending plan, the mayor's annual wish list of new projects and renovations around the city.
Proposed bills would make all Tennessee local elections partisan (Center Square) Companion bills SB 405 and HB 262 would require all elections to be partisan and allow political parties to nominate candidates in local elections. That would be a change for local city councils, like the Metro Nashville council, where members are not elected on a partisan basis.
Lawmakers introduce bill to tax, regulate and ban delta-8 from those under 21 (Tennessean) State House Majority Leader William Lamberth, R-Portland, and Sen. Richard Briggs, R-Knoxville, introduced a bill to regulate hemp-derived cannabinoid products, like delta-8 and delta-10.
DEVELOPMENT

THINGS TO DO
View the full calendar here.
🎻 SPBGMA's (The Society for the Preservation of Bluegrass Music of America) National Bluegrass Convention, Awards, and Championship is taking place at the Sheraton near the airport this weekend. It's a beautiful thing, trust us. Here's our coverage of last year's event.
👨🏻‍🌾 Check out our Nashville farmer's market guide and our 2023 southern festival guide.
🎧 On our Spotify Pamphleteer's Picks, a playlist of our favorite bands in town this week; On the Radar, a playlist of the best bands coming through town in the future; Nashville Sounds, an ever-growing sample of the local music scene.
TONIGHT
📷 Flea Market @ The Fairgrounds, 8a, Free, Info
🌱 Organic Gardening @ Percy Warner, 11a, Free, Info
🎻 The Cowpokes @ Acme Feed & Seed, 12p, Free, Info
🎙 Larry Longpump @ Acme Feed & Seed, 5p, Free, Info
🍀 Live Irish Music @ McNamara's Irish Pub, 6p, Free, Info
🌒 The Lost Boys @ Full Moon Cineplex, 6p, $8, Info
🎸 Kelly's Heroes @ Robert's Western World, 6:30p, Free, Info
🎸 Geez Louise @ The Cobra, 7p, Free, Info
🎙 Charles "Wigg" Walker @ Fox & Locke, 8p, $18.75, Info
+ Soul
🎻 Larry Stephenson Band @ The Station Inn, 9p, $25, Info
✹ WEEKLY FILM RUNDOWN: 1/26-2/2
The latest releases and special screenings hitting Music City this week.
Following Tuesday's announcement of this year's Oscar nominations, Best Picture contenders Everything Everywhere All at Once, Elvis, The Fabelmans, The Banshees of Inisherin, and Tár return to theaters while Women Talking expands nationwide. Avatar: The Way of Water remains the #1 theatrical release in the country for the sixth week. Top Gun: Maverick is streaming on Paramount+. All Quiet on the Western Front is available on Netflix.
Infinity Pool A flailing novelist (Alexander Skarsgård) cuts loose on an island paradise until he realizes all crimes are punishable by death. But not to worry, those of his stock can clone their replacements in this body-horror mind bender. Now playing in theaters.
Living Nobel-winning novelist Kazuo Ishiguro is up for a Best Adapted Screenplay Oscar for this morality tale of a British civil servant (also Oscar-nominated Bill Nighy) fighting against bureaucracy to build a park for locals after a terminal cancer diagnosis. A remake of Akiria Kurosawa's classic Ikiru (an adaptation of Leo Tolstoy's novella The Death of Ivan Ilyich) that distinguishes itself thanks to its damning portrait of government inefficiency's toll on the human spirit. Now playing at AMC Thoroughbred 20, The Belcourt, and Regal Streets of Indian Lake 16.
Ikiru also screens at the Belcourt in 35 mm Saturday and Sunday as a double feature with Living.
Broker South Korea's Hirokazu Kore-eda follows up his 2018 win at Cannes for Shoplifters by turning his attention to two brokers who undermine the legal adoption process for their wealthy clients. When a mother insists they ensure her child finds the right home, the trio embarks on a mission that challenges their cynical ideas of family. Now playing at AMC Thoroughbred 20 and The Belcourt.
Fear A group of lifelong friends retreats to a remote lodge to escape a global pandemic only to find that fear is airborne in this achingly topical horror film that apparently decided lighting wasn't a necessary budget item. With rapper T.I. Now playing in theaters.
Maybe I Do Emma Roberts and Luke Bracey can't decide if marriage is for them, so they give themselves 24 hours to meet each other's dysfunctional parents (Susan Sarandon, Diane Keaton, Richard Gere, and William H. Macy) as hijinks ensue. Collider writes that it "examines the concept of marriage, albeit from an exclusively heterosexual point of view." Sounds like manna from Heaven for audiences and theaters in a post-Bros world. Now playing in theaters.