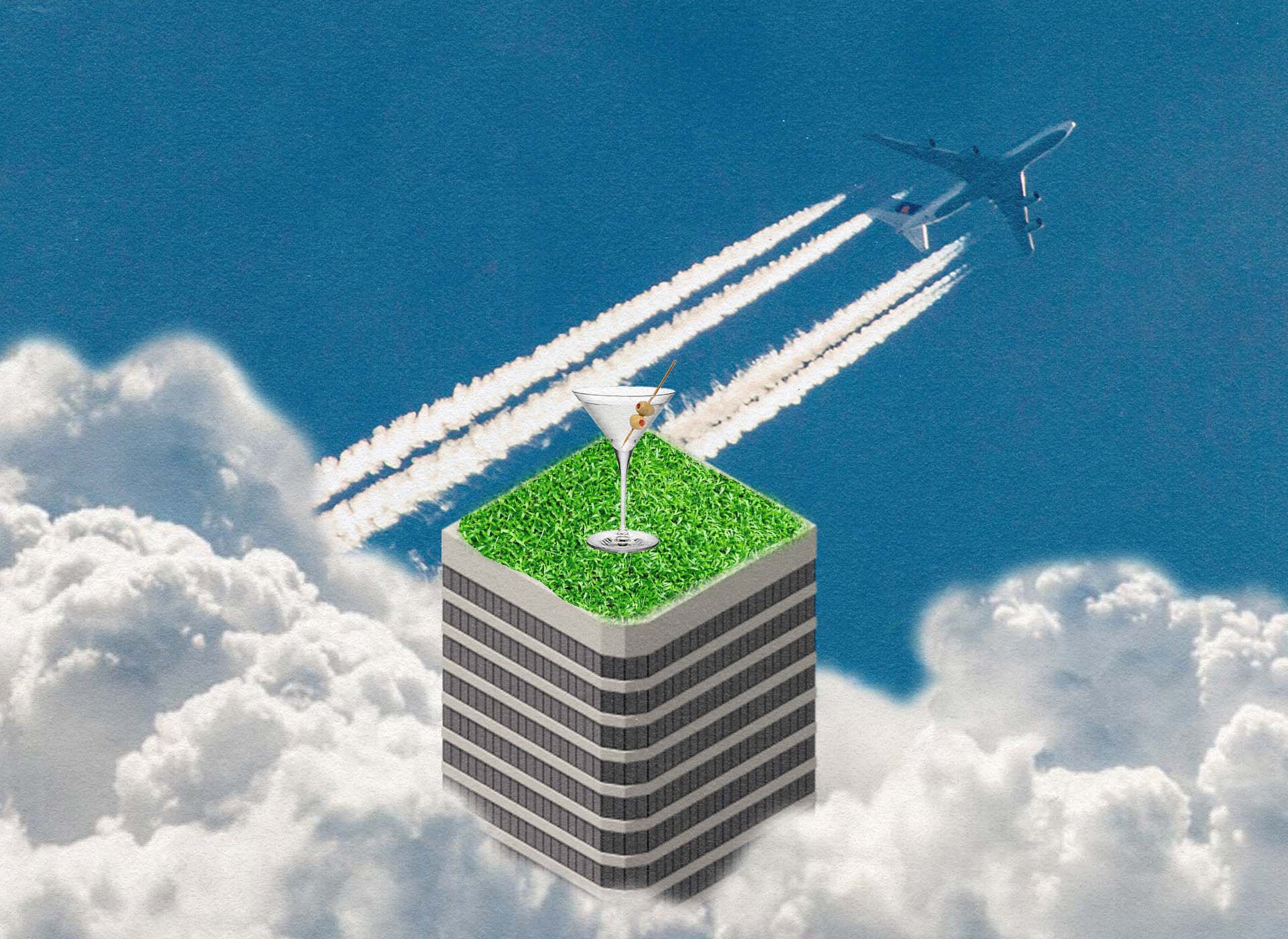 Nashville's Best Rooftop Bars
A Trip into the clouds in search of the city's best rooftop
We're goin' up to the top floor today, folks and I mean alllll the way up. But before you roll your eyes, you can rest assured this won't be a list of honky tonk hang-outs or bachelorette hot spots. (Speaking of which, I attempted White Limozeen on the top of The Graduate Hotel in a bout of sheer optimism over a certain drink on the menu and I swear to God it was like stepping into the 7th circle of hell. Never ever again will I go there. Sorry, Graduate.)
Anyway, the criterion for this list is having a drink/drinks actually worth climbing to the roof and/or braving the photo ops for AND THEN a delightful open-air atmosphere and/or view. Simple tables and chairs won't cut it, nor will just a glimpse down Broadway (a-woohoo).
LA Jackson (Thompson Hotel)
lajacksonbar.com • @lajacksonbar
This spot on top of the Thompson Hotel in the Gulch has been around longer than just about any other on this list and continues to be a great one to visit. The indoor bar is swanky without being overwhelmingly so, and the outdoor area complete with a tree planted right in the center draws locals, service industry folks, and tourists alike. It's a good place to get a stiff martini or give in to a frozen concoction (their current offering is called the "Friesling" and consists of Riesling, pear, lemon, and orgeat). It's also known for having large format drinks for a group. The body count cocktail for 6-12 people has Campesino rum, Batavia-arrack*, mint, lemon, and cava. It sounds great but I did not have 5 to 11 friends to split $180 with, so I can only guess.
* Batavia-arrack is a spirit made from sugar cane and fermented red rice and its smoky fruitiness and vegetal funk adds a fabulous depth to cocktails. It's popping up more and more in bars across the country, so look out for it.
Denim (The Joseph)
thejosephnashville.com • @denimnashville
Admittedly, the indoors section of this rooftop bar, though well done, is a little "cookie cutter" hotel, but the real winner is the outdoor pool area. The cabanas provide an upscale experience where you're sure to order app after app (like one of their yummy flatbreads) to spend as much time as possible lounging.
For something light and refreshing, try the By Any Other Name - rose-infused Conniption American gin, Yellow Chartreuse, lemon, and rosé. Otherwise, this is a situation where the wine list, courtesy of the great Cathy Mantuano, would be a great go-to instead, as many of their other drinks read very sweet.
Jane's Hideaway
janeshideaway.com • @janeshideaway
Tucked away in Printer's Ally just far enough away from Broadway is this aptly titled gem. You might remember the name of this place from my best old fashioneds list, so grabbing one of those bad boys and trotting off to the roof is a good move indeed. Other options to try include Blue album track #9 with delicious St. George spiced pear brandy, blanco tequila, Cocchi Americano, grapefruit, oregano, salt, and soda and First Name Ginny, Last Name Spritz with Ford's gin, Cappelletti, Yellow Chartreuse, pineapple, sparkling wine, and rosemary.
Bourbon Sky (JW Marriott)
nashvillebourbonsteak.com • @bourbonsteaknash
This bar at the back of Bourbon Steak on top of the JW Marriott is pricy (as you'd imagine being a part of the steakhouse) so it wouldn't be my weekly spot by any means, but its panoramic view and crisp sophistication make it one of the best rooftop spots in town, even if you don't choose to be in the open air. There's just something about perching yourself next to a floor-to-ceiling window and sipping on a Rebellioius Sidecar, for example, with their own Nashville Barrel Co. Bourbon Steak 7 Yr Bourbon, Hennessy XO, Yellow Chartreuse, honey, lemon, and Absinthe.
L27 (The Westin)
l27nashville.com • @westinnashville
The spacious L27 has killer vibes indoors or out. I'm not sure what the L stands for in the name, but if they told me it was "luxe," I'd believe them. I'm actually a little surprised I don't stop by there more often. Currently, I enjoy the Stay Up Beet, mostly due to my affection for Bombay Sapphire and any cocktail that uses beet juice. Ginger syrup, lemon juice, and a topping of prosecco round out the drink and prep your taste buds for whatever you order next.
Lou/na (Grand Hyatt)
lounanashville.com • @lounanashville
Between the sleek marble bar and cool blue couches inside and the long firepits outside, Lou/na makes me very happy. Order a nostalgically named Bayside High – blood orange infused Hayman's Old Tom Gin, Aperol, basil, and lemon and a few of the impressive small plates offered at happy hour.
Zeppelin (TownPlace Suites)
zeppelinnashville.com • @zeppelin_nashville
This one was a pure shock. From the club-like bright purple lights in photos, I assumed this hotel rooftop would read more frat bar than cocktail bar. But the drinks are very good, even if they're just shy of being great and the staff is nice. Enjoy their Zeppelin Fashioned with brown butter washed Dickel 12, Hoodoo Chicory, bitters, and orange along with the quieter surroundings.
Ellington's (Fairlane Hotel)
ellingtons.restaurant • @ellingtons.restaurant
Though not technically on the roof, Ellington's outdoor patio is on the roof of the 4th floor, letting it qualify for the list. And it really is lovely, shortened view aside. Besides making the classics well, the "Governor's Picks" on the right side of the menu have too many good ones to list here. They have an affinity for the Knoxville-born PostModern+ spirits and use them frequently, which no one here is mad about. (Their cacao is especially nice – unique in its flavor from any other on the market, and their amaro is too, probably because it's not from, you know, Italy, so they're using "amaro" loosely, but there we are.) Great choices include: Kaleidoscope Dreams, Conspiracy Theory, Mixed Signals, Famous By Accident, and Rosaline. (See what I mean?) No, I haven't had all of these (yet) but by ingredients alone they'll surely work.
Honorable Mentions
12/30 Club
thetwelvethirtyclub.com • @thetwelvethirtyclub
Super swanky Miami vibes make this a tempting spot, but you won't find any tasty caipirinhas or interesting mojitos here. Their Fancy Gin & Tonic or a classic like an Aperol Spritz would be the way to go, so you can munch on your sweet potato fries and wonder where Justin Timberlake really plays into the place.
Rare Bird (Noelle)
noelle-nashville.com • @rarebirdnash
It's always a lovely experience at Rare Bird, even if they do have a heartbreakingly stereotypical gin, lime, elderflower, and cucumber beverage on the menu. Their cocktails are really not that inventive, so just be sure to go with a friend you have great conversation with and order their reasonably priced sparkling rosé from France or stick to beer.