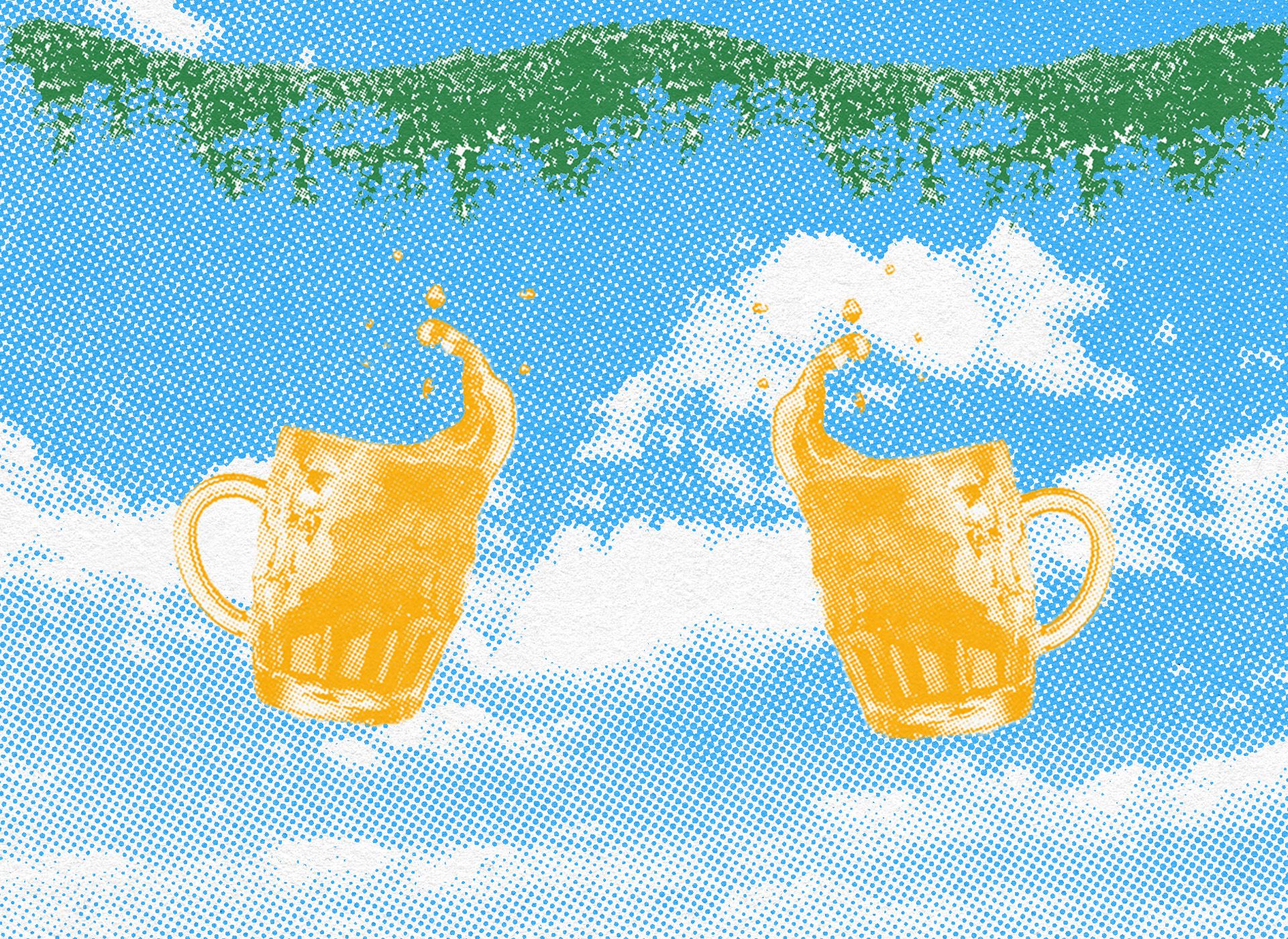 Nashville's Best Beer Gardens
A trip through Nashville's best outdoor imbibing spots
Writing this article brought up an interesting question: What makes a beer garden? Is it an actual garden? Is it simply outdoor seating?
Not surprisingly (and as you probably guessed), beer gardens come from Bavaria, where brewers in the 19th century planted trees with shallow roots and long canopies to keep their beer cellars cooler in the warm months and decided that enjoying a beer among them was simply tops. As time went on, for even more convenience, they were attached to beer halls, breweries, pubs, or restaurants.
The trusty interweb describes them today as any outdoor area where beer and food are served at communal tables. So, I guess we're pretty much rolling with the idea that for Nashville, any place that has a smattering of picnic tables will do just fine.
But even if the physical furnishings are simple, what isn't simple is the non-physical. I argue what truly makes a beer garden is the feeling it evokes. The raw camaraderie. The extra magic of sipping a cool pint on a warm afternoon with pals and strangers or when the sun goes down and the soft glow of the humble lights above lead the way to another laugh and another pint.
The Germans call this feeling of warmth, friendliness, and belonging gemütlichkeit and believe wholeheartedly of its equal importance to a beer garden as the food or tables. You can rest assured that any of the places listed here will offer plenty of gemütlichkeit with the right draft or bottle. Happy garden hopping.
VON ELROD'S BEER HALL & KITCHEN
Address 1004 4th Ave N, Nashville, TN 37219
More Info Instagram • Website
The space at Von Elrod's is quite extensive as beer gardens go (if lacking in greenery), but then again, for place known for German grub and large steins, it would be shocking at least and atrocious at most to be anything less. Besides the grand indoor beer hall, the outdoor area offers both covered and uncovered options for "garden" sipping. For added convenience, you can even order from a limited menu at a stand outside, keeping the distance down from table to tap.
THE PHARMACY
Address 731 Mcferrin Ave, Nashville, TN 37206
More Info Instagram • Website
Arguably the most beer garden-y of the list, accentuated by trees, shrubs, and other greenery, The Pharmacy was the first place I thought of when researching this article. It's far from expansive, but the perfect compliment to a pint and a favorite of many in town when the weather gets warm. Between the tucked-away and almost ethereal quality of the space and the delicious burgers and würsts, it's easy to see why.
VILLAGE PUB & BEER GARDEN
Address 1308 McGavock Pk, Nashville, TN 37216
More Info Instagram • Website
Though it's in the name, can we really call this a beer garden? I don't know but also, I don't care. This place holds many memories for me, with their Mule Mondays in addition to beer and their incredible stuffed pretzel sandwiches. The bar itself is familiar and warm. The quaint wrap around porch is hardly a beer garden but has cozy tables. They do have a little concrete paradise out front with some perfectly shabby rugs hoisting up their picnic tables. All I know is, if beer gardens are about the feelings you get, then this place fits the bill. It totes straight up neighborhood pub vibes and remains (for the most part) a rare place still kept for the locals. Village pub, I just love ya.
EAST NASHVILLE BEER WORKS
Address 320 E Trinity Ln, Nashville, TN 37207
More Info Instagram • Website
Having never been here, I was nothing short of impressed. The outdoor "garden" has a wrap around section of picnic tables, an upper-level deck consisting of smaller tables and a covered space for larger groups, and even a playground for kids in tow on your afternoon. It's also a perfect spot to bring your furry friend or sign up for an on-site yoga class. The staff is gracious, and though the beer might not be the best in the city, they still have solid selections, including ciders, kombuchas, and mead from Honeytree Meadery. Pro tip: order from the outdoor window when sitting outside – it'll save you time and effort.
SMITH & LENTZ BREWING
Address 903 Main St, Nashville, TN 37206
More Info Instagram • Website
You wouldn't be able to tell from the front of the place, but out back is a lovely space, with picnic tables nestled into little curtained cabanas amongst the tall, gorgeous stacks of fresh-cut wood for the pizza ovens. Their pepperoni pie is arguably the best slice in town (especially since the recent closure of Joey's House of Pizza) and the perfect compliment to the pints and atmosphere.
JACKALOPE BREWING COMPANY – THE RANCH
Address 429B Houston St, Nashville, TN 37203
More Info Instagram • Website
Jackalope brews have long been a favorite of mine, since well before I even moved to Nashville. Not only are they delicious and well made, but I have the utmost respect and admiration for founder Bailey Spaulding. She's a formidable and inspiring woman who turned her passion for home-brewing into a full-fledged business. Jackalope was even the first Nashville craft brewery to can its beer. Though the taproom closed in the last year, their new location, The Ranch, is even better. With multiple floors, a long bar, expansive indoor spaces, and an adorable outdoor space tucked between buildings, it's easy to while away many hours here.
HONORABLE MENTION
Southern Grist (More Info) The new East Nashville location is quaint, but well made, with a bright dog friendly patio out front. Plus, their Southern Crisp unfiltered pilsner is hard to beat on a hot day.