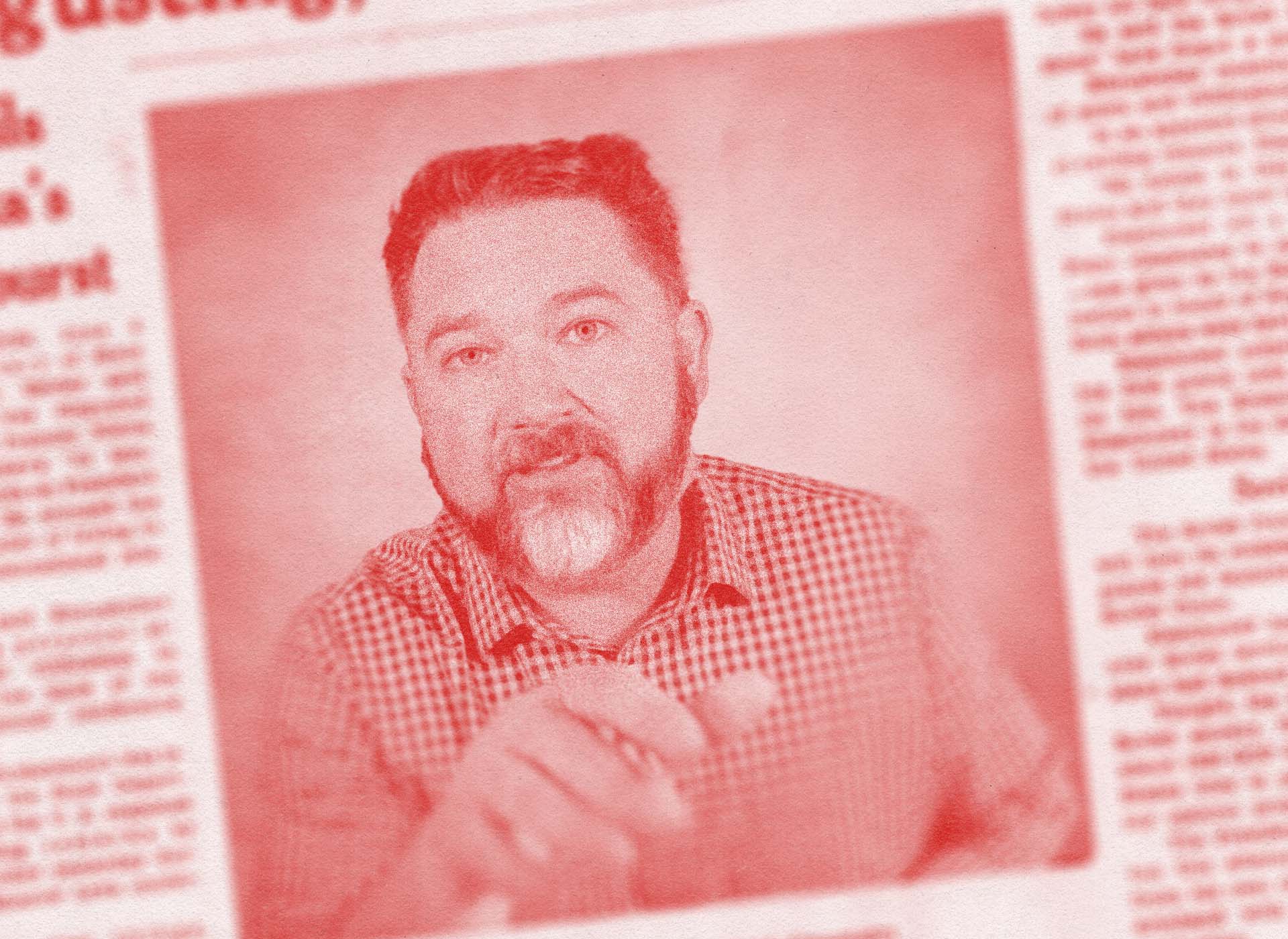 The Humbling
Gary Humble has revolutionized conservative politics in Middle Tennessee. Now, he has to survive the pushback from the most prominent members of his own party.
I'm supposed to meet Gary Humble, the founder of Tennessee Stands, at 8:30 this late June morning, but wanted to get on the road a couple of hours early to beat traffic and plow through some more of the videos he puts up weekly on Rumble. Unfortunately, Onyx + Alabaster's coffee lounge in downtown Franklin has a sign next to the menu that outlines its no Wi-Fi policy, meant to make this a place of "conversation."
It's the type of establishment in which I'd expect to have a sit down with new Nashville mayor Freddie O'Connell and his posse of transit stans, not the founder of a constitutional rights nonprofit—a regular guy who comes off in the Facebook posts that made him a high-profile political presence during the pandemic as a downhome Southerner just trying to protect his way of life.
While I waited for Humble, I couldn't help but wonder why he chose this as the spot for us to start our day together. Was it to impress me? A way to show that he is more refined than the Binks-meets-Cracker Barrel aesthetic he's cultivated online through a rotating wardrobe of plaid oxfords and jeans?
As soon as Humble walks into the backroom seating area rocking his signature look and holding the plainest coffee on the menu while greeting employees, I have my answer: he's here because this place is a part of his community, a local business lucky to have survived the pandemic that hypercharged Humble's quest to disrupt a state Republican party he feels utterly fails to live up to its principles.
Since Humble rose to prominence over the past few years, Franklin has undergone a marked shift from its perpetual listing on "best of the South" lists to its imaginary status as the epicenter of white supremacist MAGA politics. First, groups like Moms for Liberty and Williamson Families began challenging school library holdings and COVID policies. Then, citizens pushed back on Franklin Mayor Ken Moore's pro-mask rhetoric that lingered long after Williamson County's mandates expired. Finally, outrage over Moore's decision last May to break a tied vote that allowed the city to continue its controversial Pride celebration led national legacy media to carefully cultivate a new image of the city as a regressive Southern backwater.
With controversial candidate Gabrielle Hanson challenging fellow Republican Moore in a mayoral election set for October 24th, the depictions of the city's reactionary excesses have threatened to alter its Hallmark holiday movie vibe permanently. Hanson has run on a platform of reclaiming Franklin for its citizens. But thanks to a checkered history that includes a criminal record for promoting prostitution in Texas and making outlandish claims about the Covenant shooting, she could prove a major liability to Tennessee conservatives of all stripes in the lead-up to the 2024 election.
Humble and Hanson have little in common beyond advocacy of conservative principles. Still, the increased profile of both is a direct result of unmet populist demands that the state's Republican bluebloods seem wildly disinterested in addressing. While the opinion of run-of-the-mill liberals and many conservatives is that Hanson is, as The Pamphleteer's own Davis Hunt recently wrote, "the worst candidate in history," attempts continue to distort and dismiss the right's populist faction as rubes irrelevant to the agenda of the state legislature's Republican supermajority.
The most vocal conservative figure in Franklin, Humble has found himself the scapegoat for the embarrassing fiasco that marks Hanson's bid for the mayoral office. Whispers in small back rooms have accused him of being the mastermind behind Hanson's rise to infamy because of previous policy endorsements he has shared with Williamson Families Chair and noted Gabrielle for Mayor supporter Robin Steenman.
But, for Humble, such attempts to lump him in with fringe figures are just a strategy by the Republican establishment to neutralize his influence. Since Hanson announced her candidacy, Humble has remained, as he relayed to me in an October phone call, "stoically silent" on the campaign. "As a 501(c)(4), Tennessee Stands is focused on advocacy," he said. "We do not speak about particular candidates."
Humble has made some powerful enemies within the state Republican Party over the last few years, and Hanson's candidacy has provided them an opportunity to, according to Humble, "hit him from all angles." The Pamphleteer contacted half a dozen notable Williamson County conservatives for this article who are stalwart critics of Humble, including a current Franklin alderman and past and present officials in local Republican groups. Despite the antipathy he has garnered, little evidence exists that ties Humble to Hanson beyond her signing the petition for his 2022 State senate run.
During the time I've spent with Humble over the past three months–both in person and through text and phone exchanges—he's come off as a grounded and hardworking guy with an intimate knowledge of the General Assembly's inner workings. His reasoning is sound yet resoundingly anti-establishment. More importantly, he's bringing up legitimate concerns shared by both many otherwise apolitical lifelong Tennesseans and new residents of the state who have been pushed to the brink by a Republican party that, as Moore's Pride override indicates, has no regard for public opinion.
✰ ✰ ✰
Trailing Humble by a few steps this morning is a tall guy in athletic wear, so in shape, I couldn't begin to discern his age. This must be the "supporter" Humble mentioned on the phone. I assume he is a major or potential donor, a guy someone of Humble's stature would face rush hour traffic to connect with. But Humble had never even met the guy. After seeing one of Tennessee Stands' videos, the third member of our party cold-emailed Humble to see how to get involved, just one of the organization's 17,000 Facebook followers.
"Be careful what you say," Humble said half-jokingly as he introduced me to his newfound friend, Saro. "I have the press here shadowing me all day."
Even though I've interviewed Humble for various stories over the past two years, this morning is the first opportunity I've had to meet him in person. Like most Tennesseans, I first discovered him at the height of the pandemic when he was one of the few voices defying Governor Bill Lee's emergency orders that closed businesses and led to an impossible-to-navigate patchwork of local mask mandates. As someone unable to wear a mask due to a medical condition, it was difficult to find other like-minded people.
Social media shut down anti-mask pages as quickly as they popped up. Many friends and acquaintances I had known for years stopped talking to me for bringing up conflicts between reasonable accommodation disability law and the overzealous mask policies that businesses and county executives in red areas like Williamson, Wilson, Hamblen, and Sumner counties adopted. Beyond a few lower-level officials expressing that they agreed with my concerns on the DL, state representatives, and local leadership largely ignored my questions. I was exhausted by the whole thing, just trying to get through a completely avoidable new normal.
Yet, when Humble took to social media every day with his eloquent yet righteous indignation, I was inspired to hold the line. His attacks on the Lee administration were as ruthless as they were hilarious, especially his re-editing of the "Face It" mask-up PSAs the administration spent $4 million of taxpayer money producing. He wasn't just an angry guy spouting off online; he directly attacked by name the conservative officials who retweeted Ron DeSantis posts about government overreach, yet wouldn't give concerned constituents the time it took to respond to an email.
But unlike many local politicos who only address voters' concerns when election time comes, Humble appears to take those who contact him seriously when he has little to gain. There was no agenda for this coffee hour with Saro on which I was eavesdropping. Humble just wanted to see what he had to say.
Similar to many of the transplants who have settled in Middle Tennessee over the past three years, Saro and his family moved to Franklin from California. As a healthcare professional, he balked at his home state's vaccine requirements and draconian mask policies.
"That compliance culture bothered me," Saro tells Humble. "Even when it wasn't required, thirty percent of people still wore masks in Costco. The Republicans in California were just in sync and intimidated into silence. After two people mentioned Franklin to me the same week, we took a look."
Humble's brow slightly furrows when Saro says he feels as much like a refugee as when he came to the United States from Armenia decades ago. He bristles further when Saro relays that the state "lives out" its politicians' rhetoric about freedom. After talking about his love for the region, Humble responds. "Tennessee is not the promised land. I tell people we are California twenty years ago. That's why we need a movement to get these good ol' boys out. They grew up feeling entitled to these positions and bank on people voting for who they know."
In August 2022, Humble gained firsthand experience with establishment Republican politics when, during a primary challenge, he came within striking distance of unseating Senate Majority Leader Jack Johnson, losing 48.4% to 51.6% by less than 800 votes. Though Johnson had the endorsements of Governor Bill Lee, Lt. Governor Randy McNally, and Senators Marsha Blackburn and Bill Hagerty, Humble proved to be a formidable challenger who uncovered the disconnect between conservative voters and the MAGA-spouting party leaders who all immediately rode the Trump wave to entrenched positions in the status quo.
After such a pyrrhic victory, Johnson and his team struck back, filing a complaint with the state election commission for what they saw as illegal coordination between Humble and Tennessee Stands, accusing the campaign of failing to disclose who paid for a single mailer. The hearing will take place this month.
If the looming campaign finance audit was supposed to be the establishment's warning shot, Humble seems to have taken it as a declaration of war. In the months leading up to the last legislative session, he accelerated his attacks against Johnson and his cronies. Then, Humble initiated what one can only describe as a coup when Franklin conservatives who supported his state senate run ousted the leadership of the Williamson County Republican Party— at whose meetings Johnson has long been a fixture.
Though previous chair Cheryl Brown had raised more money for local candidates than any party in the state during her tenure, Williamson Republicans opposed her by a near 2-1 margin in favor of Tracy Miller, a leader of the group Vision 2023, which is aligned with Humble and shares Tennessee Stands' opposition to government overreach.
Four days before I met with Humble, one of his most prominent backers, Rebecca McCray, filed her own election complaint against Johnson, alleging he illegally worked with Tennesseans for Student Success and Team Kid PAC in addition to Lt. Governor McNally's PAC to send out mailers during the election (Johnson declined to be interviewed for this article through one of his representatives).
Humble doesn't mention all this drama to Saro. He doesn't brag about these recent successes. He simply invites him to the Williamson County Republican mixer taking place that night. "We'd be lucky if twenty people showed up in the past," Humble said. "Now we are nearing 200 and have outgrown two spaces." Before we pack up, Saro asks if Humble knows anyone who could help his family with a visa matter. "I'll make a call," Humble says as they shake hands and part ways.
✰ ✰ ✰
"Welcome to my mansion," Humble deadpans as we pull up to his property on the outskirts of Franklin proper. I hear a chicken clucking at the edge of the yard. The house is the type of rural Magnolia fixer-upper that Franklin's cottage-core boutiques were made for, but it is by no means the type of dwelling Humble's detractors assume he lives in. "The septic failed, so we just had to put in a new line. That'll really eat into your savings," Humble says as we both navigate a few rotted-out deck boards. "We love it here, but it needs a lot of work."
Since Tennessee Stands rose to prominence, its critics have accused Humble of getting rich off the outrage he stokes over COVID, school board corruption, and mismanagement of taxpayer money. The more Humble sparred with Tennessee conservatives, the more they tried to make this grifter image stick, culminating in headlines like "Tennessee GOP Legislators Blast Fringe Theory Lobbyist" from Michael Patrick Leahy's Tennessee Star, a favorite of figures like Steve Bannon and Rudy Guiliani.
Humble's one seeming frill is an electronic gate that requires him to fumble with the keypad before we enter. However, the expense is not an extravagance. As the battle between parents and the Williamson County school board raged three years ago in the days before Tennessee Stands, Humble spoke out at a rally for parents. When he woke up the next morning, someone had doused his entire front yard in diesel fuel, leaving his family to cover the expense. Though a few of his friends helped with the clean-up and repair costs, Humble felt the need to move to a more remote area where he had tighter security at his disposal. The assailant responsible for a crime that was, at best, vandalism and, at worst, a threat to the lives of Humble and his family was never caught.
Before moving to Tennessee six years ago, Humble earned undergraduate degrees in ministry and general studies at Northwestern State University in Natchitoches, LA, a small town most famous for its meat pies. After graduating and marrying his high-school sweetheart, he worked as a minister in Texas. When he had the opportunity to turn his beer brewing hobby into a side hustle, he founded the Grapevine Brewing Company, named after the city in which he lived at the time. The business grew exponentially and led Humble to travel to brewing conventions all across the county.
"I won the beer Olympics," Humble says as he gestures to a small section of bling on a shelf. But, after a while, navigating franchise laws and Big Beer's distribution monopolies sucked the fun out of craft brewing. With his company in healthy shape, Humble sold the brewery and moved to the Middle Tennessee area to work for conservative values advocacy group The Family Action Council of Tennessee. At the time, he had the same belief as Saro in Tennessee's reputation as a no-nonsense conservative state. But like so many others, COVID galvanized him into action.
Humble spent the time between when county mask mandates took effect in the summer of 2020 and the COVID special session in October 2021 leaning hard on conservative legislators. He filed lawsuits against the Lee administration over the constitutionality of emergency powers. Judges rebuffed him and Tennessee Stands for having no standing to make the claim. Undeterred, he launched a statewide Freedom Matters tour in the summer of 2021 that saw him take his message to thousands in every one of the state's population centers. With a guest list that included then Maury County Mayor Andy Ogles, influencer Robby Starbuck, and national figures like former presidential candidate Alan Keyes, he cultivated pockets of resistance that exerted more pressure on local legislatures.
Curious about Humble, I attended one of these rallies in July 2021 in Lenoir City, TN, as the Delta days had reached their zenith. I expected a few retirees milling about. Instead, a multi-demographic mass of angry Tennesseans huddled together, passing out homemade pins and stickers with slogans like "The media is the virus." I realized, for the first time since the pandemic began, that I wasn't alone. A force was amassing, ready to provide a shock to the system, which invariably led Tennessee to become a leader in protecting medical freedom.
Humble's time traversing the country for beer competitions made him the perfect catalyst for fomenting such rebellion. During the height of the pandemic, he'd travel the entirety of Tennessee weekly. Now he's scaled back to once-a-month state tours. "We do a lot of work to help people meaningfully engage their legislators," Humble says. "We won. Grassroots are strong. We are vocal."
An outsider like Humble hoping to dip his toe into the political world could have stopped there. The legislative session seemed like a groundbreaking win, the perfect sound bite for a future campaign commercial. But Humble maintains that the law is a major disappointment; anything that didn't prevent any entity—public or private—from requiring masks or proof of vaccination meant the work wasn't done. More importantly, he feels the legislation passed at the session doesn't limit the governor's emergency powers enough. In fact, Governor Lee and his successors have the ability to undo the 2021 COVID Omnibus Bill by declaring a new emergency if the right opportunity arises. Of course, Humble resolutely remains on message.
✰ ✰ ✰
Those who have seen Humble's Rumble videos recognize his home office, the second floor of a converted detached garage about 500 feet from his house. A painted wood flag is front and center behind him in the minimalist background, only accompanied by a few framed photos and a stuffed toy rhino he keeps in the left corner to remind him that the greatest threat to freedom in this state is its entitled Republican establishment. On the wooden shelves behind his makeshift studio rests a book collection in the hundreds with titles ranging from Bible study materials to Whole Foods founder John Mackey and Harvard professor Raj Sisodia's Conscious Capitalism.
In the gaps between his stacks are various beer brewing accessories and a few unopened cans. "These shelves really remind me of my different pasts," Humble laughs. As soon as Humble settles, he dials up the office of Rep. Andy Ogles, his longtime friend and frequent collaborator, to talk about Saro's situation. By the time I climbed into Humble's half-decade-old Chevy Silverado, and we made a quick stop at the bank an hour ago, I'd forgotten about Saro's request. However, it is clearly the most pressing matter on Humble's mind as he tackles his morning work.
I sit down on one of the oversized couches in Humble's office while he readies his desk for one of his weekly Rumble videos. During the last legislative session, Republican Representatives Bryan Richey (Maryville) and Senator Mark Pody (Davidson and Wilson) introduced a bill that would severely handicap executive emergency orders by only allowing their extension with the state legislature's approval. It died a quick death on the floor thanks to efforts by the governor's staff. The whole thing was rife with policy wonkery and petty soap opera theatrics, the type of government action average Tennesseans simply don't have time to get bogged down in. Obviously, it caught Humble's eye to the extent that it's the latest in his line of video missives about Bill Lee's "rule by executive fiat."
Whether it's his years in ministry or his zest for local policy, Humble nails the 22-minute video in less than three takes, with only a few rogue "umms" slipping through. His knowledge of proposed laws, numerical codes, and legislation sponsors is impressive—not just when he's on camera but in our chit-chat on the drive over and with Saro earlier that morning. It's reason enough that an inveterate politico like Johnson didn't want to debate Humble face-to-face on the campaign trail.
In less than forty-five minutes, it's time for lunch. Humble takes me to one of his favorite spots, Herban Market—the type of organic locavore paradise that appears in every magazine feature on Franklin. But getting in takes forever. Not because of a lunch-rush line, but because at least a dozen people on the walk from the parking lot to the entrance greet Humble. The same thing happened when we left Onyx + Alabaster that morning, with just about every other person on the sidewalks of downtown Franklin waving or stopping.
Humble gets the same reception I'd imagine would meet local couple Carrie Underwood and former Nashville Predators captain Mike Fisher (Humble's highest-profile endorsement in his Senate bid). Those around us aren't devout political junkies either: they're two high-schoolers on a date, a mom unloading her kids from the backseat of an SUV, some millennial professionals headed to a lunch meeting. To them, Humble isn't just some regular at the place; he's a guy those in the community remember because of the way he interacts with them.
More impressively, he knows everyone by name. "We're having a cake for her [the owner] cause it's her birthday, and she'd love for you to stay and sing," our waitress tells us. Humble offers to pay for my meal, which I awkwardly rebuff since I'm on the job. The warm exchanges he's having with those bustling through their lunch hours indicate to me I'm not the only one he's made this offer to. As someone who covers local politics for a living, I'm not sure I'd recognize most members of the General Assembly in the street. I'm also positive they wouldn't know me even if I've written about them.
"This place was an oasis during COVID," Humble says as he chews the burger he considers Herban Market's signature dish. "You'd come in and wouldn't know a pandemic was going on." It would be inaccurate to state that COVID made Humble a political animal. After all, his primary work for the Family Action Council was advocating for socially conservative legislation. What happened to Humble in the summer of 2020 was the revelation that the politics he'd kept confined to email lists and Legislative Plaza had directly encroached on the lives of a community he loves.
It just so happened that he was the right guy for the job–the gadfly who exudes Southern charm in his day-to-day life called to become the voice of those too intimidated to speak up due to fear for their jobs or the future of their small businesses. "I didn't go into this with a skill set to become some sort of political advocacy organization," Humble says. "It just happened, and I try to keep up with it. I don't have a five-year plan."
A waitress who is also Humble's go-to babysitter comes up. "We're lighting the candles." Humble pops out of his seat and hugs Herban's co-owner as he shakes hands with other customers. Dozens of people break out into "Happy Birthday," including Humble.
We try to make our way to the exit, but people keep stopping us until a clap of thunder breaks up the revelry. A freak rainstorm has broken out, and we jog to the truck. With water pooling up around the entrance we came in, Humble quickly turns and goes down an alley behind the shopping center. He may not be a native son, but he sure knows the backroads like someone who has lived here all his life.
✰ ✰ ✰
"I love to be underestimated. I love to be misunderstood," Humble tells me about those self-proclaimed political insiders who paint him and his team as a reactionary minority. "Because what that means is they're trying to fight something that they don't even understand. Which puts them at a disadvantage. Our folks are regular, just like myself. Working people. Moms and dads. You know, people who aren't politically savvy. People who don't have a history in political campaigns and all these types of things that so many people that have been involved in politics for years do."
As one of these self-proclaimed moms lacking political savvy, Aimee Fletcher, Tennessee Stands's current grassroots director, first learned about Humble during his 2022 Senate bid. "He's been a warrior from the start and people connected with his message and desired the community that began to form around advocating for our children and families," Fletcher said in an e-mail exchange a few weeks later.
"He was speaking out boldly on the issues we were facing not only in Williamson County but as Tennesseans, bringing a closer view that the government overreach we could see on the federal level was a lot closer to home by the actions of our state leadership. He began rallying the hearts of people by calling them to action with a message of self-governance and getting involved."
As expected, most criticism of Humble focuses on his outsider status. His critics see him as an interloper whose attacks on Republicans are a threat to the supermajority's ability to implement conservative principles, a self-installed big mouth who caters to other inauthentic outlanders who have relocated to the state. Yet, for Humble, the Californication of Tennessee is not a threat to conservatism. In fact, it's the phenomena that may ultimately save it.
"You have a lot of people that are coming here from out of state with these grandiose expectations that they're going to find the most conservative state they've ever known. You know, their expectation that has been built up in their minds is that they're coming to conservative heaven, so to speak. And they see immediately that that's not the case at all," Humble says. "People that are coming from California, they've experienced that slow leftward drift, they left it, they know exactly what it looks like, they've lived it. So, I think those folks find Tennessee Stands and they see someone fighting, and they want to be a part of it."
Tennessee Stands carries out its activities through two nonprofits: a 501(c)(3) called The Tennessee Stands Foundation and the 501(c)(4) officially titled Citizens for Limited Government and Constitutional Integrity, Inc. According to ProPublica, The Tennessee Stands Foundation's total revenue in 2021 was $147,000, amassed entirely through small contributions. Likewise, the 2021 Form 990 for Citizens for Limited Government and Constitutional Integrity shows a total revenue of $219,435 earned through equally populist means.
"Almost every advocacy group is organized that way. And so we have a 501(c)(3) that allows us to expend funds for charitable purposes, like educating the public on issues, which is a lot of what we do. And we have a 501(c)(4) that allows us to expend funds on express advocacy, meaning we advocate for the success or failure of certain political measures," Humble says.
Tennessee Stands's tax-exempt status became one of the legislature's most prominent issues back in January, when Representative Sam Whitson (R-Franklin) and Senator Richard Briggs (Knoxville) introduced SB0160 that would reclassify advocacy groups like Humble's into PAC's, leaving them subject to campaign finance law and effectively silencing their message and reach.
Humble fired back furiously with a video providing convincing evidence that Briggs had never actually lived in the district he represents and worked to change the map during redistricting last year to include the lakehouse that serves as his primary residence. The bill ultimately died in committee. However, Humble sees it as just the latest establishment attempt to silence him. "I was targeted with 100% certainty, and there were legislators at the Capitol, including Democratic legislators, who nicknamed it the Tennessee Stands Bill," Humble says.
As Humble's campaign faces the audit hearing this month, he remains confident that the ethics complaint was nothing more than a way for Johnson to seek revenge for his opponent's overperformance in the primary. "The simple fact is we spent zero dollars from Tennessee Stands on the campaign," Humble maintains. "Any Tennessean right now can go to the campaign finance portal that's put out there by the state… Legally, you don't have to itemize any expenditure $50 or less, you don't have to disclose it, you can just report a lump sum. We didn't do that. I reported expenditures down to the penny. I reported expenditures that were less than one dollar."
Indeed, Humble's disclosure forms and detailing of expenditures are meticulous. "Every time I ran a Facebook ad, you see it," Humble says. "I don't think there's another campaign where you can see those expenses because they were all done through consulting firms."
Though Humble has remained vocal against COVID restrictions and issues du jour like CRT, he has found that legacy outlets have portrayed him in a much more favorable light than conservative websites like the Tennessee Star and talk radio hosts like SuperTalk 99.7's Matt Murphy. "Broadcast and The Tennessean treat me fairly. The Middle Tennessee talk radio machine doesn't," Humble says. "It makes sense. Those media personalities want access."
An obvious display of such access was on display on September 11th of this year when Murphy and the Star became apoplectic over a tweet Humble sent out that called 9/11 a "coincidental opportunity for the elites to continue their takedown of our Constitution," followed by a cartoon of George W. Bush playing with paper airplanes next to a toppled Jenga set. The Star bizarrely responded by contacting state legislators with the most conservative bona fides like Representatives Jason Zachary (Knoxville), Jody Barrett (Dickson), and Jeremy Faison (Cosby), and collecting their comments in an article that clearly intended to paint Humble as a radical. In response, Humble let the vitriol against the establishment fly in in a Rumble video that immediately racked up thousands of views.
When I reached out to him in the aftermath, Humble refused to backtrack. "I'm tired of the facade of obligatory consolations," he said. "What am I never forgetting exactly? Some people want to move on and not think about these things at all. Some may have to do that to get by. I know I'm very loved and very hated. But people should still be able to ask questions."
Humble's demonization by local conservative media has led him to put most of his efforts these days behind a new project: the weekly Freedom Matters podcast that he co-hosts with local lawyer and Tennessee Stands Foundation board chair Kevin Kookogey. For Humble, the show is a way to keep Tennesseans abreast of governmental abuses in the state that he hopes will keep his base invested in politics now that the most visible signs of COVID overreach have waned. "We have a similar history," Kookogey said of his collaborator during a phone interview. "When Gary brought up the connections between the medical cabal and those in government, it was a breath of fresh air. He tells the truth, and people are attracted to the truth."
As much of a hindrance as the audit and other attacks have become, Humble sees it all as par for the course for creating a watchdog group that holds conservatives accountable. "That's the problem with the political establishment and a problem of the political elite. It's never about the issues. Right? It's never about the Constitution. It's never about whether or not someone has a right to make their own medical decisions," Humble says. "It's only about keeping the person in power. And I think people see that. They recognize that plainly. And that's exactly what we're doing here. In Williamson County, that's all Cheryl Brown ever did. We've just got to keep an eye on the seat. Doesn't matter who is in it."
By all accounts, Brown was one of the state's most successful party chairs in terms of fundraising and retaining seats in the state before Humble's coup ousted her last May. The problem for Brown was that Humble saw the county party as a forum for issues advocacy–not just winning elections.
"Our mission is to raise funds to support Republican candidates and grow the membership," Brown said to me during a phone interview last month. "That was my target. That was my focus. That was what I did. So, with all the other stuff that they were wanting the county party to do, that was not our mission…Basically, with Gary, he is what they talk about when they talk about Obama. He's a great orator. You know, he can say it in a way that moves people and brings people in. It doesn't mean that what he says is right."
When I asked Humble about Brown's comments weeks after our time together, he simply responded via text, "I think our efforts during the reorganization speak for itself. We swept all eight positions garnering double the vote total for chair and votes two to one for the remaining board positions. That's a referendum."
✰ ✰ ✰
After Humble returns from a private phone call he has asked me to sit out, I witness the scope of this referendum firsthand. We pull up to the Franklin Mercantile Deli for the Williamson County Republican monthly mixer to find a line outside the door at 5 p.m. that looks like what one would expect to find in front of a Printer's Alley bar on a Saturday night. People flank Humble as we wade into the packed room.
The crowd skews a bit older, but several twenty-somethings fresh from work order food at the counter. Jack Johnson is there in the corner talking to tonight's speaker, U.S. Representative Mark Green. But the crowd's energy remains laser-focused on Humble, who again greets everyone by name. The whole affair is a Monday biology lab where the runner-up prom queen aims her death glare at the victor. Except in this case, the also-ran clearly came out on top. It's easily the most well-attended county Republican meeting I've covered in the state.
And these are Gary's people. When Green takes questions after his keynote, he's gruffly rebuked over his support for Ukraine aid and inaction on impeaching Joe Biden. The scene resembles the Coliseum-style eviscerations of liberal congressional reps at town halls in 2009 on the eve of Obamacare's passing. But Green is MAGA through and through to the point that he continues to cast doubts about the integrity of the 2020 election. Though he eventually shows his annoyance and gets testy with a female attendee as he touts his military and medical expertise and "our" duty to support Zelenskyy, he tries to win the crowd back over by asking how many have moved to the state recently. Nearly a third raise their hand. In the political climate Humble has masterminded, a Trump reference and appeal to support your local boy's campaign bid are coming to an end. The people are paying attention. The platitudes no longer suffice.
As the event winds down, dozens of animated conversations continue in the dining area. I run into Saro on the way out of the bathroom. He's changed into a button-up and khakis and brought along his wife. The couple tells me how excited they are to see that so many people think like them. I'm nearing the end of my time here, but it takes me another half hour to get to Humble so I can say goodbye. As I pull out of the parking lot and drive up Main Street, Humble has moved outside. He's still mingling among a clump of attendees with the same energy he brought to Onyx + Alabaster twelve hours ago. It's clear he's not going anywhere anytime soon.