No. 309: A Line in the Sand
⁂ Nashville's Alt-Daily ⁂ Trump Raid · Cold Case · EVs into Oblivion · Who Gets Audited · Much More!
Good morning, everyone.
You've probably heard by now, but the FBI invaded Trump's Mar-A-Lago estate last night. Presumably motivated by FlushGate, in which deranged NYT journalist Maggie Haberman reports finding "very important" scraps of paper in the toilet with Trump's handwriting on them—one inside the White House, the other in a "foreign" country—the raid further escalates tensions between Trump and his followers and the US government.
And no, none of that is a joke.
Predictably, leftists and anti-Trumpists met the news with their famous yawn. As we pointed out a few weeks back:
The yawn is an avoidance tactic that feigns moral and intellectual superiority while exhibiting dullness and cowardice. It is deployed when some flagrantly abnormal thing is occurring, which the sophisticated liberal is too sophisticated to defend outright—since to do so would expose them to potential mockery and loss of status—but too cowardly to condemn, since that would risk placing them on the wrong side of Progress.
Siegel's phenomenon repeats itself here. The Democrats yawn, and the Republicans yell. While the left was busy yawning, Trump released a campaign video, and Meta (formerly Facebook) revealed that even their new AI chatbot thinks Trump is still the President.
Because we're not yawners over here, let's sketch what precedent this could set by looking at some recent history.
In 1972, information about Richard Nixon's involvement in campaign snooping led to his resignation. Fast forward to 2022, and news that Hillary Clinton's campaign snooped on the Trump campaign is met with that familiar yawn, followed by hysterical cries of the "right-wing conspiracy theory" variety.
Precedent set.
The new normal involves political opponents spying on one another. Well, maybe that's always been normal: the new part is the public's awareness of and subsequent yawning at this phenomenon. So it may very well go for FBI raids of political opponents.
Additionally, this is a message broadcast in 4K to all of Trump's followers. As Michael Anton recently put it, "Complaints about the nature of Trump are just proxies for objections to the nature of his base." The IRS announces its expansion and the FBI raids Trump in the same week? Either D.C. is about to hang Trump by his heels in the public square, or they're staring down the barrel of their own gun knowing they've screwed the pooch.
Onward.
You can follow us on Twitter (@realpamphleteer) or Instagram (@realpamphleteer) for additional content.
Also, be sure to check out our podcast. Available wherever you get your podcasts.
Thanks for reading.

❍ MORE FROM THE ATTORNEY GENERAL HEARINGS
Interviews of the six candidates vying for the State Attorney General position are continuing today in the Tennessee Supreme Court.
INTERVIEWS IN PROGRESS
Yesterday's proceedings included a ten-minute introduction presented by each applicant before the floor was open to questions from the public. Only one public question was asked yesterday and the process proceeded to a line of questioning conducted by the board of Supreme Court Judges overseeing this appointment. The interviews continue today starting at 9:30 a.m.
PUBLIC QUESTION
The only public question was posed by a Williamson County resident and was directed at Jonathan Thomas Skrmetti who currently serves as Governor Bill Lee's general counsel. The question was about a closed case regarding the accidental death of Grace Christian Academy student Grant Solomon.
GRANT SOLOMON
According to Williamson Homepage, Grant Solomon died in a car accident involving his own vehicle on July 20, 2020. While collecting his baseball equipment from the back of his truck, Grant's vehicle began rolling backwards and pinned him underneath it. Grant's father, Aaron Solomon, was the only witness to the event. Aaron was parked in the spot next to his son's vehicle, but was checking emails before noticing the truck rolling backwards.
PUBLIC OUTCRY
Medical records show that Grant suffered from three bruises to the front of his body and a laceration on the back of his skull. A few factors have led to the public outcry and calls to reopen the case. Questions regarding the injuries sustained from the accident, including a reference to the lack of any marked abrasions or burns on the medical examiner's report despite Grant being dragged across the asphalt, have been outlined on an Instagram page called FreedomForGracie. Both Gracie, Grant Solomon's 14-year-old sister, and their mother Angelia Solomon have made allegations that Aaron Solomon abused them.
A petition to reopen the case directed towards the Gallatin Police Department Chief of Police Don Bandy has received 5,000 signatures. There was also an organized protest that took place outside of the Williamson County Circuit Courthouse on November 10, 2021.
PUBLIC QUESTION POSED
The resident who posed the question during yesterday's proceedings explained that a letter regarding the case of Grant Solomon was given to Governor Lee. The letter was a plea for investigators to take a second look into the case. She asked Mr. Skrmetti whether he had read the letter and if he would facilitate an open and transparent investigation of the case as AG.
JONATHAN SKRMETTI'S ANSWER
Skrmetti did acknowledge that he recognized the case and reviewed the letter. He went on to explain that the director of the DA's Conference and another experienced District Attorney both looked into this case, had visited the crime scene, and investigated the case but that they "did not see predication for moving forward" but that law enforcement community took the case very seriously. As for there being no response to the letter, Skrmetti stated that it was his understanding that the letter was delivered to a family member of Governor Lee's and followed up accordingly.
You can watch the entire proceedings online.
HEADLINES
POLITICS
DEVELOPMENT

𝓧 ELECTRIC VEHICLES INTO OBLIVION
Following the passage of the Inflation Reduction Act (which does nothing of the sort), electric vehicle producers are up in arms about the tax credit offered to potential buyers because it "threatens" their target of 40-50% electric vehicle sales by 2030. If you spit out your coffee, we did too.
How, exactly? The bill bases the credit amount on the percentage of American-made battery components. After 2023, no batteries with Chinese components will qualify. At present, China accounts for roughly 80% of materials needed for EV battery production. Seems like this tax credit isn't going to make a dent.
Considering that in May of this year, only 4.6% of total vehicle sales were electric vehicles, the path to 40-50% will have to involve heavy government subsidies. Customers simply don't want the cars badly enough.
In California, Gavin Newsom signed an executive order in September 2020 stating:
100 percent of in-state sales of new passenger cars and trucks will be zero-emission by 2035. It shall be a further goal of the State that 100 percent of medium- and heavy-duty vehicles in the State be zero-emission by 2045 for all operations where feasible and by 2035 for drayage trucks.
Taken in stride with the state's swift move away from nuclear power and its recent struggles with rolling blackouts and brownouts, the future of California doesn't seem, well, bright.
⁕ CHARTS OF THE DAY: WHERE THE IRS WILL AUDIT
Compare these two maps of the United States. The first is where the IRS does more audits. The second represents the percent of the population living in poverty. Notice that the audits concentrate on the most impoverished areas.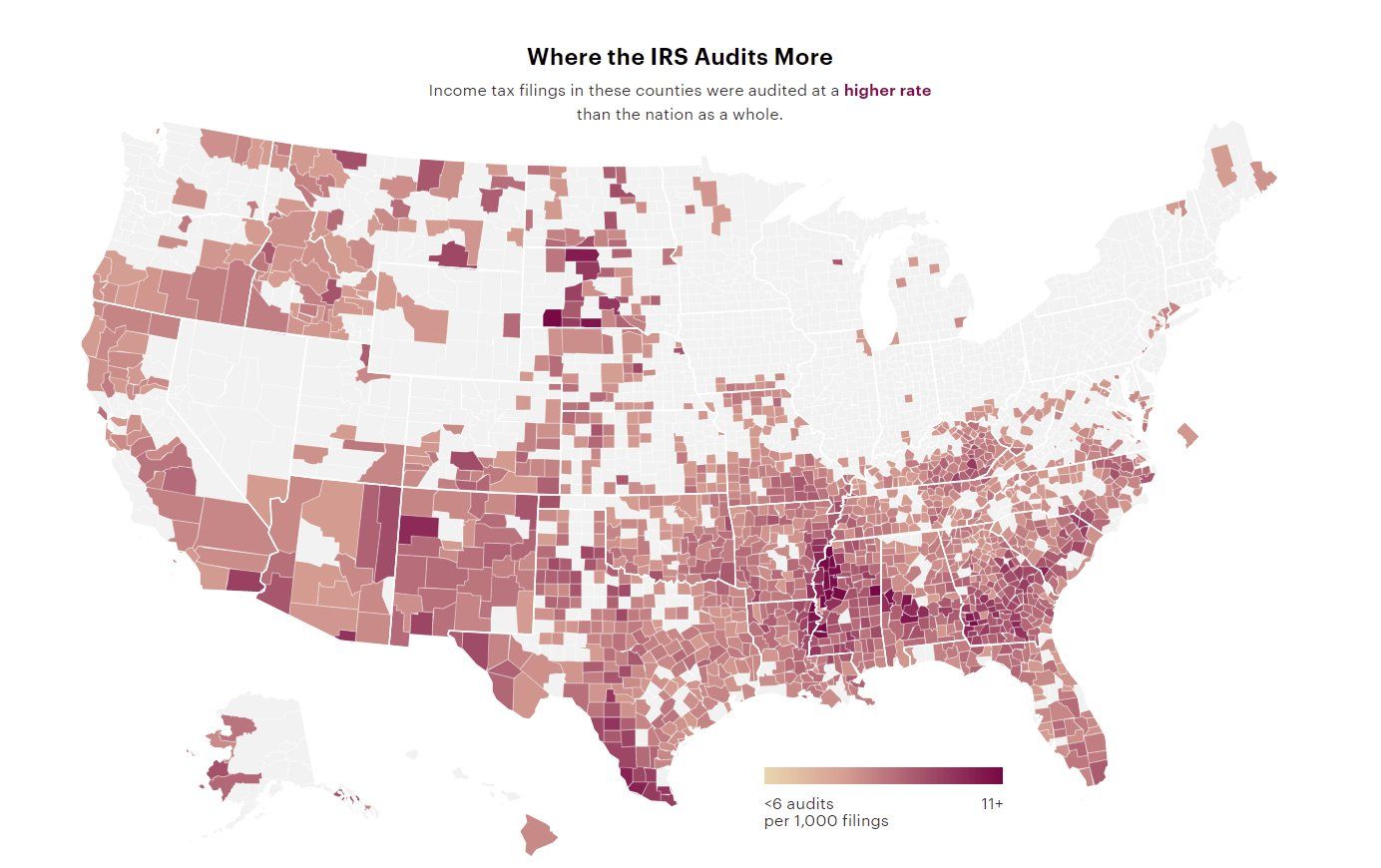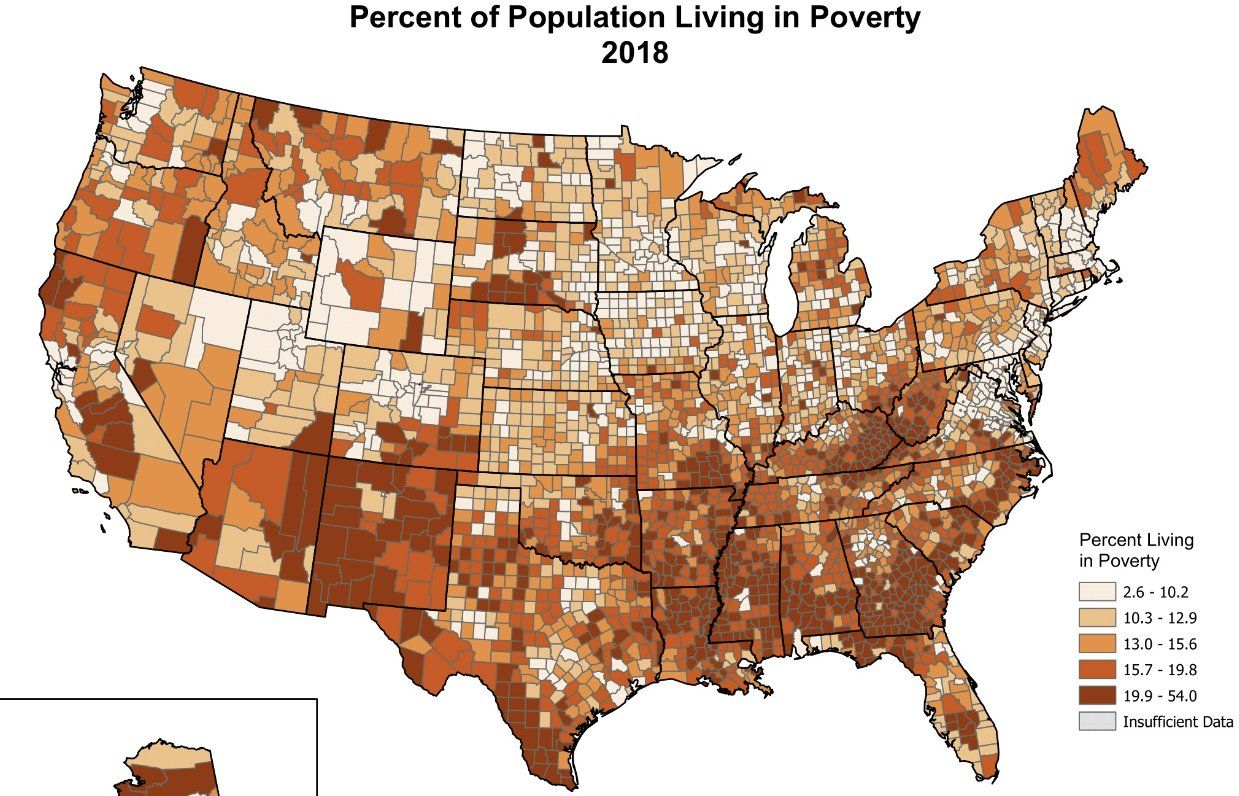 ⚔ MISSIVES ⚔

THINGS TO DO
View our full event calendar here.
🍺 The Pamphleteer hosts Bar Hours on the third Thursday of every month (the next meeting is August 18th) at Lucky's 3 Star Bar from 6-8 PM. The first ten guests get drinks on the company tab.
🎪 Check out our favorite driving distance festivals this summer.
👨🏻‍🌾 The Pamphleteer farmer's market guide.
⚔️ Knights in Armor at the Frist starting July 1st: European arms and armor from the renowned collection of the Museo Stibbert in Florence, Italy.
🍅 Tomato Fest, all day on the 12th and 13th in Five Points
🎼 Listen to The Pamphleteer's Picks, our playlist of bands playing in Nashville each week.
TONIGHT
🎸 Miles Hewitt @ The 5 spot, 7p, $10, Info
🎸 Honky Tonk Tuesday @ American Legion Post 82, 5p, Free, Info‌‌‌‌‌‌‌‌‌‌‌‌‌‌‌‌‌‌
+ Two step lessons @ 7p, The Cowpokes @ 8p
🎺 Todd Day Wait @ The Underdog, 11:30p, Free, Info‌‌‌‌‌‌‌‌‌‌‌‌‌‌‌‌‌‌
+ Honky Tonk Tuesday afterparty, down the street
ON THE RADAR
🐂 Professional Bull Riding @ Bridgestone, (8/19-21), $20+ Info
🐖 Roger Waters @ Bridgestone, (8/27), $39, Info
🎹 Stereolab @ Marathon Music Works, (9/6), $35, Info
+ Motorik post-rock synth avant-pop surrealist prismcore
🎸 My Morning Jacket @ Ascend Amphitheater, (9/23), $22.88, Info
⚔️ HELMET @ Marathon Music Works, (9/24), $35, Info
+ 90's alternative metal band from NY, a Pamphleteer favorite
👾 Flamingosis @ Basement East (9/29), $20, Info
🎻 Gustav Holst's The Planets @ Schermerhorn (9/29-10/2), Info
+  Early 1900's orchestral suite, each movement is named after a planet
🕺 Remi Wolf @ Brooklyn Bowl (10/6), $30, Info
+ Young talented funk/pop/hip-hop singer, one of the few
🎸 Smashing Pumpkins @ Bridgestone Arena, (10/10), $133+, Info
+ 90's alt-rock from Chicago
🎸 The Doobie Brothers @ Bridgestone Arena, (10/12), $43+, Info
🎺 Too Many Zooz @ Basement East, (10/31), $20, Info
🌶 The Gypsy Kings @ The Ryman (11/1), $39.50, Info
+ The roving band of flamenco guitarists

RECENT PODCASTS
FROM THE ARCHIVE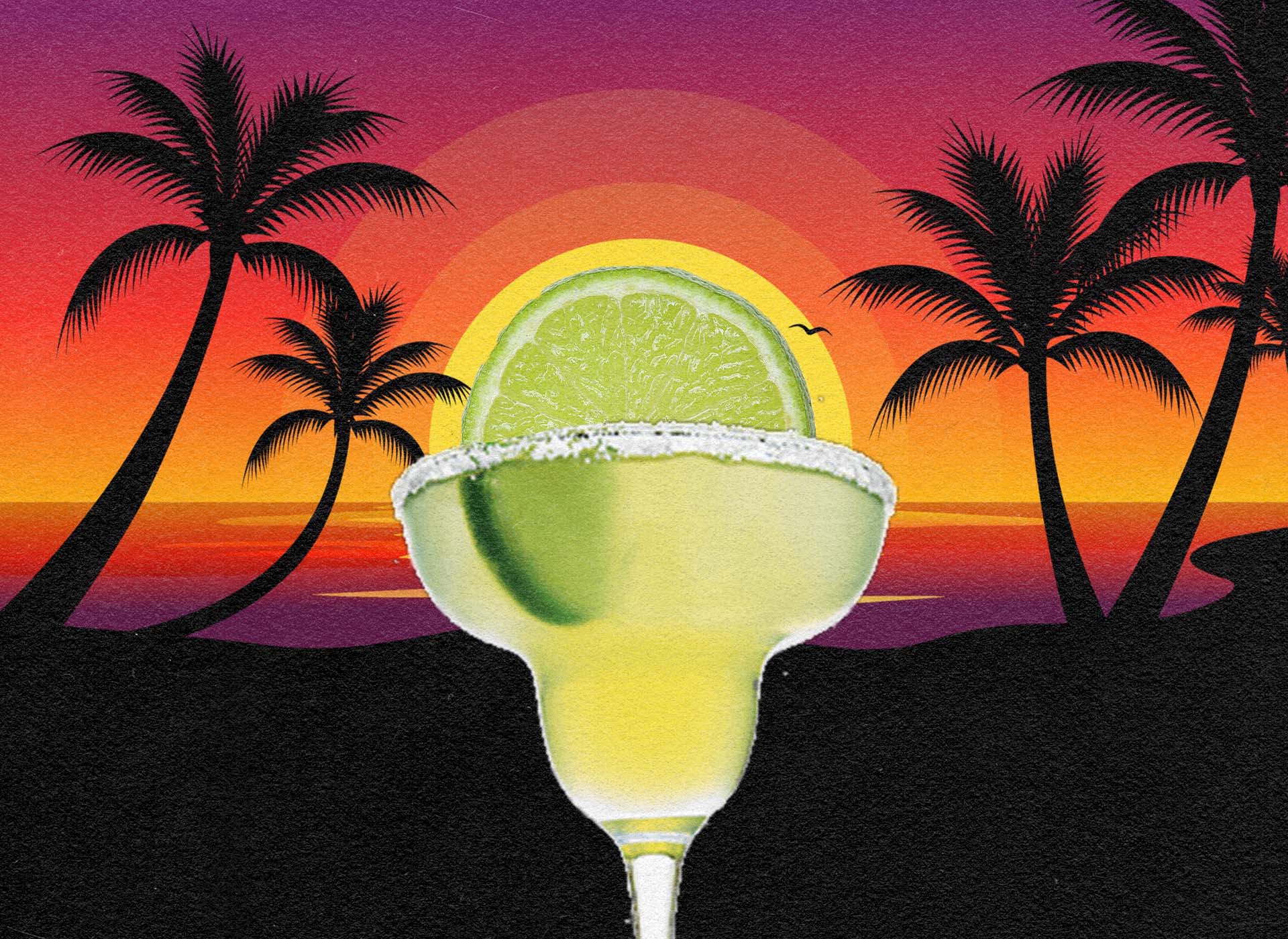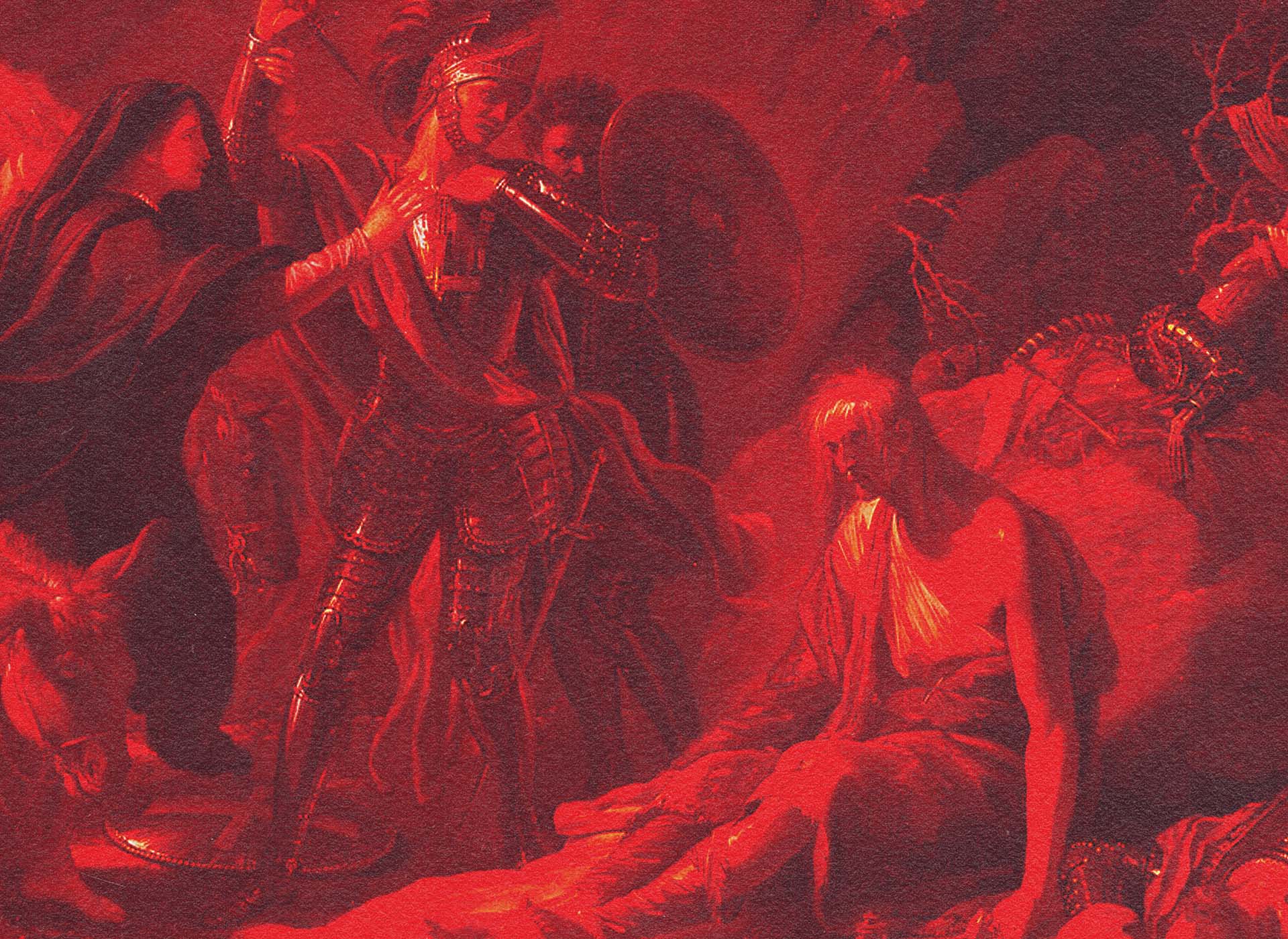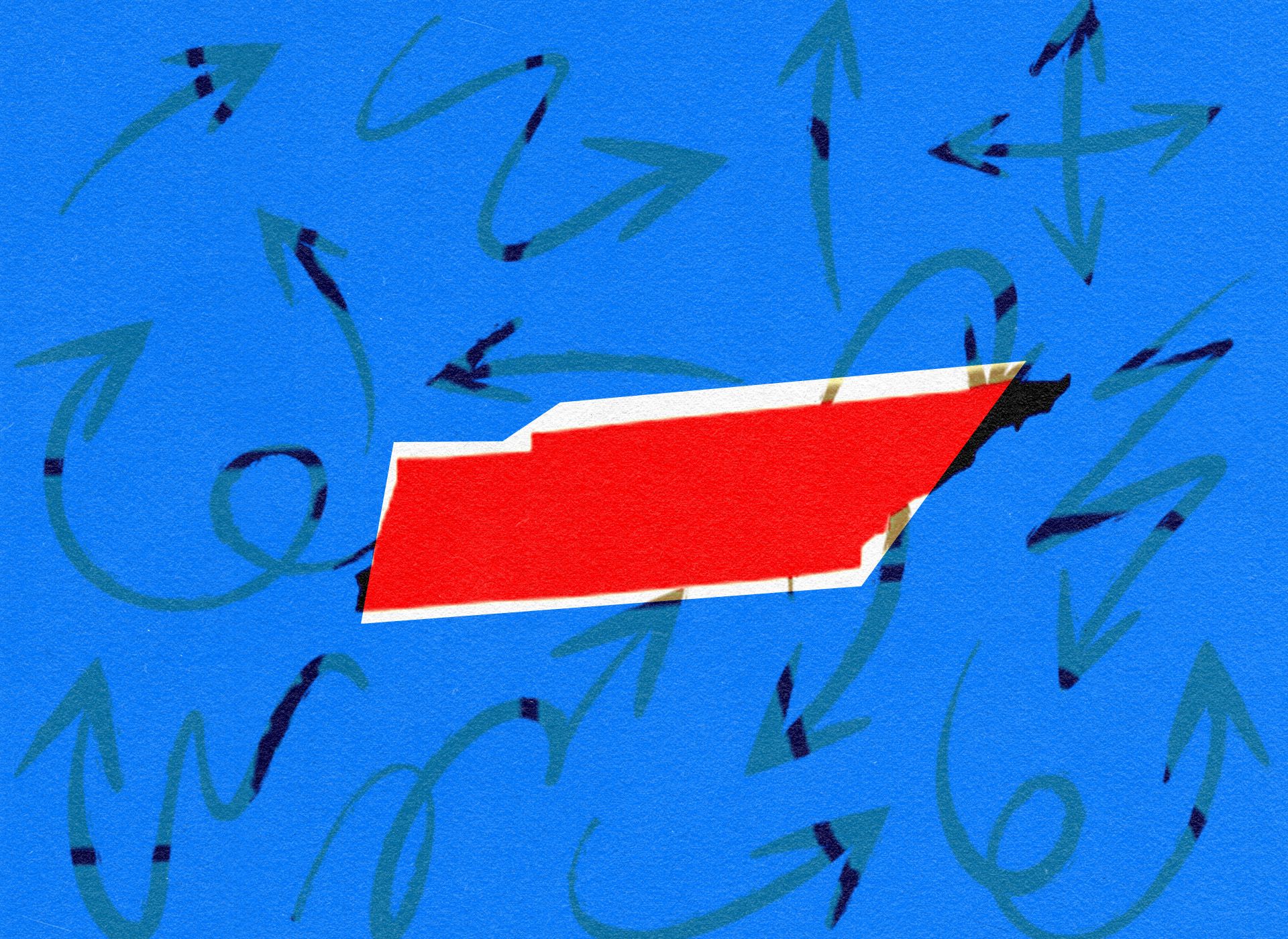 Around the Web
➫ Deborah Birx's Guide to Destroying America The former White House coronavirus coordinator's monstrous autobiography explains how lockdowns happened
You May Also Like
Words of Wisdom
"Just the minute the FBI begins making recommendations on what should be done with its information, it becomes a Gestapo."

J. Edgar Hoover
Today's newsletter is brought to you by Megan Podsiedlik (Nashville), Edward Landstreet (Local Noise), and Davis Hunt (everything else).