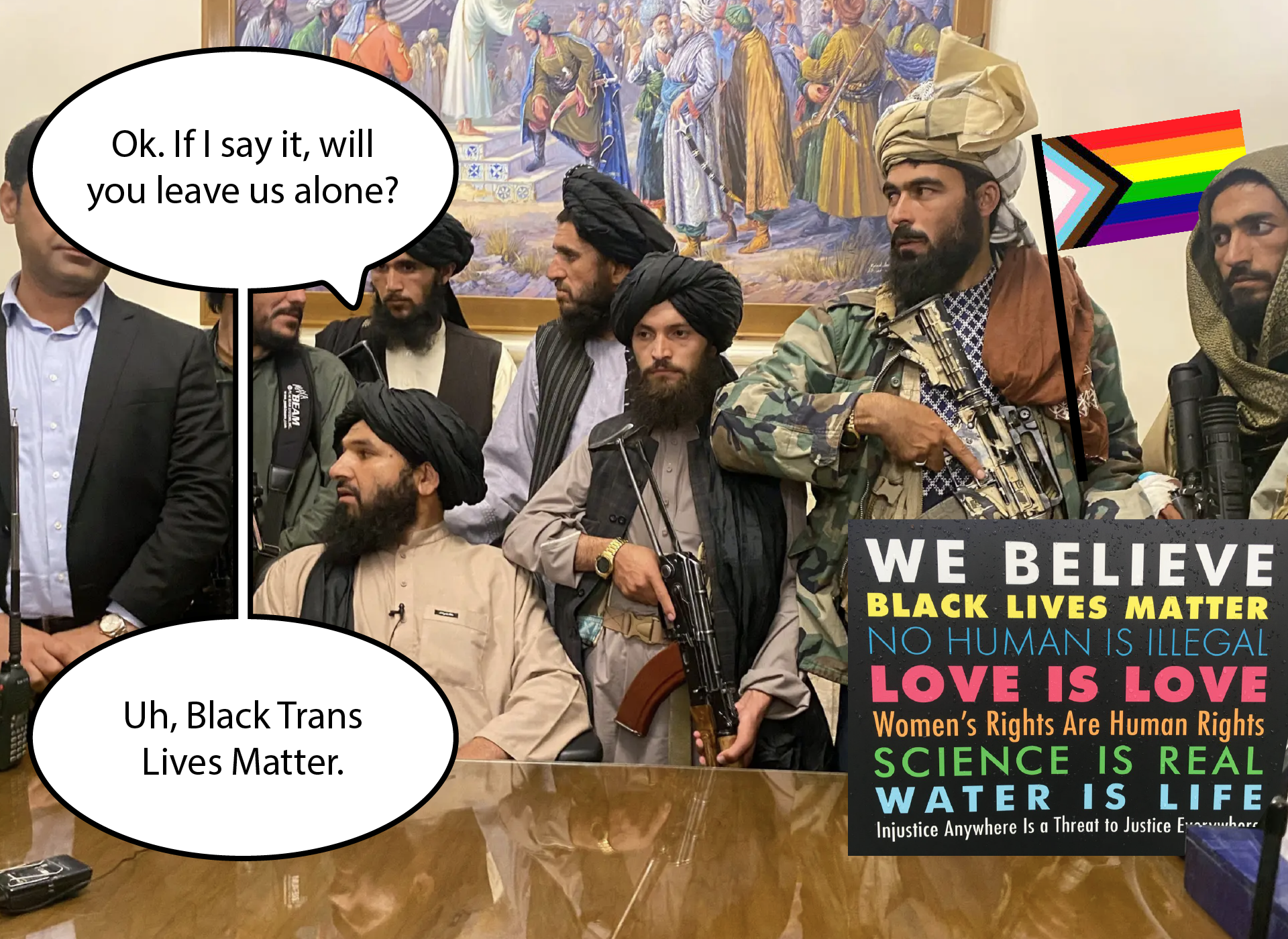 Today's Takes: Thursday, August 19
Vol. I, No. 71 • A Journal of Freedom • Political Tech • Money Moves • Inflation • Lodge Cast Iron Skillets • Much More!
---
The full breadth of the US government's incompetency has been on full display this entire week. The gaffe-machine, Joe Biden, was in action last night dismissing the failed withdrawal from Afghanistan as "four or five days ago". Presumably, he was tending toward the old aphorism that time heals all wounds, but fell a bit short.
Additionally, Biden decreed yesterday that everyone will need to get a "booster shot" eight months after your "first second shot". It makes one wonder when the blame will shift from the unvaccinated to the recently vaccinated. It appears that the regime got the strength to leave Afghanistan only after discovering a more profitable product than bombs: leaky vaccines that they passively mandate. This is great news for Pfizer and Moderna stock.
Headlines
📰 Today's Front Pages
💸 Money Moves
🗺 News from the Frontier
Memory of Migrant Crisis Haunts Europe as First Afghan Refugees Land (NY Times)
Little Tony Blinken, the Secratary of State of the most powerful country in the world, had a cute tweet: "Together with our international partners, we call on those in positions of power and authority across Afghanistan to guarantee the protection of women and girls and their rights. We will monitor closely how any future government ensures their rights and freedoms." (Twitter)

Rest assured, fellow citizens. Our leaders are very smart.
‼️ Can't Believe It's Not _____
Pete and Chasten Buttigieg say they have become parents (WaPo)

They didn't 'have a child' they 'became parents'. Sounds expensive.

LGBTQ groups across the US consider a new flag meant to be more inclusive of the transgender community and people of color (CNN)

As white is the combination of all colors in the visible light spectrum, it would make the most sense for the flag to just be white.

The Shortlist of New Names for the Washington Football Team is Out, And They're Just as Awful as You Thought They'd Be (YouTube)

Armada, Brigade, Commanders, Defenders, Presidents, RedHogs, RedWolves
🍯 From the Land of Milk & Honey
Gov. Newsom says mandatory statewide water restrictions for California may be on the way (Mercury News)

He definitely will not enact any restrictions before the recall election. Don't politicize the water there, bud.

California Gov. Gavin Newsom Sells Marin County Mansion for $5.9M (Realtor)
Is San Francisco the most childless city in the country? Here's a look at the data on kid (SF Chronicle)

"The city remains dead last in its share of youths under 18 among the top 100 most populous cities in the U.S. Children made up 13.4% of San Francisco's population in 2010, and now they make up just 13%."
Inflation is just getting started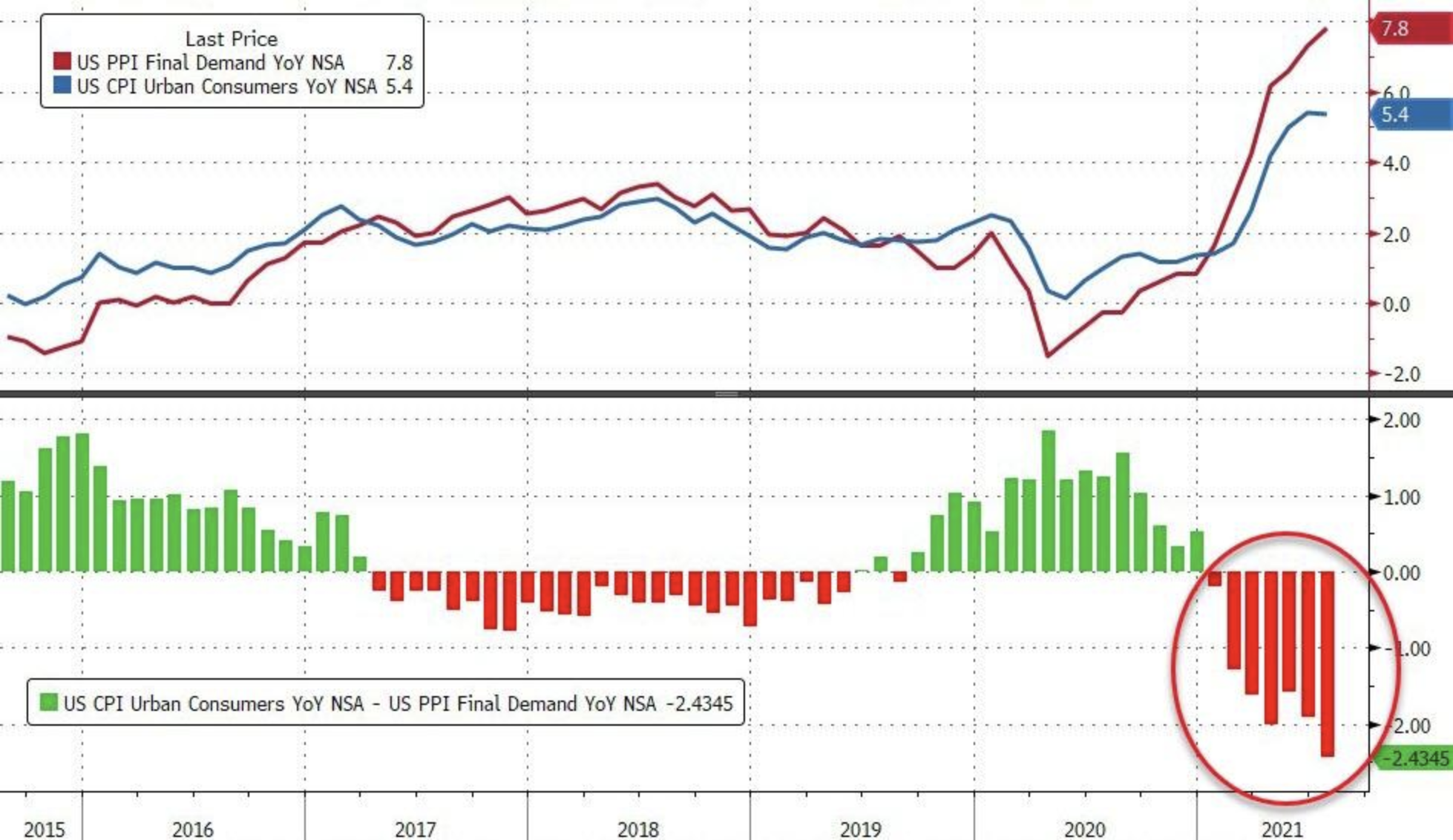 Inflation is just getting started. At some point, the Fed is going to have to slam on the brakes - not tap the brakes - slam on the brakes. And that will pop this historic asset bubble but only until the Fed steps in even BIGGER - which they will. If I'm right, 70's-style inflation is guaranteed. When I worked for Arthur Laffer, we did a deep dive into the root causes of 70's inflation. I think Milton Friedman's equation for inflation: "too much money chasing too few goods" is exactly what we have currently in the world economy.

Please read and think about today's Producer Price Index (PPI) number. The chart above reveals how margins are taking a hit from the difference between producer prices (raw materials) and end prices (for the consumer).

Obviously, a high and rising PPI is bad for corporate margins so I would expect companies to continue raising prices which will push the CPI much higher - OR - risk degradation of their margins (which have been reported as high as you know).

My theory on why corporate margins are so high is that the laggards, commodity producers, with traditionally low margins, are enjoying high commodity prices so their margins are high (bringing up the rear). Also, tech firms are growing their share of the economy and their margins are high - both skewing the margin picture higher for now. In the middle are cyclicals, especially consumer products companies.

Either way, CPI is going to be pushed higher from underneath as rising PPI forces companies to raise prices even more than they are already. This inflation thing is not transitory.
Original Essays

🗺  Total Recall: California's September election offers a path forward from identity politics by Jerod Hollyfield (Read)
In case you missed it
Nashville Politics
Nashville News
Introducing the Inc. 5000 Fastest-Growing Private Companies in America (Inc.)

70 companies from Nashville made the list

Ray Charles Inducted Into Country Music Hall of Fame (Pitchfork)
Nashville Development
Nashville Life
🎡 The Tennessee State Fair runs until Saturday in Lebanon (Info)
🎞 Three great movies play at the Belcourt all week long:
1) Without Getting Killed or Caught: The Life and Music of Guy Clark (See)
2) Roadrunner: A Film about Anthony Bourdain (See)
3) The Green Knight (See)
Tonight
📽 NightLight 615 presents: Clueless @ Bicentennial Capitol Mall State Park, 7:30p, $10 (Inf0)
🎶 That 90's Show plus 8 Track Band @ 3rd & Lindsley, 7:30p, $12 (Info)
Headlines
Pilgrimage Music & Cultural Festival To Enforce COVID-19 Entry Protocols (Music Row)
COVID Gutter

If you've paid attention, you'll notice how the recent COVID hysteria has rotated from "hospitals are full" to "children's hospitals are full". If you read the journalism of guys like Bret Kelman at the Tennessean, it feels a bit like peering into the brain of a confused child.
His assessment of the "threat level" in a recent piece begins by stating that "while a majority of Tennessee adults have elected to remain unvaccinated, most children are too young to be eligible and are therefore made vulnerable to the virus by the choices of others." This statement implies that the unvaccinated are at fault here. Children are getting infected either because parents do not want to vaccinate them (which makes sense because only 1 in 1 million children die of COVID) or don't want to get vaccinated themselves. Fair. At least we know this where the target is.
But, then, two paragraphs later, Kelman quotes Dr. Stephen Sharp who says, "Viruses find the hosts available for reproduction, and if more and more adults have either been infected and have some level of immunity or have been vaccinated, that the vulnerable population becomes the kids." This implies the immunity of the adult population—whether from vaccination or previous infection—leave kids more susceptible which completely undoes his previous very serious declaration that adults who refuse to vaccinate themselves or their kids are to blame. Sharp's statement actually implies that the vaccinated and previously infected are to blame for the increased infections among children if one can place personal blame on anyone for the behavior of a pathogen.
Kelman goes on to throw "scary" numbers at us. "Think of the children," he begs readers. Be very afraid. Is there context to these numbers? Of course not. It's just a brute number meant to frighten you into believing the situation is dire because it drives clicks. Cynical? Yes.
Compared to earlier in the pandemic, children are getting sick more because they were sequestered in their homes and unable to interface with the world to build natural immunity in the manner that every prior generation has. In this regard, COVID is no different. Acquired immunity has proven to outperform a vaccine. In children under the age of 12, this is the only option at present. Thus, when the lockdowns ended, it was natural that the virus quickly ran through those without acquired immunity (e.g., children) along with any of the other ritual viral infections that couldn't circulate due to lockdowns.
How did hospitalizations look in 2018? How about 2019? There is no historical data indicating occupancy rates for children's hospitals, Kelman states. The data can't even offer a precise measure of how many children are hospitalized with COVID and how many have RSV, a virus that typically fills up children's hospitals in the Fall and Winter, but emerged this Summer because children have not been around each other.
So, is COVID to blame for the full children's hospitals, or are government-mandated masks and lockdowns which deprive children of the standard immune system strengthening through exposure to germs? To properly approach such a question, you have to start by realizing that COVID-19 poses close to no threat to children and that masks, which don't even work for adults and function mostly as a courtesy, work even less for children who get them dirty, fidget with them, and tend to touch their nose and mouth regardless of whether they have a mask on. If we can't admit these two facts, then health policy is destined to become political instead of healthy.
The best course of action is to generally ignore hysteria parrots like Bret Kelman (this advice actually goes for the entirety of the Tennessean) and other local panic parrots like Phil Williams at News Channel 5 who post screenshots of the Tennessee case count as if he's taking on the Axis Powers. A virus is going to virus no matter how much fear and virtue signaling you throw at it.
For children, three things remain clear:
1) Masks do not prevent infection
2) Children are at close to zero risk from COVID
3) Masks impair the physical and psychological development of children
It's ultimately a choice of whether you want to use children as a virtue-signaling prop or actually protect them. The science simply does not justify the hysteria.
Headlines
Around the Web
🏢 A great Twitter thread on the wonders of our most underrated building material, concrete (Read)
🍃 Electric cars and batteries: how will the world produce enough? (Read)
Stat of the Day
🏈 The first month of earnings for college athletes after they gained the ability to earn money from their name, image, and likeness (NIL). Here are some stats (Read):
88% of NIL transactions involved social media posts
46% of NIL money was made from social media posts & 29% from using a player's likeness in ads
One athlete earned $210,000 in total NIL compensation in July, but the average was $471
79% of the NIL market revenue went to football players
Something to Watch
Have a great Thursday