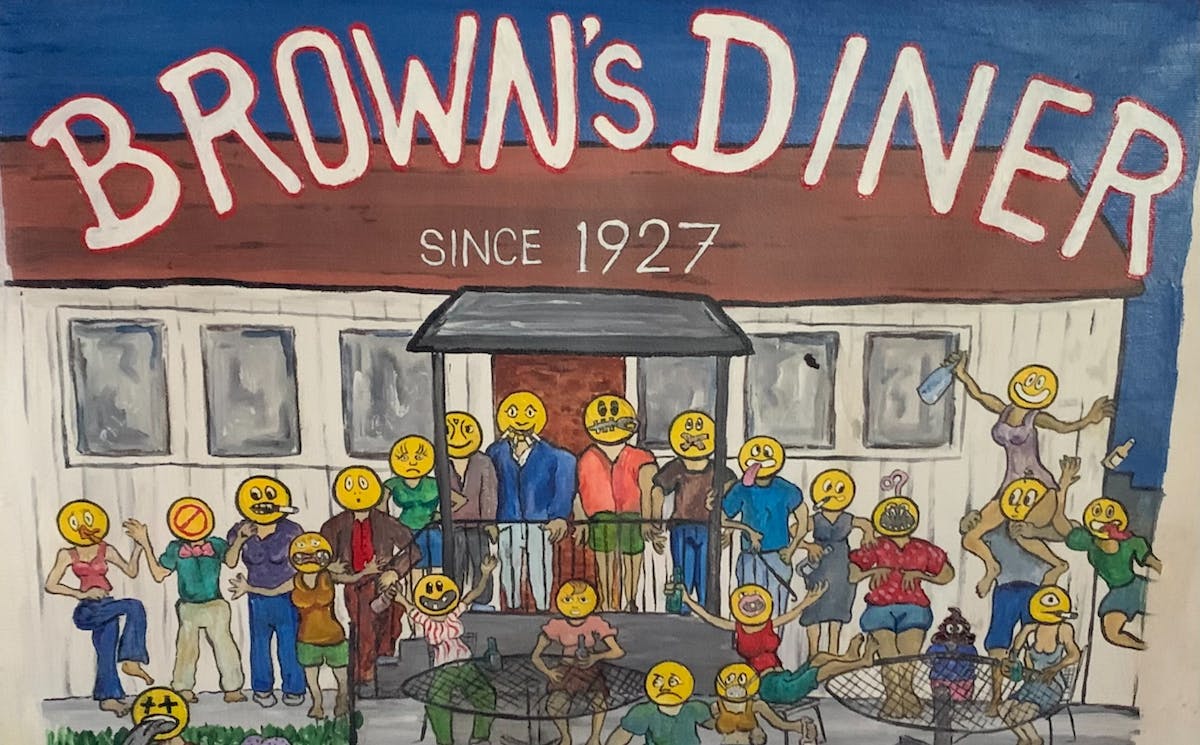 No. 428: A Reminder That Brown's Diner Exists
⁂ Nashville's Alt-Daily ⁂ Brown's · Taxes · Dumb · Movies · Relax · Much More!
From Mike Wolf
Heading south down Hillsboro Road, through the inevitable traffic jam in Hillsboro Village, you're pretty much forced to slow down and take in all the change of the neighborhood. While fighting the urge to just jump out of the car and order a Guinness at the Villager (one of the last old haunts left), you only need to cruise a few more blocks until you arrive at the home of one of the best burgers in Nashville: Brown's Diner at 2102 Blair Avenue. Housed in a trailer/trolley car mashup (with a brand-new patio, humming with activity on a pre-Spring 60-degree day), Brown's is one of the oldest institutions in town. They have the first and oldest beer license in Nashville, are coming up on their hundredth anniversary in 2027, and have had much of the same staff in place for nearly 35 years. If there was such a thing as dive bar air freshener, Brown's would be the flavor you'd want to hang on the rearview mirror: Cheeseburgers and Beer.
The menu at Brown's is no frills, with burgers, chicken sandwiches, fried catfish, a stellar patty melt, and wings. On a cold day, you can grab some of their famous chili, or just get it slathered on a good old-fashioned chili dog. Cold bottles of beer and frosty mugs make this a solid beat-the-July-heat spot, though after spending a few hours inside, you won't really care what day or season it is. Brown's is one of those rare places where you feel welcomed like a regular, and better about life when you leave. As they worked through some renovations last fall, there was a sign outside that simply said, "We're Open-ish."
The famous Brown's cheeseburger (they sell nearly 1,000 a week) is a model of burger architecture, comprised of a single patty griddled to perfection on a flattop, topped with sun-yellow American cheese, and adorned with lettuce, tomato, thinly sliced white onion, and pickles on the side. The side of fries that comes with the burger is ample, and with an extra dashing of salt, are similar to McDonald's fries, which is quite the compliment. Grilled onions are available on any sandwich for a dollar.
With Sunset Grill long gone, Rotier's six feet under, Arnold's recently closed, and Bobby's Idle Hour moving locations, Brown's' longevity has been a welcome development in an industry rife with change. When a group of investors led by Bret Tuck of Edley's BBQ bought the business and building a few years ago from Jim Love (who'd owned it for 47 years), some locals feared "change" was afoot.
But alas, Tuck assured Eater back in 2021, "It'll always be Brown's. No sign change, no name change." A wise move, indeed. Though the new patio is a welcome addition and will be hopping as the weather warms up, Brown's is the kind of place you look around and say, "I wouldn't change a fucking thing." There is live music, and with its proximity to Music Row, an argument could be made that no bar in Nashville's history has nurtured more songs. As I finished a recent lunch there, someone sidled up to the bar and said to the man next to him, "Welp, I finished one song, time to have a few beers and get in the right headspace to write another." With the sun peeking through the window lighting up the slowly-perspiring bottle of Budweiser on the bar, I'm sure he did.
⧖⧗⧖ ENJOY THE PAMPHLETEER? ⧗⧖⧗
Consider a donation. Help us grow our coverage, expand our reach, and explore a wider variety of topics.

HEADLINES
Tennessee's sales tax rate second-highest in the U.S. (Center Square) Tennessee has an average of 9.548% as a local and state tax rate, falling just below Louisiana's 9.550% for the top spot. Forty-five states and the District of Columbia have sales taxes. Alaska, Delaware, Montana, New Hampshire and Oregon do not.
License plate reader pilot program begins in Davidson County (Channel 5) Metro Police are rolling out 39 LPRs and said they will be distributed equitably across Davidson County. The exact locations will be listed on MNPD's website.
Senate Speaker McNally hospitalized, pacemaker likely needed (TNJ) Senate Speaker Randy McNally has been hospitalized with an irregular heartbeat. The Oak Ridge Republican said tests showed he will likely need a pacemaker.
POLITICS
SOULLESS FREAKS AND GHOULS Eight citizens, experts, activists, and advocates testified during yesterday's second reading of HB01, the bill addressing transgender surgeries on minors in Tennessee. A few of the speakers were asked to stay after their testimony for questioning, including Daily Wire personality Matt Walsh. Tucker Carlson invited Walsh on his show last night to reflect on the cross examination he received from Tennessee Democrats during the House Health Committee hearing. "What kind of soulless freak is John Ray Clemmons who can sit there, hearing all this stuff, and take the side of the castrators of children," asked Carlson.
During the interrogation, Walsh fended off questions from Democratic Minority Caucus Chairman John Ray Clemmons (D-55) regarding his credentials and educational background, then rendered Representative Caleb Hemmer (D-59) speechless by flipping the script on the freshmen legislator and asking, "Do you think sixteen-year-olds can meaningfully consent to having their body parts removed?" ***crickets***
While on Carlson's show, Walsh told the host that the premise of the questions from House members only exposed their own misguided political loyalties:
"Their failed and embarrassing attempts to discredit me were not only humiliating for them, but totally irrelevant because even if you can prove that I'm a terrible guy, does that automatically make it okay to mutilate children then?"
CHRISTIAN NATIONALISM LURKS Continuing with the same energy against the GOP, Clemmons took the opportunity to remind anyone listening that Republican supporters of Tennessee education voucher programs are taking their "marching orders from out-of-state extremist organizations." This comment came after SB12 passed through the Senate Education Committee on Wednesday. The bill outlines an expansion of the state's education savings account program, extending it to Hamilton County Schools.
Though it is anticipated to run into a tougher time while making its way through the House, the smooth reception in the Senate has encouraged sponsors and lobbyists supportive of the legislation. It is worth noting that Rep. Bo Mitchell (D-50) and Sen. Heidi Campbell (D-20) also filed companion bills to repeal the "Tennessee Education Savings Account Pilot Program" entirely.
DEVELOPMENT

THINGS TO DO
View the full calendar here.
🕺 Dancing in the Street: The Music of Motown with The Nashville Symphony @ Schermerhorn Symphony Center Thursday through Saturday, more info here.
👨🏻‍🌾 Check out our Nashville farmer's market guide and our 2023 southern festival guide and 🎥 movie guide.
🎧 On our Spotify: Pamphleteer's Picks, a playlist of our favorite bands in town this week, On the Radar, a playlist of the best bands in town in the future, and Nashville Sounds, an ever-growing sample of the local music scene.
TONIGHT
🎸 Blackberry Smoke @ Ryman Auditorium, 8p, $110+, Info
+ Southern Rock from Atlanta

🎻 The Cowpokes @ Acme Feed & Seed, 12p, Free, Info
🎙 Live Irish Music @ McNamara's Irish Pub, 6p, Free, Info
🎸 Kelly's Heroes @ Robert's Western World, 6:30p, Free, Info
✹ WEEKLY FILM RUNDOWN: Feb. 10-16
The latest releases and special screenings hitting Music City this week.
Magic Mike's Last Dance Our most-anticipated film of 2023 finds Channing Tatum's Tampa stripper traveling to London to orchestrate the ultimate  chippendale show with his new business partner (Salma Hayek). Yeah, it'll make for one sexy girls' night, but director Steven Soderbergh promises some 70s style meditations on the American underclass amid all those naked abs.
Now playing in theaters.
Titanic The biggest blockbuster of the 90s returns to the big screen in 3-D for its 25th anniversary, which means any woman born during its initial theatrical run is now officially too old for Leo.
Now playing in theaters.
She Came from the Woods It's 1987, and some dumbass summer camp counselors have conjured up an urban legend in this tongue-in-cheek horror comedy that mashes up Sleepaway Camp and Evil Dead to some promising-looking results.
Now playing in theaters.
Consecration After her brother's violent death, a priest (Jena Malone) travels to a convent in Scotland to find some nuns up to no good. An atmospheric indie horror offering from IFC.
Now playing at AMC Thoroughbred, Regal Hollywood 27, and Regal Opry Mills
Marlowe Liam Neeson takes on the role of Raymond Chandler's iconic private detective for this glossy Hollywood throwback. We're hoping this is the career resurgence Neeson and director Neil Jordan (The Crying Game; Interview with the Vampire) deserve.
Opens February 15th nationwide.
No Bears The Iranian regime finally released filmmaker Jafar Panahi from prison last week, which should raise the profile of his latest: a self-reflexive blend of fiction and documentary in which he plays himself navigating local scandals on the borders of Iran and Turkey. Go to see a great movie. Stay to watch an audience predominantly consisting of people with Biden/Harris bumper stickers get riled up about an outrage created by the policies they unwittingly endorse.
Now playing at The Belcourt.
Turn Every Page LBJ biographer Robert Caro earned the adoration of well-heeled elites with his classic profile of NYC urban planner Robert Moses, The Power Broker. This documentary traces the relationship between the notoriously slow writer and his beleaguered editor, Robert Gottlieb. It may be catnip for West Wing liberal pseudo-intellectuals, but its focus on two literary legends' obsessions with language and the writing process is bound to be compelling.
Now playing at the Belcourt.
In the Court of the Crimson King A self-aware and breezy run through of the legendary British progressive rock band's rocky history. The personality at the center of it all, Robert Fripp, is, as one fan puts it in the documentary, "The devil."
Now playing at The Belcourt.  
Winnie the Pooh: Blood and Honey The trailer for this slasher take on A.A. Milne's now public domain creation went viral last year. It's probably a better option than 100 minutes of watching Pooh and Piglet terrorize Christopher Robin and some nubile females at a remote cabin, but it's not often we get in on the ground floor of a cult classic.
Playing on Wednesday, February 15th at select AMC and Regal locations for one night only.
Restoration Roundup at The Belcourt See new 4K transfers of classic films ranging from Jean Renoir'a ultimate satire of bourgeois elites The Rules of the Game (2/15 and 2/19) to John Carpenter's ruthless urban western Assault on Precinct 13 (2/10) with a little of The Who's Tommy (2/13) and Crouching Tiger, Hidden Dragon (2/17-23) thrown in for good measure among others.