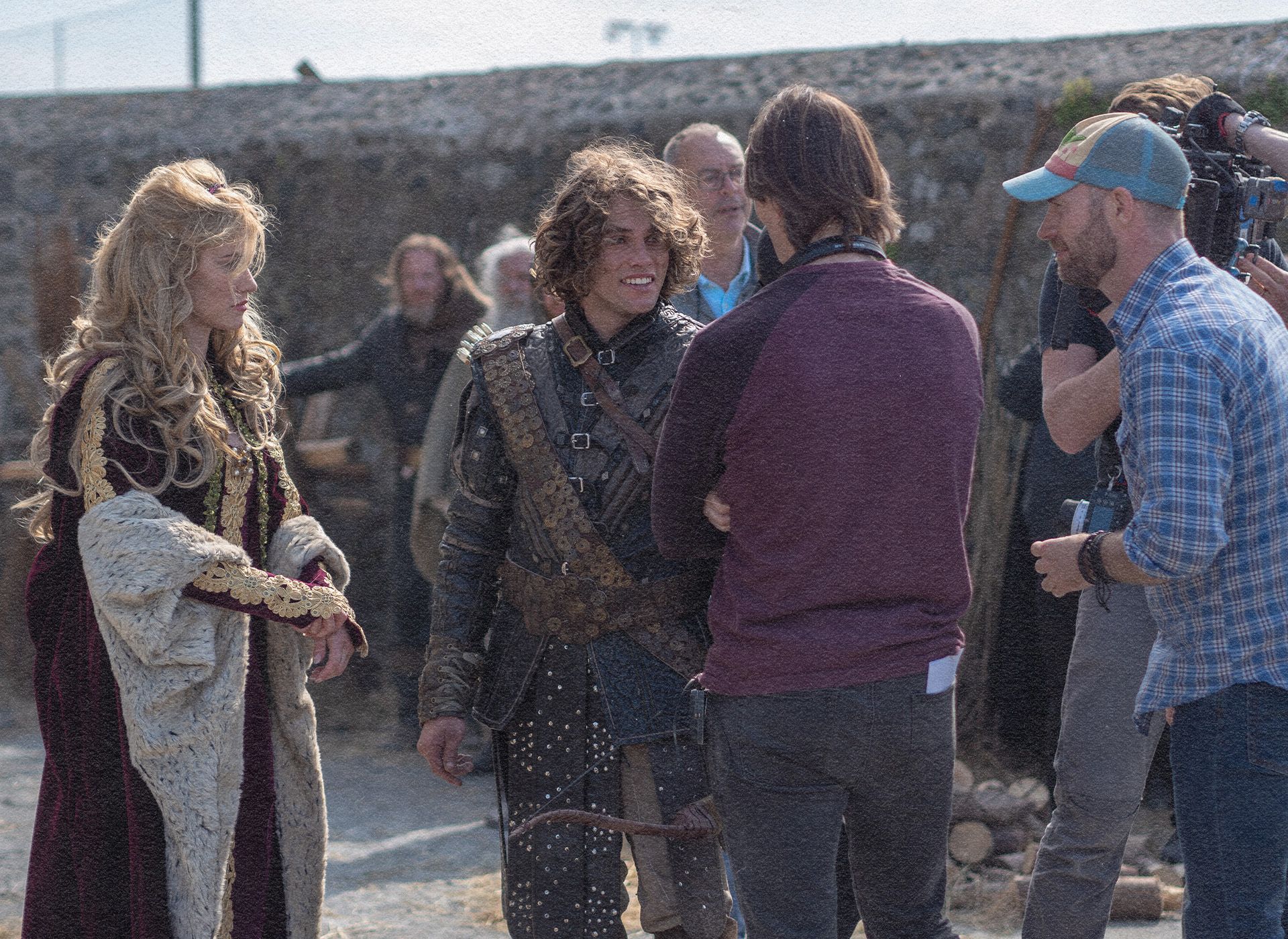 No. 423: Franklin Goes to Hollywood
⁂ Nashville's Alt-Daily ⁂ Hollywood · Franklin · Bills · Movies · Weekend · Much More!
When film distributor Roadside Attractions released the romantic comedy Finding You on May 14, 2021, the moviegoing landscape could not have been bleaker. But Finding You's producers knew it had an audience and didn't shy away from a theatrical premiere for the story of Finley (Rose Reid), a violinist journeying to Ireland in the wake of her aid worker brother's death and her failed audition for Julliard. The film follows her rough-and-tumble relationship with bratty movie star Beckett Rush (Jedidiah Goodacre) who is shooting a dragon-heavy fantasy blockbuster in the bucolic countryside. With a modest marketing budget and scant media attention, the film managed to debut at number five nationally for the weekend, exceeding the domestic box-office of the Oscar-winning Anthony Hopkins showpiece The Father and within striking distance of Best Picture winner Nomadland.
As Hollywood spent the remainder of the year fumbling its pandemic response, Finding You found its own footing as a semi-indie title able to best much-ballyhooed arthouse films and the few other similarly budgeted movies that studios gave a wide release. In most cases, the entertainment trades would be touting it as a sleeper success. But as a film conceived and produced largely in Middle Tennessee, it found itself in a contradictory space: not tentpole blockbuster enough for the establishment and too Hollywood for Nashville's indie scene.
Those who spend even a little bit of time in the various corners of Music City's moviemaking culture from the Nashville Filmmakers Meetup and the Nashville Filmmakers Guild to panels at the Nashville Film Festival's Creators Conference hear the refrain that the reason the region has yet to wrest the title of Hollywood South away from its cousin Atlanta is that Tennessee does not offer tax incentives competitive enough to draw the likes of Marvel and Netflix on a regular basis. Such conceptions create a myth of the state as a barren wasteland of production with a starving filmmaking community of talented people at the top of their craft ready to work–if only the stingy politicians would throw some tax money their way to make their indie dreams come true. Yet, as the success of Finding You and other films produced in the Franklin area prove, such framing of incentives as a silver bullet does not accurately depict the reality of the state's production economy.
"I'm not in the camp that says,'Our success as a film community hinges on the tax incentive,' " Finding You producer Ken Carpenter said, despite his belief that Tennessee should create as alluring a program as reasonably possible to compete with neighboring states. "I love living in Nashville as a filmmaker because of the quality of life and because of the creative community, but I also don't mind going out of state or out of country to shoot. The great news is we are surrounded by other states and countries that have strong tax incentives. It would be a plus if I were able to stay home more, but it's a big world."
From Jerod Hollyfield
Continue reading...
⧖⧗⧖ ENJOY THE PAMPHLETEER? ⧗⧖⧗
Consider a donation. Help us grow our coverage, expand our reach, and explore a wider variety of topics.

HEADLINES
King-Collins building Nashville course on 'remote' site minutes from downtown (Golf) King-Collins Golf Course Design, which first grabbed golfers' attention with its work at Sweetens Cove, in Tennessee, announced Wednesday that it is building another course in the Volunteer State, just outside Nashville, with construction slated to begin this spring.
Tennessee Historical Commission to review Nashville request to remove Confederate statue (Lookout) Nashville parks officials are seeking state approval to remove a monument of a Confederal soldier in Centennial Park, where a life-sized bronze sculpture of a young man sits holding a rifle across a field from the iconic Parthenon.
Lee picks ex-Haslam counsel for Supreme Court vacancy (Post) Gov. Bill Lee has picked Knoxville attorney Dwight Tarwater to fill an impending vacancy on the Tennessee Supreme Court. If confirmed by the legislature, Tarwater will succeed Justice Sharon Lee, who last year announced plans to retire in August 2023.
Nashville entrepreneur launches female motorcycle apparel company (TennBEAT) 25-year-old, Trinity Wiles, wasn't going to ride out the pandemic cooped up in a kitchen baking bread or hunched over in a garden tending to cherry tomato plants. The self-proclaimed adrenaline junkie felt a sudden need for speed.
New Metro Police unit concentrates on Lower Broadway and the Gulch (Channel 5) Metro Police says it's starting a new unit of police officers whose sole job will be based in Nashville's entertainment district, including lower Broadway and The Gulch.
POLITICS
CATCH A TOURIST BY THE TOE The deadline to file bills in the 113th General Assembly has officially ended, but the Republican supermajority took one last swipe at the council's refusal to host the 2024 Republican National Convention. During discussions about the convention last July and August, rhetoric from the left side of the aisle characterized Republicans as the party of Nazis and white supremacists. Even in the council chamber, one of the filed resolutions opposing the RNC categorized the party as "intent on sowing hatred and spreading misinformation. . ."
Republicans in the General Assembly have now been accused of playing politics with the filing of HB1279 and SB648, which would terminate any additional fees, taxes, and surcharges deposited into the "convention center fund" set to pay off the $560 million bond balance for Nashville's Music City Center. Citing the notion that Davidson County's rejection of the RNC is an indication that Metro has no interest in promoting convention tourism, House Majority Leader William Lamberth (R-44) showed support for the bills, which were filed by Senate Majority Leader Jack Johnson (R-27) and Rep. Elaine Davis (R-18).
PRESIDENT DONALD TRUMP BOULEVARD Introduced by Rep. Paul Sherrell (R-43), a bill proposing to rename a portion of "Rep. John Lewis Way" as "President Donald Trump Boulevard" was filed this week. Senator Frank Niceley (R-8) hopped on board and filed HB1372's companion bill, SB1407, on February 1, 2023.
DANCING QUEENS SB03 and HB09 have quickly made their way through the legislature. Set into motion after a rise in controversial "family friendly" drag shows taking place throughout the state, SB03, which features penalties banning "adult cabaret performances accessible to minors" on public property, has passed its first two readings in the Senate and is on the Senate's regular calendar for February 6, 2023.
CAPPING COUNCIL Sponsors continue to be added to HB48 and SB87, bills that are set to cap all metropolitan or municipal government councils at 20 members.
WHAT ABOUT THE CHILDREN Following caseload exasperation and other problems experienced by the Department of Children's Services (DCS), a myriad of new bills have been set into motion aimed at improving both the adoption process and foster care. A caseload cap at 20 cases per caseworker appears in HB1032 and SB1048, and the "First Lady's Children's Trust Fund Act" appears in SB530 and HB792 to create a trust fund which would assist in the caring for the children of Tennessee.
GUNS ALLOWED HERE HB977 and SB827 would allow the "carrying of firearms and other weapons on higher education campuses and in parks."
PARTISAN ELECTIONS HB262 and SB405 would make all elections for public office partisan. This includes a requirement for judges to "declare a bona fide membership with a political party or independent status at least 30 days prior to a retention election."
TWO-WHEELED PRIVILEGE HB1454 and SB298 would allow motorcycles to maneuver between rows of stopped or moving traffic "in the same lane on certain limited access highways and interstate highways when the speed of traffic is 25 miles per hour or less."
PAST BILLS TAKING EFFECT At the beginning of this year, a law took effect exempting qualified farmers from taxes on building material, fencing material, warranties, and equipment used primarily in agricultural operations. To obtain an Agricultural Sales and Use Tax Certificate of Exemption card, farmers simply complete this application.
DEVELOPMENT

THINGS TO DO
View the full calendar here.
🌱 Antiques and Garden Show at the convention center, all day Friday through Sunday.
🐔 It's Nashville Hot Chicken Week. Get deals and vote for the best hot chicken in Nashville.
👨🏻‍🌾 Check out our Nashville farmer's market guide and our 2023 southern festival guide.
🎧 On our Spotify: Pamphleteer's Picks, a playlist of our favorite bands in town this week, On the Radar, a playlist of the best bands in town in the future, and Nashville Sounds, an ever-growing sample of the local music scene.
TONIGHT
🎻 The Cowpokes @ Acme Feed & Seed, 12p, Free, Info
🎙 Sweet Megg's Jamboree @ Acme Feed & Seed, 5p, Free, Info
🍀 Live Irish Music @ McNamara's Irish Pub, 6p, Free, Info
🎸 Kelly's Heroes @ Robert's Western World, 6:30p, Free, Info
🎙 Vickie Vaughn's Country Band @ Dee's Lounge, 9p, $5, Info
✹ WEEKLY FILM RUNDOWN: Feb. 3-9
The latest releases and special screenings hitting Music City this week.
Knock at the Cabin Infamous twist-ending maestro M. Night Shyamalan's latest finds a DEI-approved gay couple and their adopted Asian tyke facing a quartet of religious zealots who force the family to make a choice: ritually sacrifice a member or usher in the apocalypse? There's really no quality control with the guy who made both The Sixth Sense and The Happening. At least we get to see Ron Weasley from Harry Potter as a deranged cultist.
Now playing in theaters.
80 for Brady Hanoi Jane Fonda, Sally Field, Rita Moreno, and Lily Tomlin join forces as lifelong girlfriends who go for broke during their golden years on a road trip to the Super Bowl in this The Hangoverish comedy based on a true story. Take your grandmother.
Now playing in theaters.
Freedom's Path Freed slaves running a section of the Underground Railroad save a Union soldier and run from an evil slave trader in this indie Civil War drama.
Now playing at AMC Thoroughbred, AMC Murfreesboro 16, and Regal Hollywood 27.