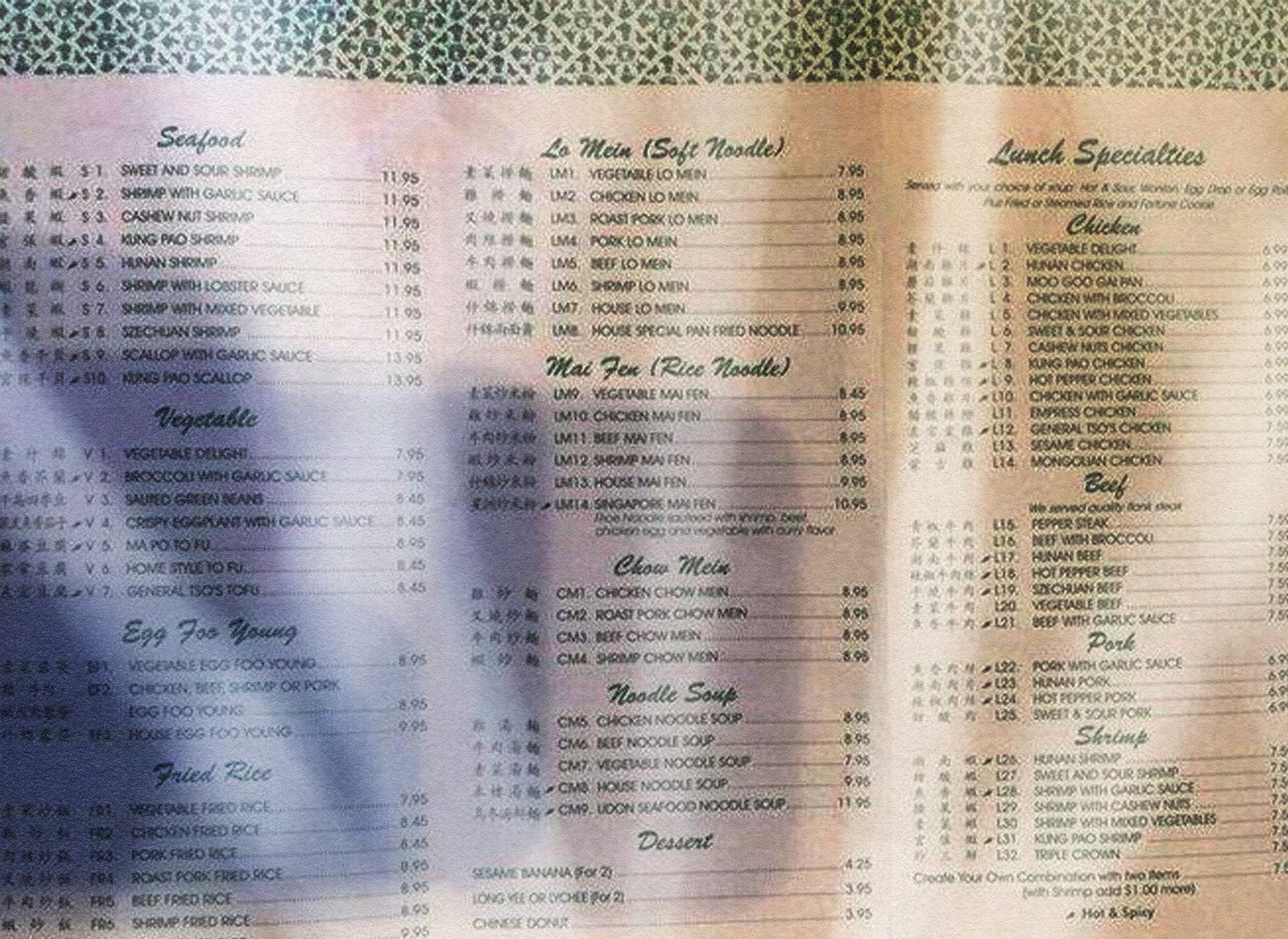 No. 424: A Cottage to Dine In
⁂ Nashville's Alt-Daily ⁂ Chyna · China · State of the State · Roundup · Shows · Much More!
From Mike Wolf
Much has been made about China in the news recently, what with that large surveillance balloon hovering high over the US and a recent report from General Mike Minihan, head of the US Air Mobility Command, who said his "gut" told him we could be at war with China as early as 2025. Despite escalating tensions and whatever your geopolitical opinion is, Chinese takeout is something of an American tradition that has emerged in the past sixty or so years.
One hallmark of good Chinese food in America is ordering it for delivery or takeout has little bearing on the quality. The usual tradition is to order too much, peel off some of those seasoning packets, eat it with chopsticks out of the ubiquitous white containers, store the leftovers, and look forward to eating more of it the next day. Some Chinese food—specifically lo mein—is even better cold the following morning. As someone who worked in Chinese and Vietnamese restaurants in and out of college—some of which were amazing places to hang out in, due to the friendly service and the simple pleasure of eating fried rice on a warm plate instead of a cardboard box—I've always found it strange that dining in at these places wasn't more common. Enter China Cottage, a beloved-to-those-who-know restaurant in the sea-of-madness Rivergate part of Madison located at 1795 Gallatin Pike North.
China Cottage, with its spacious, comfortable booths and friendly, attentive service, is a welcome respite amidst a grouping of intersections that is, quite frankly, completely insane. TGI Fridays couldn't make it out here (it's currently being turned into a Chase bank branch) which should tell you one thing: it's tough out here in Rivergate. Chain restaurants abound and competition is fierce, but China Cottage is the oasis you've been looking for if you end up on that side of town.
Among the many highlights of a recent visit was the Singapore Mai Fen, a curry-inflected and mildly spicy dish with thin rice noodles, shrimp, chicken, and beef, in a large enough portion to save some for lunch the following day—  that is, if you're also throwing back a few of their crunchy, creamy crab-cheese wontons with the fire-engine red sweet and sour dipping sauce you can't live without. Other appetizer highlights include the hearty, well-seasoned beef skewers (beef teriyaki on a stick), garlic green beans (not always available but worth inquiring), and dumplings. If you're into lo mein, China Cottage's iteration is quite tasty and not too greasy, served with your choice of protein. And, as I mentioned earlier, it's amazing when served cold straight from the refrigerator the following day. Or maybe I'm just the weird one.
Beverage options at China Cottage are straightforward: the lineup includes tea, sodas, and China's Budweiser, Tsingtao, the sixth most-drank beer in the world and a great pairing with anything sweet, spicy, or salty. What I love about the menu is that it is extensive, with all the usual suspects we're accustomed to seeing in American Chinese: sesame chicken, General Tso's, plentiful fried rice options, along with a tofu hot pot, steamed sea bass and other lesser-known options like the Ma La Two Delight (beef and scallops sauteed with mushrooms). The dessert menu includes a sesame banana option for two and a Chinese doughnut, which seems like it could inspire world peace. The food and excellent value at China Cottage are worth praising, but it's the service and simple comfort of the dining room that will have me coming back, ready to try another new thing on their voluminous  Chinese-meets-Cheesecake Factory menu.
On my way out the door, I noticed a few employees sitting at a table separating wonton wrappers, which come stacked tightly in sheets that require a very delicate touch to slowly peel away individually before they can become delicious crab rangoons. This was something I used to spend hours doing in between making deliveries throughout my college years working at K's China in Boulder. Once I was sitting with my boss, Chang—who owned K's and always made everything spicier than all of his Mexican and Guatemalan chefs when he cooked. I asked him, "Did you like growing up in China? Do you ever miss it?" He looked at me dead in the eye, leaned forward, and said: "The United States is the greatest country in the world. That's what I say."
⧖⧗⧖ ENJOY THE PAMPHLETEER? ⧗⧖⧗
Consider a donation. Help us grow our coverage, expand our reach, and explore a wider variety of topics.

HEADLINES
Lee to talk economic development, abortion, roads, and conservation in State of the State address (TNJ) Gov. Bill Lee's office is releasing excerpts from his State of the State address on Monday evening. Here is the preview to what the Republican has to say on issues including infrastructure, abortion, economic development, and conservation.
Man charged in shooting in Green Hills neighborhood (Channel 5) MNPD tweeted that Michael A. Green, 19, had been taken into custody early Sunday morning.
Goodbye coin meters and free night parking in downtown Nashville. Hello 24/7 parking enforcement. (WPLN) This month, the Nashville Department of Transportation is trading downtown parking meters for QR codes and kiosks. The move is accompanied by another big change: an end to free night parking.
In-N-Out Burger to receive $2.75M incentive from Tennessee ECD for Franklin office (Center Square) A press release on the agreement said In-N-Out plans to invest $125.5 million in the state and it will open its first restaurants in Nashville in 2026. The restaurant group said there will be 277 jobs in Williamson County at a 100,000-square-foot office, set to begin construction in 2024 and finish by 2026.
POLITICS
WEEKEND ROUNDUP Beyond the headlines, online banter between Tennessee politicians and journalists has taken on a life of its own in the Twitterverse. Here are some tweets you may have missed, along with a press release from Senator Marsha Blackburn.
MEGAN BARRY: ACTIVATED Since Mayor John Cooper announced he will not be running for a second term, former Nashville mayor Megan Barry has hopped back online. Though she declined to hint whether she's considering another run, she took to Twitter to address a bill filed in the Tennessee General Assembly last week proposing to rename a portion of "Rep. John Lewis Way" as "President Donald Trump Boulevard."
No words. Don't they have any streets in their own districts? I guess it's more fun to mess with Nashville than it is to actually govern and help constituents with real issues.
Tennessee Rep. Gloria Johnson (D-90) followed suit with this cheeky tweet:
Or we could call it Twice Impeached Place, Insurrection Way, Assaulter Avenue… so many options.
I SPY Tennessee Lookout editor-in-chief Holly McCall took aim at  Rep. Andy Ogles on Twitter after he tweeted his concern about the Chinese spy balloon making its way over Tennessee:
Many congressmen have staff to manage their social media but I feel sure Tennessee's new 5th District rep is doing his own.
She later showed genuine interest in Nashville Councilmember Sean Parker's tweet about spy balloons:
My grandad spent some time floating balloons into Russian airspace for the USAF. He would not talk much about it but I read about the program and some of them were spy balloons but a lot of them were part of a psyop/UFO disinfo campaign to drive the russians crazy or something.
THE SWIFTIE EFFECT Last Thursday, Sen. Marsha Blackburn sent out a press release outlining the American Music Fairness Act. The bipartisan legislation ensures artists and music creators receive fair compensation for the use of their songs on AM/FM radio. This coincides with the battle numerous artists, writers, and publishers, attempting to keep up with technology and streaming services, have fought over the last decade. One well-known artist who may appreciate this legislation referred to Blackburn as "Trump in a wig." Yes, we're talking about Taylor Swift, who took a hard political stance against the female senator in her 2020 Netflix documentary Miss Americana.
Recently, the Senate Judiciary Committee convened on the floor to discuss the Ticketmaster debacle. In case you missed it, here's a refresher of some of the more ridiculous Taylor Swift puns heard at the hearing:
"I'm really looking forward to my ongoing service on the Antitrust Subcommittee along with Sen. Klobuchar as chair. To be honest, I had hoped as of a few months ago to get the gavel back, but once again, she's 'chair captain and I'm on the bleachers.' " Sen. Mike Lee (R-Utah)
"May I suggest, respectfully, that Ticketmaster ought to look in the mirror and say, 'I'm the problem. It's me.'" Sen. Richard Blumenthal (D-Conn.)
DEVELOPMENT

THINGS TO DO
View the full calendar here.
🕺 Dancing in the Street: The Music of Motown with The Nashville Symphony @ Schermerhorn Symphony Center Thursday through Saturday, more info here.
👨🏻‍🌾 Check out our Nashville farmer's market guide and our 2023 southern festival guide.
🎧 On our Spotify: Pamphleteer's Picks, a playlist of our favorite bands in town this week, On the Radar, a playlist of the best bands in town in the future, and Nashville Sounds, an ever-growing sample of the local music scene.
TONIGHT
🎸 Narrow Head @ The Blue Room, 8p, $16, Info
+ shoegazey grunge from Texas
🎷 Alex Murphy Trio @ Rudy's Jazz Room, 6p, $12, Info
🎷 Jazzy Monday @ Helen's Hot Chicken, 8p, $13, Info

💀 Grateful Monday @ Acme Feed & Seed, 8p, Free, Info

🕺 Motown Monday @ The 5 Spot, 9p, $5, Info

🎹 Jazz Jam @ The Villager, 11p, Free, Info
ON THE RADAR
🎸 Death Cab for Cutie @ Ryman Auditorium, 2/14, 7:30p, $59+, Info
+ an emo Valentine's Day for you and yours
🎸 Lotus @ Brooklyn Bowl, 2/16, 8p, $20, Info
🎸 STRFKR @ Brooklyn Bowl, 2/17, 8p, $25+, Info
+ psychedelic indie synth-pop & late aughts nostalgia for millennials  
🎙 Weyes Blood @ Brooklyn Bowl, 2/22, 8p, $23+, Info
+ Folk-pop, a modern Joan Baez
🎻 Billy Strings @ Bridgestone, 2/24-25, 8p, Info
🎻 Billy Strings @ Ryman, 2/26, 8p, Info
+ Only eligible if you purchased a ticket to one of his previous nights' Bridgestone shows
🥁 Os Mutantes @ The Blue Room, 3/1, 7p, $25, Info
+ Brazilian psychedelic rock band, part of the Tropicália movement of the late 1960s

🎸 Dawes @ Ryman Auditorium, 3/4, 8p, $25+, Info
+ folk-rock from Los Angeles

🎻 Margo Price @ Ryman Auditorium, 3/9, $35+, Info
+ Nashville-based singer-songwriter
🕺 Lettuce @ The Brooklyn Bowl, 3/17-18, $32, Info
+ Funk
🎸 Goose @ The Ryman, 3/31-4/1, Info
+ Funky jam band.