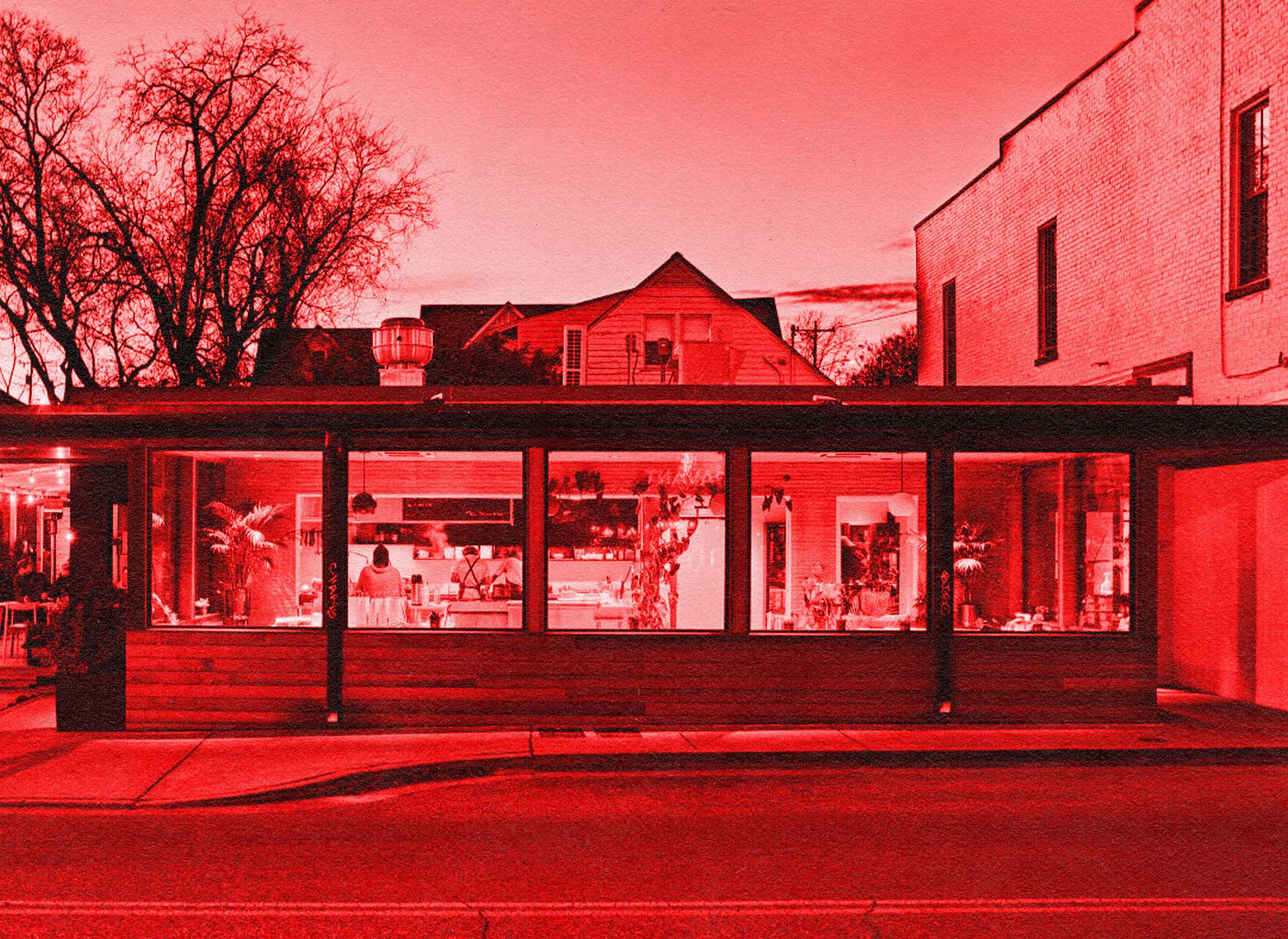 No. 437: A Locust Swarm On 12South
⁂ Nashville's Alt-Daily ⁂ Gluttony · Locust · Climate · Roundup · Movie Rundown · Much More!
Good morning, everyone.
H.D. Miller joins us again today. Guided by his gluttony, he braved the crowds and had a meal at Locust on 12South. The Pamphleteer did not comp his meal. H.D. went of his own accord. He was guided by his own gluttony and not the gluttony of The Pamphleteer.
There's much talk of "vitality" these days—people obsessing over food and exercise to reclaim their life force or whatever. I am among this crowd, of course, but diet and exercise alone do not a vital life make. When you read H.D., you're reminded of what vitality actually looks like.
Onward.
--
From H.D. Miller
Who names a high-end restaurant after a Biblical plague? In 12South? You can tell that chef Trevor Moran isn't from around these parts, because as soon as you mention the word "locust" to a real Southerner they start thinking about painting their door jambs red, not about eating fourteen-dollar, desiccated tuna crackers. Such is the power of Sunday school. (By way of disclosure, I'm not a real Southerner, either, just a life-long member of the Churches of Christ, thus accounting for my encyclopedic knowledge of God's wrath.)
Speaking of God's wrath, may it rain down upon the real estate nabobs who are turning 12South into yet one more semi-urban, cookie-cutter Nowheresville. Apparently, in the 21st Century, everywhere is destined to look like everywhere else, as anything local, quirky, or notable is whirled into a pink slurry and extruded into the blandest 5-over-1, mixed-use casings. If the world were just, an Old Testament God would afflict everyone at Cushman and Wakefield with disfiguring boils. Instead, we get Locust the Restaurant—in its own way, one of the lesser plagues of modernity.
Oh, don't mistake me. The food at Locust is both inventive and tasty, the surroundings are moderately inoffensive, and the service is sufficiently obsequious. The problem is that Locust has nothing that ties it to Nashville. In fact, there's nothing that ties it to anywhere. It floats in a clear broth of smug self-regard, the amniotic fluid of the international over-class.
You could take Locust, with its Danish-modern design, Irish chef, and sorta-Japanese-inspired menu, and plunk it down in any gentrifying neighborhood in the world, from Buenos Aires to Berlin. It's as much a franchise outlet of the 21st century's homogenizing trends as Raising Cane's or Shake Shack. It's a byproduct of too much money and too little authenticity, more a phenomenon of social media than physical reality.
"But, it's the New Nashville," shout the people who need to be quiet.
"Hush your mouth, dummy. Have some respect for the recently deceased."
Having said all that, Locust does turn out some pretty good food. I know this because we ate everything on the menu. This is apparently the thing you do at Locust if you're a party of more than one, the menu being only six items long. The occasion was my youngest daughter's 17th birthday, and the reservation only had to be made two months in advance. That's because, last year, the magazine Food & Wine named Locust their "Restaurant of the Year," a pronouncement best greeted with a shrug.
But back to the food. One thing I do appreciate about chef Trevor Moran is his take-it-or-lump-it attitude to his diners. He's decided to run this restaurant his way and cook what he wants, presumably within the parameters of owner Strategic Hospitality's marketing spreadsheets. Happily, that means that we get very good Asian dumplings (made of lamb when I visited), superb steak tartare, and probably the second-best Dover sole I'd ever eaten. (Behind a sole meunière cooked tableside in the old Flamingo hotel in Las Vegas, circa 1992.) I was, on the other hand, underwhelmed by the "crispy tuna", a piece of dried tuna loin on a cracker, and the shrimp toast.
Perhaps it was because we ate on a Sunday night, but it seemed like some aspects were being phoned in. For example, the steak tartare wasn't accompanied by the freeze-dried capers that various reviews had waxed eloquent about. We were given, instead, bits of generic puffed rice that lacked any zip. Likewise, previous manifestations of the Dover sole were served with a seafood butter sauce that included lobster. Our $70 Dover sole came with… a piece of flatbread. Yes, that flatbread was prepared by Jeremy the Hunky Sous-chef, in a tiny Ooni pizza oven close to our table, a fact that thrilled my teenaged daughter. But, no, even if that flatbread were made by an ancient Syrian grandmother from hand-ground heirloom wheat, it wouldn't have been a good or appropriate side for that wondrously delicate fish.
In general, the price-to-satisfaction ratio was not in Locust's favor. $360 for three people is not the worst, nor was it a deal, since we left hungry. Happily, I am not paying for my meal. That duty falls to V. Davis Hunt, the XIIIth, the eccentric boy billionaire publisher of the Nashville Pamphleteer, a man who has decided to sacrifice his family wealth on the Altar of Folly (A.K.A. "local journalism").
A final note, there is one thing that definitely should not be missed at Locust, the kakigori, the Japanese shaved ice. It was everything that the meal was not, under-touted and overwhelmingly good. What arrived at our table was a pillowy mass of shaved ice flavored with passionfruit, salted caramel, honeycomb, and topped with a sweetened egg yolk. It was spectacularly good. If everything else at Locust had lived up to that standard, this would have been counted as one of the best meals of my life. Instead, it was one of the best desserts of my life, and that ain't nothing.
⧖⧗⧖ ENJOY THE PAMPHLETEER? ⧗⧖⧗
Consider a donation. Help us grow our coverage, expand our reach, and explore a wider variety of topics.

☀ CLIMATE AGENDA JEOPARDIZES AMERICAN RETIREMENT PLANS
Yesterday, AG Skrmetti released an update about the lawsuit he and 24 other attorneys general filed to push back against recent Environmental, Social, and Governance (ESG) investment initiatives. Back in November, the US Department of Labor set a rule allowing "plan fiduciaries to consider climate change and other ESG factors when they select retirement investments and exercise shareholder rights, such as proxy voting." In other words, fund managers now have the ability to invest in shifting ESG markets. Yesterday's press release, which followed the coalition of AGs' motion for preliminary injunction filed against the Biden administration, stated their concerns regarding such an allowance: "Under the rule, certain fund managers would be allowed to make investment decisions based on nonfinancial or nonpecuniary factors, such as ESG considerations, even when those decisions are not in the best interests of their clients' long-term financial stability."
COMPETE FOR GOVERNMENT HANDOUT This January, Metro Council allocated $10 million in American Rescue Plan funding towards participatory budgeting. Essentially, if you're a Davidson County resident, you can submit ideas for how and where this funding should be spent. A steering committee of Metro staff— selected by the mayor's office and monitored by the COVID-19 Financial Oversight Committee— will narrow the suggestions down to a 35-item ballot. The deadline for submission is expected to be either June or July.  The ballot will be completed in September and voting (for residents 14 and up) will begin in October or November.
TWITTER BUZZ: TENN. HOUSE ROUNDUP State reps had lots to say following yesterday's passage of HB01, a coda to Matt Walsh's activism which prevents minors from receiving transition surgeries,  and HB09, which bars those who are 18 and under from attending lewd "cabaret" performances. A few representatives headed to Twitter to post the following official statements:  
"We seek compromise on bills that affect TN families. Re trans healthcare, we sought common ground on prohibiting irreversible surgical procedures on minors. Unfortunately, GOP refused compromise and insisted on also prohibiting reversible hormone treatments." —Rep. John Ray Clemmons (D-55)
"Tennessee led the nation again this week by protecting innocent children from gender mutilation surgeries and chemical castration drugs. TN House Republicans strongly stand with children, biology, facts, and reason." —Rep. Jeremy Faison (R-11)
"The House passed legislation today, joining the Senate, that bans gender mutilation surgeries on minors. Additionally, we passed legislation banning minors from attending explicit drag shows. Protecting children is a priority." —Rep. Jason Zachary (R-14)
"Because of bills like this one, self hate, suicide, depression, and many mental health issues become a problem for our youth who want to be themselves and there is no solution to help our youth when it happens. . ." —Rep. Torrey Harris (D-91)
HEADLINES
Internal DCS emails detail unsafe sleeping conditions, toilet paper rationing for kids (NewsChannel5) Emails and memos from DCS supervisors reveal assaults, unsafe sleeping conditions, and even toilet paper rationing to prevent children from intentionally clogging toilets and flooding office bathrooms.
Republican strategist Alice Rolli running for mayor (Post) Rolli has enlisted David Fox, who finished second in the 2015 mayoral race, as campaign treasurer. Though the election is nonpartisan, Rolli lists her affiliation as Republican on campaign paperwork.
EPA might tighten an air pollution rule. Nashville would have to change. (WPLN) EPA is proposing to lower its annual limit from 12 micrograms of fine particulate matter to 9 or 10. If it picks 9, then Nashville will be subject to additional federal regulations for being in "non-attainment."
Tennessee earns $7.3M in taxes on $410.8M in sports wagers in January (Center Square) Those numbers are lower than the totals for November and December, when the state collected more than $9 million of tax on nearly $440 million in wagers each of those months. In January, the sportsbooks reported $36.3 million in adjusted gross income on the $410.8 million in wagers. Tennessee collects 20% of the industry's net operator revenue in taxes. Of the sports gambling taxes, 80% goes to education, 15% goes to the state for distribution to local governments and 5% goes toward mental health programs.
DEVELOPMENT
Status still unclear for long-planned Gulch project (Post)
Major permits issued for Midtown project (Post)
West Nashville office building listed for $2.15M (Post)

THINGS TO DO
View the full event calendar here and our weekly film rundown here.
👨🏻‍🌾 Check out our Nashville farmer's market guide and our 2023 southern festival guide and 🎥 2023 movie guide.
🎧 On our Spotify: Pamphleteer's Picks, a playlist of our favorite bands in town this week, On the Radar, a playlist of the best bands in town in the future, and Nashville Sounds, an ever-growing sample of the local music scene.
🎻 Guerrero conducts 'An American in Paris' with the Nashville Symphony twice this week at the Schermerhorn Symphony Center (2/23 & 2/24). Get your tickets here.
🪕 Billy Strings does two nights at Bridgestone Arena (Friday, 2/24 & Saturday 2/25) before doing a special show at the Ryman on Sunday for those who went to one of the Bridgestone shows. Bridgestone tickets here and Ryman tickets here.
TONIGHT
🎸 Vlad Holiday @ The Blue Room, 8p, $15, Info
+ New York based indie crooner — singer, songwriter and multi-instrumentalist
🪕 The Special Consensus @ The Station Inn, 9p, $20, Info
+ Contemporary bluegrass band
🪕 The Cowpokes @ Acme Feed & Seed, 12p, Free, Info
🎙 Live Irish Music @ McNamara's Irish Pub, 6p, Free, Info
🎸 Kelly's Heroes @ Robert's Western World, 6:30p, Free, Info
✹ WEEKLY FILM RUNDOWN: FEBRUARY 24-MARCH 2
The latest releases and special screenings hitting Music City this week.  For a list of new and upcoming films, check out our 2023 Movie Guide.
During what is usually a barren time of subpar burnoff movies and second-wind releases for Oscar nominees, theaters have a dynamic range of new offerings this weekend. As we wait for next Friday's Creed III to kick off the spring movie season, here are our recommendations:
One Fine Morning A widowed thirtysomething mother (Bond girl Léa Seydoux) caring for her sick father rekindles a romance with her childhood friend (Melvil Poupaud) in French cinema staple Mia Hansen-Løve's dense and emotionally raw character study of impending middle age.
Now playing at The Belcourt.
The Jesus Revolution Legacy media have already begun their "faith-based" pigeonholing of this 60s-set true-life tale about a buttoned-up minister (Kelsey Grammer) who opens his ailing church's doors to some hippies. But, after catching a sneak preview this week, we can say that the movie is an impressively executed and thematically complex rejoinder to Christian movie stereotypes from Franklin-based Kingdom Story Company, which we profiled earlier this month. A Lenten Season must-see.
Now playing in theaters.
Emily This biopic of Wuthering Heights author Emily Brontë has garnered resounding critical praise for its embrace of the Gothic and refusal to fall victim to period-piece cliches.
Now playing at AMC Thoroughbred and Regal Green Hills 16.
Juniper Contemporary screen legend Charlotte Rampling stars in this subtly funny and uplifting English indie drama as an alcoholic formerly famous photographer whose grandson takes care of her against his will.
Now playing at AMC Thoroughbred 20.
Bunker A group of German soldiers encounters an unholy presence while trapped in the titular substructure in this tense and promising indie horror effort.
Now playing at Regal Green Hills 16, Regal Opry Mills 20, and Regal Streets of Indian Lake 16 (Hendersonville).
My Happy Ending Andie MacDowell stars as an aging actress surreptitiously seeking cancer treatment in what the film's press kit refers to as a "poignant and funny female ensemble comedy" and critical consensus has dismissed as yet another lightweight adaptation of a successful stage play.
Now playing at Regal Green Hills 16 and Regal Hollywood 27.
Cocaine Bear As much as the trailer has us pumped to see this loosely adapted true story about a bear who ingests cocaine after a drug drop gone wrong and goes on a rampage in the woods surrounding Knoxville, we're not sure a deplorable hater and perpetual victim of the patriarchy like actor-turned-director Elizabeth Banks was the right choice to helm such a distinctly Southern story.
Now playing in theaters.