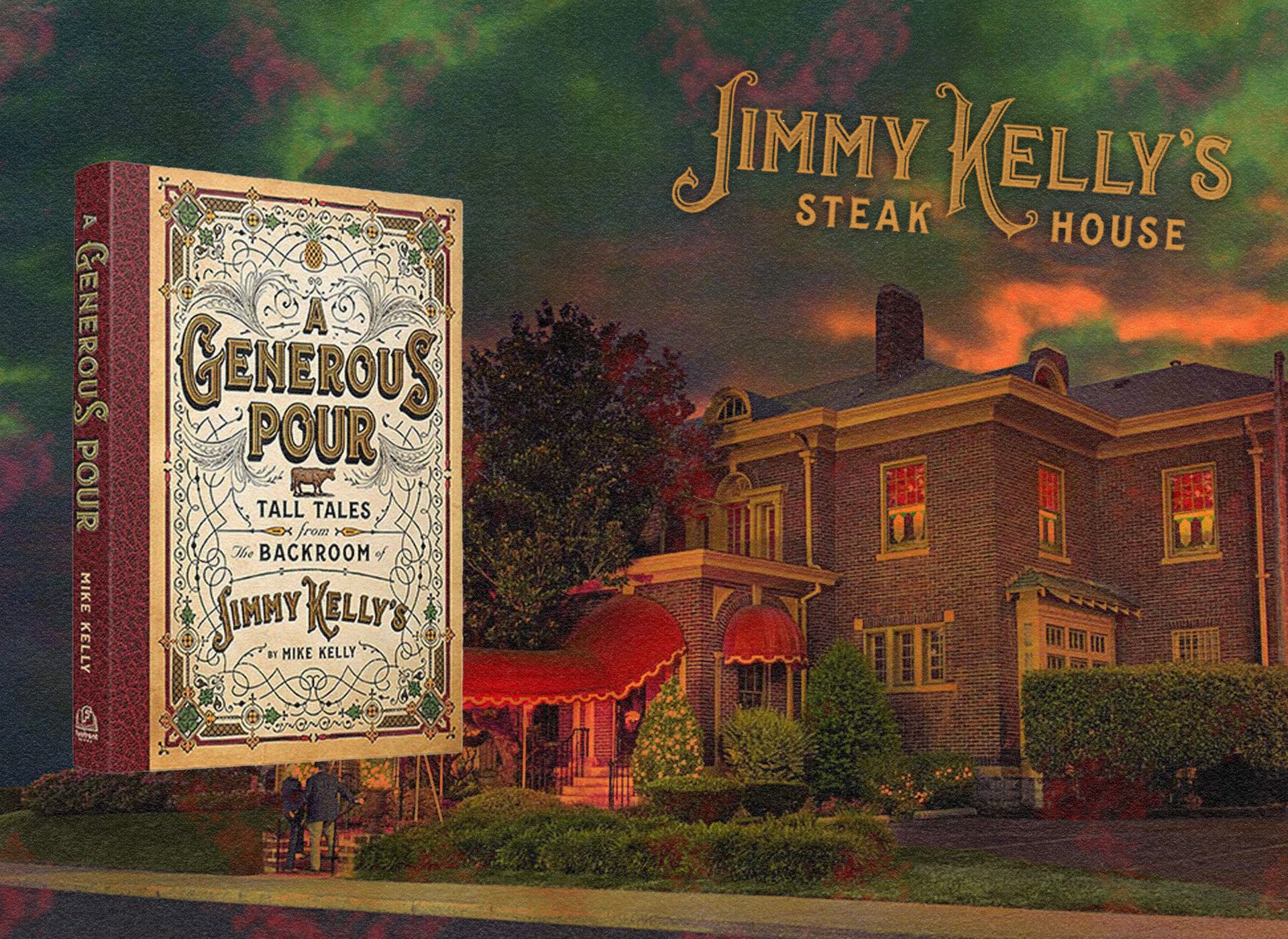 No. 438: Honest Lawbreakers
⁂ Nashville's Alt-Daily ⁂ Jimmy Kelly's · Sound Money · Stadium Deal · Things to Do · Much More!
Good morning, everyone.
Hope you had a nice weekend. Seems like the Titans stadium deal is moving forward. We should have more to report on that later this week.
Until then, enjoy Jerod's review of Mike Kelly's A Generous Pour which reflects on the history of his family's iconic restaurant, Jimmy Kelly's.
Onward.
--
From Jerod Hollyfield
In Orthodoxy (1908), G. K. Chesterton writes, "Tradition means giving votes to the most obscure of all classes, our ancestors. It is the democracy of the dead. Tradition refuses to submit to the small and arrogant oligarchy of those who merely happen to be walking about." Chesterton never visited Jimmy Kelly Steakhouse; it opened in 1934, two years before his death. However, he would almost certainly have appreciated it—not only for the famous cuts of meat and full bar, perfect for a notorious gourmand with a permissive attitude toward drinking but also for the sacred protection of its legacy.
The Kelly family has been integral to Nashville's evolution since before the Civil War. James Kelly first immigrated to the city in his teens with little more than the copper piping that would allow him to carve out a living with a whiskey still. That roughshod spirit prevailed through the generations. His son, John Kelly, stood defiant against Prohibition by selling alcohol under the guise of his ice business, and his grandson, Jimmy, opened the now-famous local spot and made it a hub for overturning the state and city's dry laws.
Now, current restaurant proprietor and fourth-generation Nashvillian Mike Kelly has collected his family's history in A Generous Pour: Tall Tales from the Backroom of Jimmy Kelly's with assists from some of his most loyal customers; it is the rare book that caters to nearly as many different demographics as the establishment that serves as its subject. Ostensibly a local interest book for Kelly's regulars, A Generous Pour is also a concise history of the moonshine trade, a tribute to local eating, and a pointed assessment of the South's evolution from Reconstruction to its modern-day status as an economic behemoth that makes it a worthwhile read as breezy as it is substantive.
The site of an endless stream of graduation dinners and backroom deals, Jimmy Kelly's has long had to negotiate similar identity tensions as the city it calls home. It's a steakhouse that still offers the same bacon and blue cheese Faucon Salad and prime cuts of beef in defiance of the celebrity chef, James Beard-chasing tenor of our current restaurant scene. It's a place where tourists intermingle with policy wonks and lawmakers on a sojourn from the Capitol that revels in its populism despite boasting both a general and regulars' entrance. It's also a dining destination that never wavers in upholding Nashville traditions–though its current location at 217 Louise Avenue, an elegantly decorated Victorian respite from the industrial minimalism of Vanderbilt's sprawl, is technically its third home.
In theory, such a microhistory of a local restaurant shouldn't be of much interest to anyone beyond its dedicated customers and those perusing copies in the foyer while waiting for a table. However, Kelly is as gifted a writer as he is a restaurateur, effortlessly threading the development of Jimmy Kelly's within the broader story of the city and region over the past century. Likewise, Kelly is not content with the recitation of a dry laundry list of trivia that only appeals to those in the know; instead, his scrapbook of Jimmy Kelly's makes some refreshing and cogent arguments about Southern politics and history not out of place in an academic study.
Continue reading...
⧖⧗⧖ ENJOY THE PAMPHLETEER? ⧗⧖⧗
Consider a donation. Help us grow our coverage, expand our reach, and explore a wider variety of topics.

❏ THE NEW OLD-FASHIONED GOLD STANDARD
Last year, Tennessee repealed the sales tax on gold, silver, platinum, and palladium coins and bullion. With this move, the Volunteer State joined 41 other states in removing a barrier for investors of physical metals. This law, filed as HB1874 and SB1857, also paved the way for new bills filed this year.
Introduced by Rep. Husley (R-2) and Sen. Nicely (R-8), HB1481 and its companion bill, SB311, would respectively recognize gold and silver coinage as legal tender; if passed, Tennessee would become the fourth state in the union to do so. The bills would also require the state to accept gold and silver as payment for taxes, establish a state bullion depository for any gold and silver collected, and allow the state to authorize entities to produce, sell, and label gold or silver coins.
MORE INFO According to former US Rep. Ron Paul (R-TX), while testifying in support for a similar bill in (year): ". . . if you're for less government, you want sound money. The people who want big government, they don't want sound money. They want to deceive you and commit fraud. They want to print the money. They want a monopoly. They want to get you conditioned, as our schools have conditioned us, to the point where deficits don't matter."
From the Sound Money Defense League:  "Using a depository account, citizens could also engage in transactions using gold and silver electronically. An account holder could make a purchase and pay the seller by transferring precious metals to the seller's account. The funds being transacted could also be converted to Federal Reserve Notes and deposited into an account at a typical bank."
HEADLINES
Cooper, Titans take stadium deal to Metro Council (Post) Mayor John Cooper and the Tennessee Titans have reached terms for a new stadium. Cooper filed an agreement between the city and team to the Metro Council on Friday afternoon, according to a press release. As of publication, the exact agreement had not yet been posted on the city's legislative database.
All 95 Tennessee Counties Receive First Direct Payments from Opioid Lawsuit Settlements (Star) More than $31.4 million in lawsuit settlement funds have been dispersed to all of Tennessee's 95 counties by the state's Opioid Abatement Council, the Department of Mental Health and Substance Abuse Services announced in a recent press release.
Tennessee spent $81M on site development grants since 2016 (Center Square) The grants are separated from TNECD's select certified site program, where the state buys property and prepares it for business. The state did that with the West Tennessee Megasite outside of Memphis where Ford will build its $5.6 billion Blue Oval City following nearly $1 billion in additional state incentives.
DEVELOPMENT

THINGS TO DO
View the full event calendar here and our weekly film rundown here.
👨🏻‍🌾 Check out our Nashville farmer's market guide and our 2023 southern festival guide and 🎥 2023 movie guide.

🎧 On Spotify: Pamphleteer's Picks, a playlist of our favorite bands in town this week.
TONIGHT
🪕 John Mailander's FORECAST with Jobi Riccio @ Dee's Country Cocktail Lounge, 8:30p, Info
+ a Nashville-based collective of visionary musicians led by multi-instrumentalist/composer John Mailander
🪕 East Nash Grass @ Dee's Country Cocktail Lounge, 6p-8p, $5, Info
+ bluegrass group from Nashville

🎷 Jazzy Monday @ Helen's Hot Chicken, 8p, $13, Info

💀 Grateful Monday @ Acme Feed & Seed, 8p, Free, Info

🕺 Motown Monday @ The 5 Spot, 9p, $5, Info

🎹 Jazz Jam @ The Villager, 11p, Free, Info
ON THE RADAR
🎧 On Spotify: On the Radar, a playlist of the best bands in town in the future.

Thursday, 3/9
🪕 Margo Price @ Ryman Auditorium, $35+, Info
+ Nashville-based singer-songwriter

🎸 Dylan Leblanc @ The Basement East, 8p, $20, Info

🎸 moe. @ Brooklyn Bowl, 8p, $30, Info
+ jam rock
Friday, 3/10
🎻 Brahms and Dvořák with the Nashville Symphony @ Schermerhorn Symphony Center, 8p, $25+, Info
Saturday, 3/11
🎻 Brahms and Dvořák with the Nashville Symphony @ Schermerhorn Symphony Center, 8p, $25+, Info

🎸 Arcy Drive @ The Basement East, 7p, $15, Info
+ spirited grunge

Sunday, 3/12
🎸 Elvis Costello & Billy F Gibbons + All Star Friends @ Brooklyn Bowl, 7p, $99+, Info