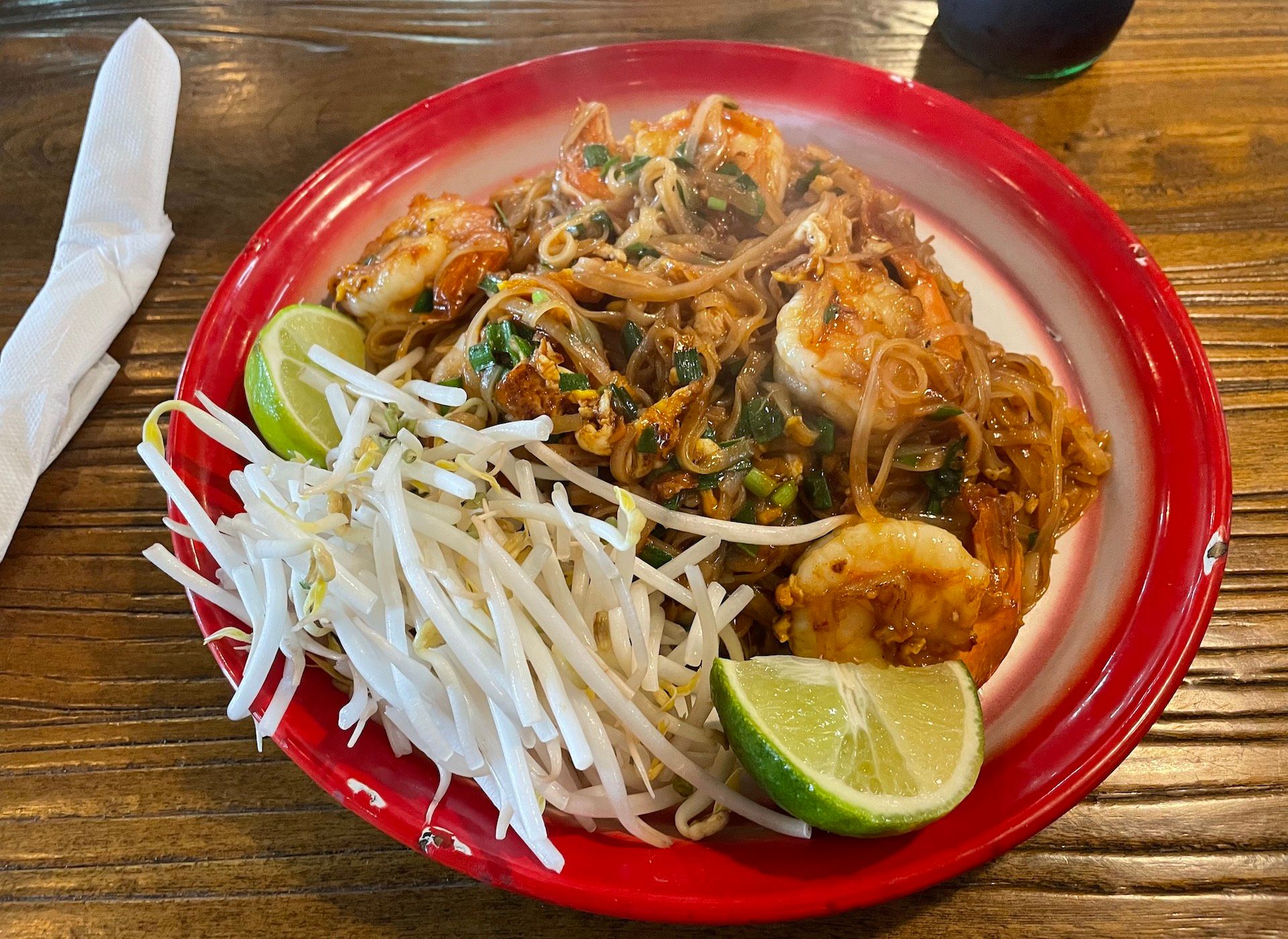 No. 442: Pad In Full
⁂ Nashville's Alt-Daily ⁂ Deg Thai · Weekender · Smells Like Regret · Movie Rundown · Much More!
Good morning, everyone.
On a windy, rainy, haily, and potentially tornado-y Friday, we bring you a look at Deg Thai over on Nolensville from Mike Wolf, our standard weekly film rundown, a great playlist to get you through the cloudy weekend, and some snark aimed at our local media compatriots.
Onward.
--
From Mike Wolf
It's one of the better food memes I've seen on social media over the last few years, mostly because it's true. You're presented with a picture of the many ingredients that go into homemade Pad Thai with the caption: "I spent $35 on ingredients to make mediocre Pad Thai when I could have spent $15 for really good Pad Thai." I'm paraphrasing here but you get the gist.
If you decide to trek out to your local market to shop for tamarind paste, palm sugar, fish sauce (don't you already have some?), shallots, garlic, dried shrimp, tofu, chili flakes, eggs, peanuts, rice noodles, bean sprouts, and limes, there's a good chance you're spending way more than a quick trip to Deg Thai, located at 3025 Nolensville Pike, just South of Thompson Lane in a venerable sea of excellent food options. To survive and thrive in the 3000 block of Nolensville Pike means you must be doing something right. And Deg Thai is doing so many things right.
First, the "OG Shrimp Pad Thai" is such a perfectly self-contained home run of a dish as it touches all the bases of taste sensation, arrives at the table steaming hot (pictured), and smells like being airlifted to a crowded Thai street market where anything could happen. The sweet and salty pop of the sauce balanced by the acidity of fresh lime, combined with the umami hit of very large shrimp and the light, vegetal bitterness of the bean sprouts is like a spin class for your palate. Wash it all down with a cane sugar Mexican Coke to accentuate the sweetness or one of the delicious Thai iced teas from Deg Thai (offered in green or black tea varieties) and you're never at a loss for complex flavor affinities.
Though I've waxed about it before, one of my favorite restaurant jobs was at K's China in Boulder where we had an international cadre of staff including the owner Chang, who hailed from China, Hong from Hong Kong (yeah, it was confusing to me too), Paul from Thailand (he had a different name but told everyone his name was Paul) and K, who ran the joint with aplomb and grew up in Vietnam. Though the food was mostly Vietnamese and Chinese, we served a solid Pad Thai that changed depending on who was cooking. While this is generally frowned upon in restaurant kitchens—consistency is the name of the game, a fact confidently displayed by the folks at Deg Thai—it kept things interesting to those of us who worked there and constantly ate the food.
Chang's version of Pad Thai was spicier and more delicious, and he would often make the point that Pad Thai was basically a Chinese dish, claimed by the country formerly known as Siam 90 years ago while undergoing so much upheaval the name of the nation changed to Thailand and local dialects were banned in schools. The original name for the dish, kway teow pad, translates roughly to "Chinese rice noodles, stir-fried," or "Chinese noodles, Thai-style." Paul from Thailand would just shrug his shoulders and say, "I don't know, and I don't really care."
Deg Thai began life as a food truck, winning multiple awards throughout the early 2010s, before opening a brick-and-mortar location off Nolensville. The space has an airy vibe, with high ceilings, warm wood-paneled walls, and a wild mural that must be seen to be appreciated. The service is very friendly and lightning fast, with a shoulder-to-shoulder crew in the kitchen kicking out wok classics at warp speed. If you like heat, ask for your dish to be kicked up a notch to "Assfire," the highest level of heat and a welcome dose of humor on a cloudy day. Take note, however, that what many of the legions of noodle lovers who exalt Deg Thai have come to appreciate over the years, is their ability to deliver spice when a customer asks for it. So, be warned. Hot is hot, assfire will. . . Well, you get the idea.
Other delicious options on DT's modest but tight menu include red and green curries, street dumplings, and crispy tofu served with sweet chili sauce and a refreshing cucumber salad. Other noodles dishes include the Tiew Gang Vegan, a creamy, spicy, coconut-and-curry-inflected noodle soup served with cauliflower and tofu. Noodle newbies, be advised, I've heard it said that Pad Thai can be too thick to successfully navigate with chopsticks, as locals in Thailand usually eat the dish with a fork and spoon. But I'll take a note from Paul on this one: "I don't know, and I really don't care."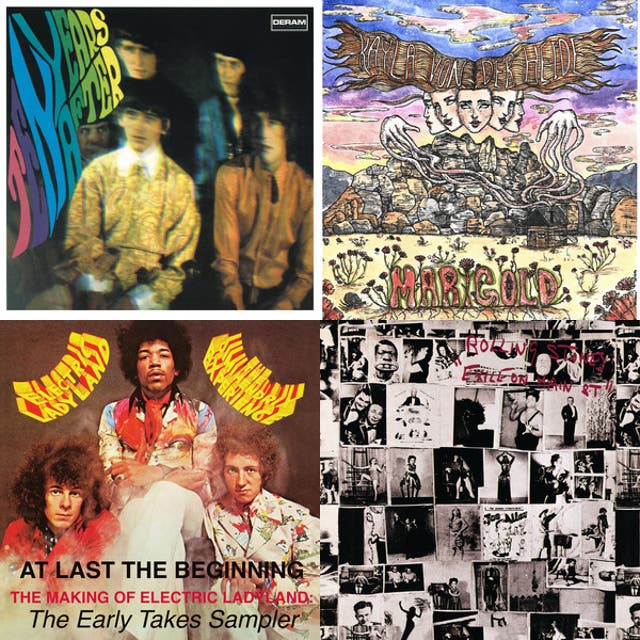 ⧖⧗⧖ ENJOY THE PAMPHLETEER? ⧗⧖⧗
Consider a donation. Help us grow our coverage, expand our reach, and explore a wider variety of topics.

❍ SMELLS LIKE REGRET?
The Nashville Business Journal printed an interview on Wednesday featuring Mayor John Cooper. This is a rare occurrence and one of the few times Cooper has sat down to talk shop with local media since he announced he will not be seeking reelection. In an attempt to quell some of the criticisms we've heard circulating over the last six months, Cooper continued promoting the East Bank development and the covered stadium deal. One can't help but feel it's a bit of an oversell.
"What I really want your readers to understand is that the East Bank is so much more than the [domed stadium]," he explained before diving into the necessary trade-offs, "But without the dome, you're not getting transit, you're not getting [flood] resilience, you're not getting parks and riverfront activation, you're not getting affordable housing, you're not getting a cultural center. It's a clever financing plan. It's fundamental to [the Metropolitan Development and Housing Agency's] success going forward."
PICK-ME ENERGY Are you all as amused as we are watching some of our fellow Tennessee journalists scramble for relevance? As of late, they're not just dealing in sensationalism–- some are also trying out various attempts at style and whimsy. An article from last Friday comes to mind: we got a kick out of the Tennessee Lookout's Sam Stockard reacting to a "no comment" reply from the AG's office:
"The response (and I'm not making this up) from Chief of Staff Brandon Smith: 'We will not engage in your attempt to foment discord among the branches of government.' I had to pull out the dictionary for that one, because it's not every day I'm accused of fomenting discord."
Today he tapped into the ever-present, hyperbolic mudslinging between the liberal media and Tennessee politicians regarding debate over the death penalty: "Apparently, the argument goes that we've had problems with lethal injection guidelines, so why not bring back firing squads since people can carry without a permit and the state could recruit people off the street to do the dirty work."
Have a great weekend.
HEADLINES
New Titans lease has 'first-class' clause that led to $1.829B city obligation claim (Center Square) A "first-class" condition requirement was at the forefront of Tennessee Titans Chief Executive Officer Burke Nihill claiming Metro Nashville would owe $1.839 billion in renovation costs at Nissan Stadium. But a new lease agreement with the team for a new estimated $2.1 billion stadium, set to open in 2026, would also include a similar "first-class" requirement.
Speaker Sexton Proposes Expanded Charter School Offerings (Star) A newly amended caption bill, HB1214, that would allow for the establishment of charter schools serving homeschoolers and boarding charter schools has made it out of the House K-12 Subcommittee.
Bill to ban TikTok, WeChat on Tennessee public college networks passes Senate (Center Square) During committee, Sen. Jon Lundberg, R-Bristol, said many in the United States have been concerned about Chinese spy balloons over the past month. But he said that, during his work in the Navy, he dealt with a lot of secrets and the biggest secret was how the military gets its secrets.
Governor's Transportation Legislation Moves Through House, Senate Committees (Scene) The bill, which aims to solve Tennessee's estimated $26 billion in infrastructure needs, proposes a new funding structure for road projects. Proponents say it would cut average project times from 15 years to five years through public-private partnerships, and the plan has been endorsed by 13 chambers of commerce from around the state.
DEVELOPMENT

THINGS TO DO
View the full event calendar here and our weekly film rundown here.
👨🏻‍🌾 Check out our Nashville farmer's market guide and our 2023 southern festival guide and 🎥 2023 movie guide.

🎧 On Spotify: Pamphleteer's Picks, a playlist of our favorite bands in town this week.
TONIGHT
🎸 Cam Pierce @ Analog at the Hutton, 7p, $15 Info
+ singer songwriter with a unique take on the Folk, Country and Western styles of music
🌷 Nashville Lawn and Garden Show @ The Fairgrounds Expo Center Building, 9-6p, $12, Info
+ includes a vendor market place as well as lectures providing hints, tips, and practical advice on a variety of horticultural topics
🪕 The Cowpokes @ Acme Feed & Seed, 12p, Free, Info
🎙 Live Irish Music @ McNamara's Irish Pub, 6p, Free, Info
🎸 Kelly's Heroes @ Robert's Western World, 6:30p, Free, Info
✹ WEEKLY FILM RUNDOWN: March 3-9
The latest releases and special screenings hitting Music City this week. For a list of new and upcoming films, check out our 2023 Movie Guide.
With the Oscars coming up on March 12th, The Belcourt and both AMC and Regal will be showcasing all the Best Picture contenders and other high-profile nominees through next weekend. Special pricing is available at certain locations.
Operation Fortune The latest Brit gangster machismo-fest from Snatch and Sherlock Holmes director Guy Ritchie finally sees the light of day after a yearlong delay to edit out its Ukrainian gangster villains. If that kind of appeasement doesn't turn your stomach, the chance to see Jason Statham, Hugh Grant, and Aubrey Plaza in a smart and witty spy thriller is reason enough to get out to the cinema. Now playing in theaters.
RRR Fan CeleRRRation Seeing the global blockbuster from India's Telugu film industry on a big screen is an unforgettable experience. Two freedom fighters have an old school bro out as they fight the British Raj in a nationalist epic that's essentially The Avengers in Hamilton. Now playing at AMC Thoroughbred 20 and The Belcourt.
Creed III Michael B. Jordan pulls double duty as director and star of the latest in the Rocky franchise. A spat with a producer kept Stallone on the sidelines for this one, but Creed's face-off against a childhood friend fresh from prison (new Ant-Man villain Jonathan Majors) pays tribute to a legacy series while never going stale. Now playing in theaters.
Children of the Corn The latest adaptation of Stephen King's short story about bloodthirsty Midwestern minors replaces religious zealotry with environmental dogma, but also may end up accidentally becoming a searing and effective indictment of climate change extremism if critics' outraged reactions are any indication. Now playing at AMC Thoroughbred 20 and Regal Cinemas.
Hunt Her, Kill Her A night janitor at a furniture factory fends off masked intruders in this twisty and taut indie horror. Now playing at AMC Bellevue, AMC Thoroughbred 20, and Regal Hollywood 27.
Close Middle school teasing leads to tragic consequences for two best friends living on a flower farm in rural Belgium in this Oscar nominee for best foreign film that boasts some impressive child performances hindered by contrived melodrama. Now playing at the Belcourt.
Blueback When a child befriends a blue groper while diving, she enlists her activist mom to take a stand against ocean poachers in this Australian family film starring Eric Bana and Mia Wasikowska that would make a weirdly apt eco double feature with the new Children of the Corn.