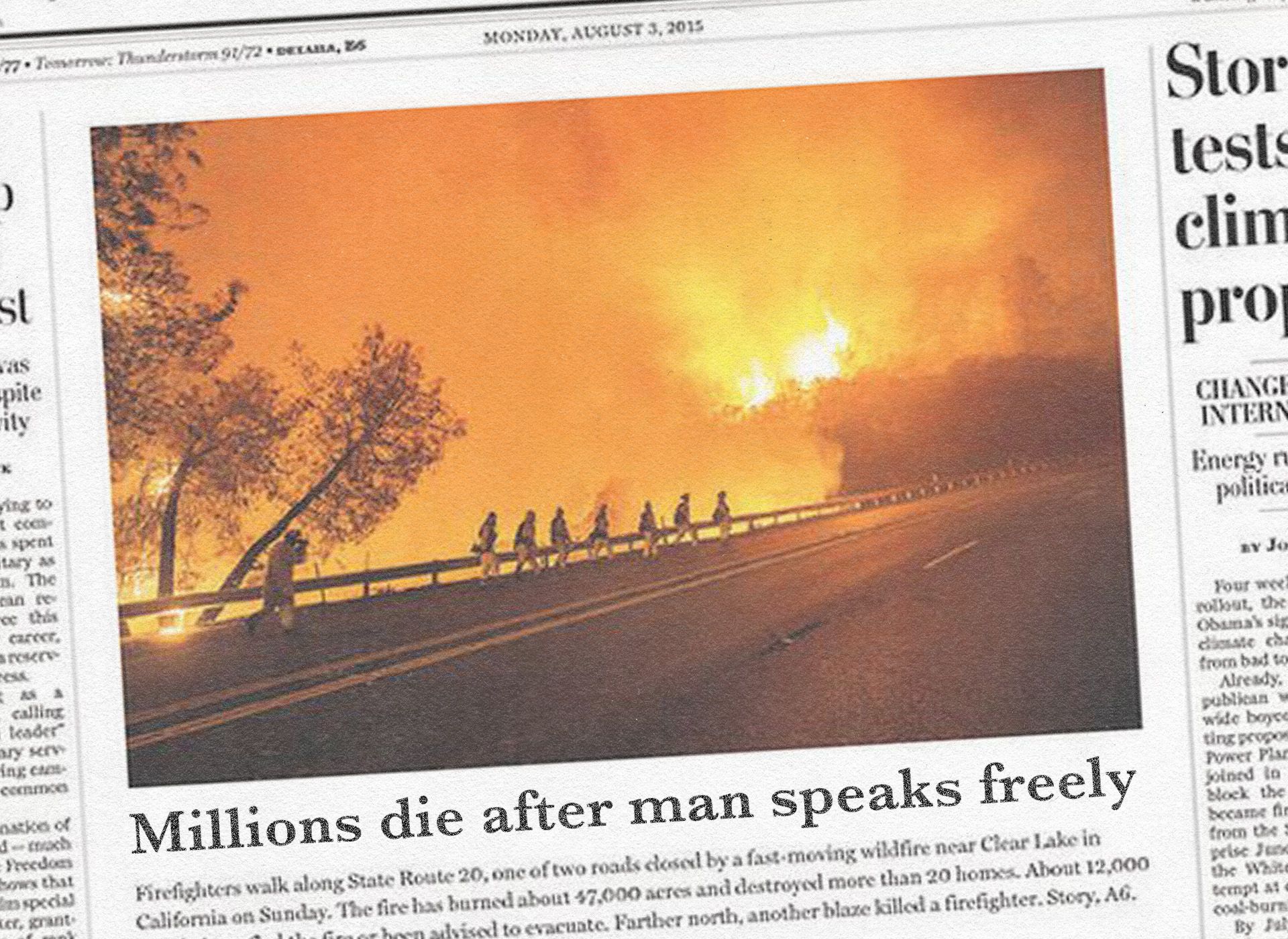 No. 443: When Speech Is Really Violence
⁂ Nashville's Alt-Daily ⁂ Hysteria · Captions · Charters · Grand Prix · Power · Much More!
Good morning, everyone.
This weekend, the furor around Tennessee's new laws restricting gender transition procedures for minors (which advocates refer to as "gender-affirming" healthcare) and cabaret performances to adult venues went nationwide. Everyone from California Governor Gavin Newsom to SNL host Colin Jost used the opportunity to stunt on the state. Meanwhile, others saw their support for the bills misrepresented as a call to violence.
Newsom tweeted out that Tennessee has the "8th highest murder rate in the nation... And this is what the Governor is focused on" in reference to Gov. Lee's signing the so-called "drag show" bill into law. Presumably, Newsom can't walk and chew gum at the same time.
As an aside, Newsom's entrance into other state's politics is not a new development. As Nate Hochman at the National Review pointed out, last year, Newsom spent $230,000 on ads attacking GOP candidates in other states. Additionally, almost 60 percent of his tweets are about red states.
Lee quipped back by noting how people have left California in droves over the past three years to get away from Newsom's poorly run state, and, well, that says it all. The people have spoken.
Over on the other coast, SNL's Colin Jost mentioned the bill during Weekend Update, exhibiting a deliberate ignorance that was not the joke but should have been.
Things are reaching such hysterical levels that Michael Knowles' speech at CPAC this weekend, in which he pronounced that "transgenderism must be eradicated from public life," was written up by Rolling Stone, the Daily Beast, and a whole host of other media outlets as a call to genocide.
The equivalence of Knowles' call to remove corrosive gender ideology from public life with a call to eliminate transgender people is better understood as projection than as a serious accusation. If you believe otherwise, you should then understand calls for the "elimination of whiteness" as calls to genocide white people, for example. Let's at least be fair about it.
All of the uproar over cultural issues recalls Andrew Breitbart's coined phrase: "politics is downstream from culture." What this implies is that in order to change the politics of a state or nation, one must first change the culture. It's a popular point repeated far and wide, especially by those on the right, but as a way to explain political developments over the past decade, Breitbart's coinage has been left wanting.
If anything, what the past three years have taught us is that politics is entirely the domain of a small, idiosyncratic group of people who impose their views on the masses. Far from reflecting the "will of the people" (and in turn, their culture), politics reflects the priorities of a tiny, determined minority.
When something does gain popular approval through the culture—such as disincentivizing and discouraging the spread of gender ideology—it's immediately met with relentless propaganda to prevent a more powerful coalition from forming. In this instance, without the relentless, trans-affirming propaganda, this conversation would not be happening in the "public square."
As an example of how widespread opposition to this stuff is, consider that last week in Nashville, a South Sudanese man was arrested for threatening an MNPS teacher after she assigned his daughter the book Pet at STEM Preparatory Academy. He was so inflamed by the material he proclaimed that "blood would be shed."
Pet was written by Akwaeke Emezi (they/them), a Nigerian, non-binary author who has penned a plethora of books aimed at children that place gender ideology front and center. In Pet, for example, the main character is a transgender girl.
There is wide and popular global support for weakening the hold that this incoherent ideology has over the minds of children and adults. To the aforementioned tiny minority, this is the problem. More people need to be taught to believe otherwise, and those that refuse to update their beliefs, well, we need to "eradicate the—er, their disagreement."
Onward.
⧖⧗⧖ ENJOY THE PAMPHLETEER? ⧗⧖⧗
Consider a donation. Help us grow our coverage, expand our reach, and explore a wider variety of topics.

✸ SO, WHAT'S A "CAPTION BILL"?
Though this year's bill filing deadlines were, respectively, January 31st for the state House and February 2nd for the Senate, you may see a few "new" bills crop up before they wrap up the 113th General Assembly. I'm referring to "caption bills," which are filed on time but, in lieu of a thorough description, only have a brief caption identifying the title and chapter of the Tennessee code in which the bill's final language will fall under. This makes these "caption bills" placeholders, so to speak.
Upon filing, the Tennessee State Legislature requires a summary of a bill's contents that "cannot be any broader than its caption." In other words, as the General Assembly progresses, certain bills filed with blanket references can be refined with additional amendments. As we step into March, expect to see a few of these "caption bills" tackle more human trafficking issues, among other things.
ATTACK ON CHARTER SCHOOLS: CONTINUED Sen. Heidi Campbell (D-20) and Rep. Bo Mitchell (D-50) filed companion bills targeting, you guessed it, charter school initiatives. Continuing the fight over who controls the purse strings when it comes to education, this legislation would "remove the Tennessee Public Charter School Commission as an appellate charter school authorizer." As it stands, the commission currently has the power to allow taxpayer money to be put toward charter schools.
As this legislative wrestling match continues, other bills supporting school choice are swiftly making their way through both chambers. HB559, which expands student eligibility for the Education Savings Account (ESA), is placed on tomorrow's K-12 Subcommittee agenda in the house. The ESA program, which currently serves eligible students zoned to Shelby County Schools, Metro Nashville Public Schools, and a school in the statewide Achievement School District (ASD), "allows these students to use state and local money toward education expenses, including tuition and/or fees at approved private schools." Its companion bill, SB638, has already passed through the senate with 27 Ayes, 5 Nays.
Likewise, House Speaker Cameron Sexton's HB1214 will be heard in the same subcommittee meeting tomorrow. His bill, among other things, would allow homeschool students to enroll in charter schools to receive two or more days of classroom instruction per week. Eligibility for this initiative is granted through the Tennessee Public Charter School Commission. . . connecting the dots?
HEADLINES
Q&A with Freddie O'Connell (Banner) After two terms in the center of the city's biggest debates, the District 19 councilmember says he is ready to tackle issues from transit to affordable housing to expanding the city's investment beyond downtown.
Power outage totals surpass 147,000 during severe weather, restoration efforts could take days (Channel 5) Over 115,500 NES customers and nearly 32,000 CEMC customers were without power due to weather-related outages by 3:30 p.m. Friday, totaling more than 147,000 impacted in the Middle Tennessee area.
What's new with the 2023 Music City Grand Prix? (Post) As Grand Prix officials negotiate with Metro Nashville government officials to extend their contract for an additional three years, the event itself is adding more amenities into race week including: a new GT America and GR Cup race on Saturday night, an earlier Sunday start time for the actual Grand Prix itself, more live music and free water stations, and new family fun zone, shade tents and misting stations to help deal with the heat.
Trotline safety bill stalls out in Tennessee legislature (Lookout) An effort to regulate trotlines — unmanned fishing lines studded with hooks that are strung across some Tennessee waterways — has stalled in the Legislature, frustrating paddler groups who say they pose a safety hazard on the state's increasing crowded rivers and streams.
Tennessee bill would prevent government spending on abortions (Center Square) The bill comes after Tennessee's law banning abortions went into effect following the Supreme Court overturning Roe v. Wade. Last year, the Metro Nashville council proposed a $500,000 grant to assist women getting an abortion outside of Tennessee but then amended the bill to make it a grant to Planned Parenthood of Tennessee and North Mississippi.
DEVELOPMENT

THINGS TO DO
View our calendar for the week here and our weekly film rundown here.
👨🏻‍🌾 Check out our Nashville farmer's market guide and our 2023 southern festival guide and 🎥 2023 movie guide.

🎧 On Spotify: Pamphleteer's Picks, a playlist of our favorite bands in town this week.

📅 Visit our On The Radar list to find upcoming events beyond this week around Nashville.
TONIGHT
🎸 Fretland & Zan Fiskum @ City Winery, 7:30p, $15, Info
+ alt-country singer-songwriters
🎸 The Time Jumpers @ 3rd & Lindsley, 8p, $20, Info
+ award winning western swing band from Nashville

🪕 East Nash Grass @ Dee's Country Cocktail Lounge, 6p, $5, Info
+ bluegrass group from Nashville

🎷 Jazzy Monday @ Helen's Hot Chicken, 8p, $13, Info

💀 Grateful Monday @ Acme Feed & Seed, 8p, Free, Info

🕺 Motown Monday @ The 5 Spot, 9p, $5, Info

🎹 Jazz Jam @ The Villager, 11p, Free, Info