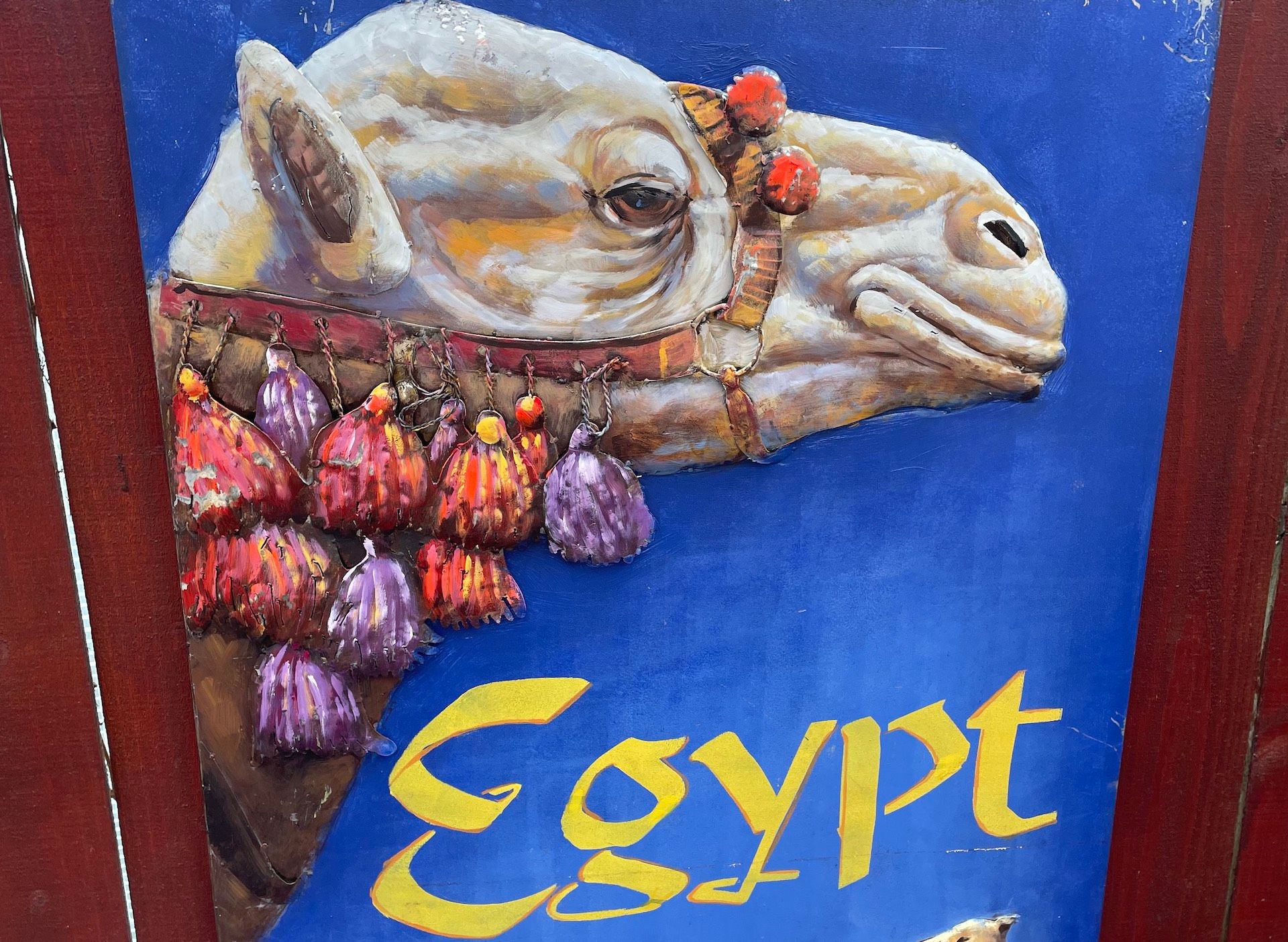 No. 447: King Tut's Palatial Patio
⁂ Nashville's Alt-Daily ⁂ King Tut's · Council Shrinkage · Move Rundown · Much More!
From Mike Wolf
After a full and satisfying lunch at King Tut's Patio, located at 3716 Nolensville Pike, just down the street from last week's adventure at Deg Thai, I felt like Howard Carter, the artist who discovered King Tut's tomb 100 years ago. When asked if he had found anything, Carter wiped his glasses, thought for a second, and said, "Yes, wonderful things! Wonderful things!" The irony of an artist who painted pet portraits for a living discovering that Egyptians basically invented animal crackers (molding their many breads into the shapes of different animals and characters), is the kind of serendipity that would be impossible today. Carter lacked a formal education, though his discovery helped shed plenty of light on how Egyptians lived in the times of Tut. While plenty of gold artifacts were found – bracelets on Tutankhamun's arms along with etched golden shrines – the food found in the tomb told more of the story than was previously known.
A veritable pantry of ingredients from the Egyptian kitchen was discovered: wheat, garlic, coriander, chickpeas, lentils, cumin, fenugreek, watermelon, figs, dates, pomegranates, juniper, and almonds, an unexpected item as it was most likely imported from hundreds of miles away. As exotic as some of these ingredients were, the Egyptian diet at the time mostly consisted of two things that continue to hold sway on our diets here in America: bread and beer. Adults and children alike took part in daily beer drinking, with students being warned by their teachers to not overdo it, "lest you utter evil speech and don't know what you're saying." Imagine that regulation making its way through the Tennessee legislature today! That's where we arrive at my only complaint with King Tut's, the restaurant. A palatial patio without beer is a tomb for a thirst unslaked. But the food more than makes up for it.
There are so many delicious options on offer at King Tut's, it's difficult to choose between the Falafel, gyro sandwiches, Peri Peri chicken – a slow-marinated chicken dish that reads like an African Alabama white sauce with bird's eye chili peppers, vinegar, lemon juice, paprika, oregano and olive oil – grilled lamb, a Falafel Waffle (wonderful things!), and the option I went with: the Chicken Shawarma Plate. Served atop a bed of rice (and also offered as a sandwich in pita bread), this Middle Eastern street food classic combines lean, marinated chicken with red cabbage, onion, shredded carrot, and goat cheese with a lovely garlicky yogurt sauce I could have used just one more spoonful of.
Starting the meal with bread, I felt like a true ancient Egyptian, dipping it into King Tut's perfect hummus, topped with spices and aromatic olive oil. The pita bread was warmed on the grill with a nice char, contrasting beautifully with the cool freshness of the hummus. If you're with a group, the appetizer sampler platter offers falafel, hummus, veggies, and plenty of bread. King Tut's also caters to vegans with a vegan platter and serves French fries with a healthy dusting of Middle Eastern spices. The beverage options left me wanting, with bottled water and cans of coca cola sitting in coolers on the patio with no ice inside. While the potted plant and ornate patio is a great spot to enjoy a Spring afternoon, at night the vibe is a touch more charming with twinkling lights hanging from the ceiling, a welcome hideaway from the hustle and bustle of Nolensville Pike.
There are more than a handful of Middle Eastern food options on Nolensville, and I plan on seeking out all of them. King Tut's is yet another charming option on Nashville's International Food Superhighway, with well-seasoned and freshly prepared fare in a vibey setting, like stumbling onto a backyard party where the food is better than you'd expect. It may not be on the level of Howard Carter discovering King Tut's tomb, but anyone serving up a Falafel Waffle is good enough for me.

⧖⧗⧖ ENJOY THE PAMPHLETEER? ⧗⧖⧗
Consider a donation. Help us grow our coverage, expand our reach, and explore a wider variety of topics.

❍ SHRINKING COUNCIL AND MORE
From Megan Podsiedlik
Immediately following its passage in the Senate yesterday morning, HB48/SB87 was signed into law, capping all Tennessee metropolitan governments at 20 council members. As amended last week, the 20-member cap took effect as soon as the act was signed. All metro governments are required to abide by its parameters during their next general metropolitan election.
Considering the only city council affected by this law is Nashville's, and their next council election is this year, Metro plans to take legal action against the state. In a letter to state leaders sent before this bill's final reading, Mayor John Cooper expressed concerns that there will not be enough time to approve and draw new districts before the August 3rd election. While his legal director Wally Dietz and current mayoral candidate Sen. Jeff Yarbro (D-21) both agree with the mayor's concerns, some council members may be taking a different approach.
SO, NASHVILLE MIGHT ACTUALLY HAVE A PLAN?  Sources tell us that the Metropolitan Planning Commission has been preparing for multiple scenarios and has mapped out districts accommodating the potential decisions the council may make concerning the number of regular and at-large council seats. While Metro legal may attempt to file a temporary injunction and a lawsuit against the state, it seems as though the council itself will go forward and do what's necessary to meet the May deadline for this year's election.
WILL THERE BE ENOUGH TIME? While the filing deadline for candidates who wish to run is May 18th at noon, the district lines must be decided on by May 1st. Though discussion on the floor will likely take place after a resolution is filed and heard during the next council meeting, a handful of council members are already in support of a 20-member council, with a balance of 17 districted council members and three at-large members. The discussion of a salary to compensate council members as full-time employees, a number which may land somewhere between $65,000-$85,000 per year, may also surface during the upcoming budgeting season.

INTERESTING TAKES ON THE MATTER After abstaining from voting on the bill, Sen. Frank Niceley (R-8) told the Tennessean, "We're not punishing this mayor at all. We're rewarding the mayor. Every mayor in the nation, in the world, would rather deal with a smaller body. Fewer people to talk to. We're rewarding the lobbyists."
Mayoral candidate and current council member Freddie O'Connell addressed what he called the "Punish Metro Package", stating: "This isn't 'we the people.' This is 'because we can.' "Councilmember Sandra Sepulveda tweeted, "It's important to remember that the state and some of my colleagues did not care when you voted not to shrink the council. They didn't think that mattered. It also didn't matter to them that many minority leaders across the county said this was going to impact representation." Councilmember at-large Bob Mendes and Councilmember Russ Bradford both retweeted her sentiment.
HEADLINES
The bizzarro world of Tennessee's Republican Party is embarrassing. (TN Stands) Many in Tennessee are finally waking up to the realization that the Republican Party you have been sold is far from the party that actually represents you at the Capitol in Nashville.
Some Middle Tennessee road projects more than a year behind (WSMV) Governor Bill Lee wants to invest billions to build more roads to accommodate Tennessee's record growth, but how long will the construction take?
House Committee Kills Legislation To Restrict Foreign Ownership Of TN Property Due To Lack Of Funding (TCN) House Bill 0040 (HB0040) sponsored by Rep. Jay Reedy (R-Erin-District 74) would have prohibited foreign persons and entities from acquiring Tennessee real estate if their respective country was on the United States sanctioned countries list.
Titans projected to sell $270M in personal seat licenses at new $2.1B stadium (Center Square) The projection was revealed through a $25 million sales tax estimate on Nashville's 9.25% state and local sales tax during Wednesday's work session of the Metro Nashville Sports Authority. The team will be giving current Nissan Stadium PSL holders a full credit for their current PSL toward the price of a PSL at the new stadium.
DEVELOPMENT
Progress At The Upcoming Tempo By Hilton In Downtown Nashville (Now Next)
Wedgewood-Houston brewery building eyed for update (Post)
Rivergate-area auto dealer property listed for $12M (Post)

THINGS TO DO
View our calendar for the week here and our weekly film rundown here.
👨🏻‍🌾 Check out our Nashville farmer's market guide and our 2023 southern festival guide and 🎥 2023 movie guide.

🎧 On Spotify: Pamphleteer's Picks, a playlist of our favorite bands in town this week.

📅 Visit our On The Radar list to find upcoming events beyond this week around Nashville.
TONIGHT
🎻 Brahms and Dvořák with the Nashville Symphony @ Schermerhorn Symphony Center, 8p, $25+, Info
🎸 The Disco Biscuits @ The Caverns, 8p, $40, Info
+ bridging the gap between electronic music and jam bands

🎸 Live Music @ Tennessee Brew Works 2-8p, Info
+ featuring: Webster's Wheel, Roderick August, Kat & Zach
🪕 The Cowpokes @ Acme Feed & Seed, 12p, Free, Info
🎙 Live Irish Music @ McNamara's Irish Pub, 6p, Free, Info
🎸 Kelly's Heroes @ Robert's Western World, 6:30p, Free, Info
✹ WEEKLY FILM RUNDOWN: March 10-16
The latest releases and special screenings hitting Music City this week. For a list of new and upcoming films, check out our 2023 Movie Guide.
With the Oscars coming up on Sunday, The Belcourt and both AMC and Regal will be showcasing all the Best Picture contenders and other high-profile nominees through next weekend. Special pricing is available at certain locations.
Scream VI The perpetually fresh horror franchise relocates to NYC as Ghostface stalks Courtney Cox and new final girls Melissa Barrera and Jenna Ortega while the writers figure out how to handle the departure of series star Neve Campbell after a contract dispute. A Scream movie set in Eric Adams' Big Apple is pretty much a documentary at this point, but we'll be there on opening night to see the film with a crowd of fans before spoilers ruin everything.
Now playing in theaters.
Champions If any actor could make a dramedy about a pompous NBA coach who falls from grace, gets a DUI, and takes a court-mandated position mentoring a Special Olympics basketball team of disabled adults worth the price of admission, it's Woody Harrelson. Even if it ends up as a sentimental retread of  The Mighty Ducks, it's the reason we got Woody's SNL monologue last month, which was funnier and more daring than anything Hollywood has put out in years.
Now playing in theaters.
The Quiet Girl A nine-year-old from an abusive home moves to rural Ireland to live with foster parents, but discovers their hidden secrets in this Oscar nominee for best foreign film that perfectly captures a child's eye view of the nation circa 1981.
Now playing at AMC Thoroughbred 20 and The Belcourt.
65 Adam Driver and a little girl fight dinosaurs after an accidental time warp in a movie worth seeing because it's about Adam Driver and a little girl accidentally traveling through time and fighting dinosaurs. From the writers of A Quiet Place.
Now playing in theaters.
The Magic Flute This retelling of Mozart's opera produced by Independence Day filmmaker Roland Emmerich and co-starring Amadeus's F. Murray Abraham looks as meta as a Scream movie and as all over the place as Wolfgang trying to tell a cogent fart joke on a Vienna bender.
Now playing at Regal theaters.
Southern Gospel A country singer sowing his wild oats devotes his life to God after a scrape with the law in this low-budget Christian movie that makes The Jesus Revolution look even better.
Now playing in theaters.