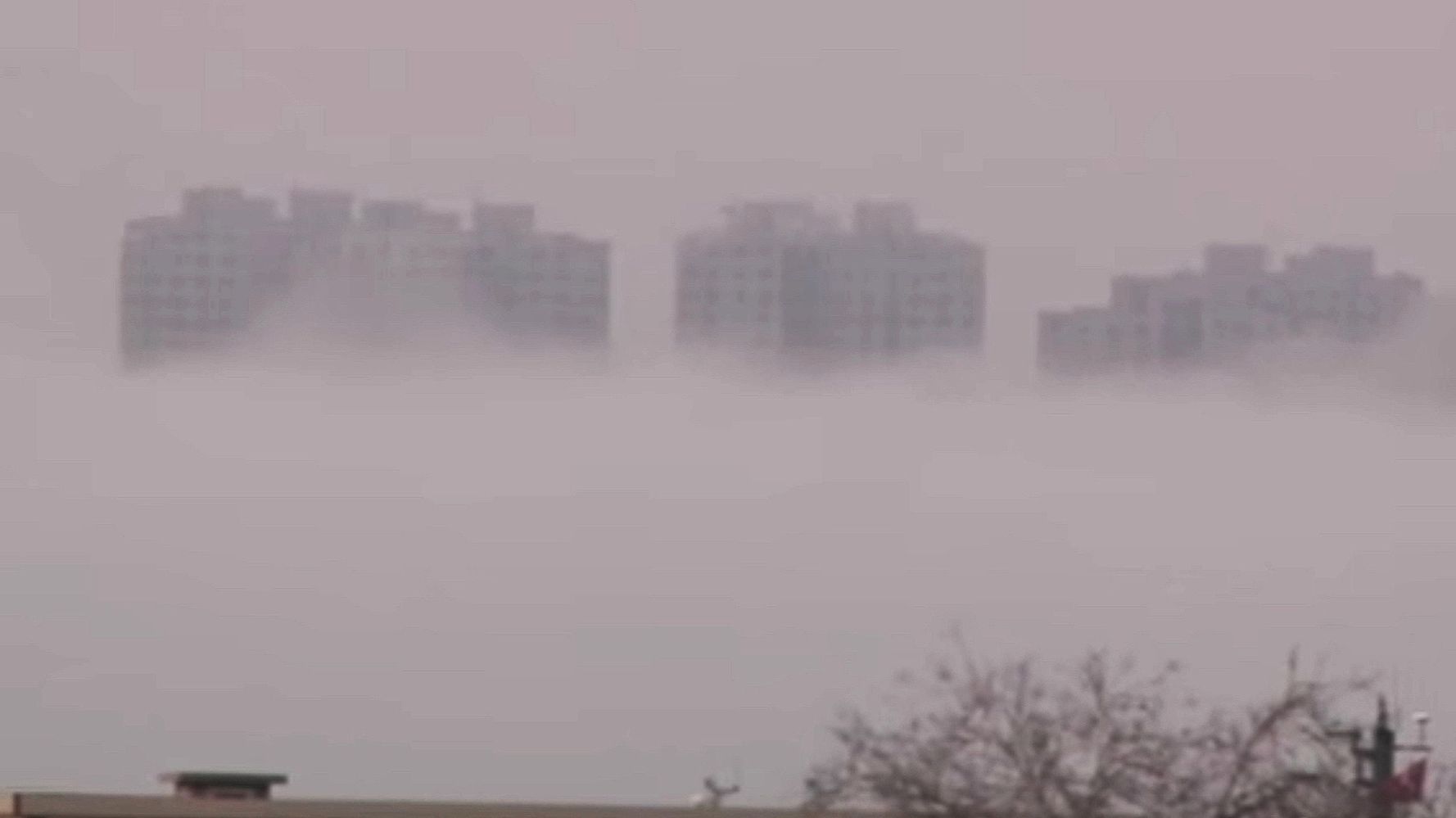 No. 588: The Floating City
📅 Today, Davis wonders if he's seeing things and Megan discusses the city's approach to "climate change."
Good afternoon, everyone.
Out at a local watering hole this Friday, I stumbled upon a large group of fresh-faced Oracle employees relocated here in anticipation of the River North campus.
Once I heard the word Oracle, neurons started firing against the whiskey. Visions of high-paying jobs and a more diverse workforce flickered through my mind like a Tony Scott movie. I gazed at this table of Oracle employees and beamed.
"Welcome to Nashville," I proclaimed. "We've been waiting for you."
Been a while since I'd thought about that whole thing. If you can remember back to April 2021, Mayor Cooper was in a tizzy after Governor Lee signed legislation requiring middle and high school athletes to play on the team that aligns with their biological sex.
"I don't want to let us become viewed as a backwater, nationally," Cooper had intoned in response. Turns out, the politics of the state didn't deter Oracle from moving forward with its deal with the city (money talks as it were) and here I am, two years later, reaping the benefits: talking with a fresh group of transplants at a god-forsaken place at a god-forsaken hour.
It got me thinking about the other deals inked over the past three years. Transformative is an accurate description, especially regarding the East Bank makeover, which hinges on the Titans' stadium.
But there's also Amazon's two buildings and its promise to bring 5,000 high paying jobs to the area—a promise that seems more daunting given the round of layoffs tech behemoths have undergone in recent months.
Over in West Tennessee, there's Ford's massive EV vehicle facility, which received an $884 million incentive package from the state. Ford is not the only auto manufacturer to bet big on electric vehicles, so it's not alone in suffering from low demand for the vehicles in general.
As reported in the WSJ, Ford has pushed back its plan to produce 600,000 electric vehicles a year to late 2024 instead of the end of this year. Blue Oval City will be the centerpiece of Ford's electric manufacturing capabilities once it is complete.
If EVs turn out to be duds on the consumer market (a position that I've maintained for going on ten years), what will this deal look like?
As fervently as the debate around these deals inflames public discourse, as soon as the deal is done and the checks are stroked, the promise and benefits of more jobs and tax revenue disappear like a mirage. We forget about them. If they fail, we mostly remain none the wiser.
But when you're inebriated at midnight, they come back to you faintly as if in a dream. Oracle. Amazon. Ford. Batteries. Jobs. Diversity. Tax revenue. Giant apartment buildings. Bigger dog parks. Better restaurants. More activities. More people. More. More. More.
A better Nashville for all.
Onward.

✹ HAVE A SAY IN NASHVILLE'S CLIMATE CHANGE AGENDA
"Climate change is arguably today's single greatest threat to our society," reads the landing page for Metro Nashville's Climate Adaptation and Resilience Plan. Last week, O'Connell's office reminded Nashvillians that an online comment period about the plan is now open to the public until October 31st, along with two public virtual sessions on October 18th: one from 11 a.m. to 1 p.m., and another from 5 p.m. to 7 p.m.
The 172-page document outlines the initiatives that, according to "more than fifty Metro departments and hundreds of community stakeholders," the city should adopt to address climate change. These include the creation of a Sustainability Advisory Committee, installing solar on Metro sites, streetlight upgrades, and a C-PACER program to give commercial developers incentives to introduce "sustainable and resilient" solutions—to name a few.
Though Freddie's campaign made it a point to outline solar and sustainable energy "fixes," the mayor was passed the baton by the Cooper administration: CARP is a byproduct of Metro's 2021 Climate Action Plan, which came out of Cooper's ad hoc Sustainability Advisory Committee.
Nashville's march toward climate consciousness began with the city's allegiance to the Global Covenant of Mayors for Climate & Energy, a commitment Mayor Cooper undertook shortly after taking office in 2019. The Global Covenant of Mayors was launched by UN Secretary General Ban Ki-moon and former New York City Mayor Mike Bloomberg during the UN Climate Summit in 2014 and was officially established in 2016.
Now, four years later, Davidson County residents have a window of opportunity to review the strategies drafted "to prepare the city for impacts resulting from a changing climate."
WHAT'S THE DESIGN AND ON WHOSE DIME?
Though the CARP draft contains a myriad of initiatives most people can get on board with— including a goal to plant 500,000 trees by 2050— it does come down to dollars and sense.
In the past, we've reported on the O'Connell administration's goal to convert all Metro buildings to 100 percent solar by 2027. According to the CARP document, they also plan to do the following:
Allocate and spend Metro-budgeted dollars on equitable climate adaptation and resilience
Secure funding from grants for equitable climate adaptation and resilience
Introduce a number of policies, ordinances, codes and other new requirements related to equitable climate adaptation and resilience
WHEN INCENTIVES ARE SHORT ON CHANGE
Unfortunately, Tennessee has seen what happens when incentivization moves too fast for innovation. Back in November 2022, General Skrmetti joined eight other attorneys general in sending a letter urging a handful of solar lending companies to suspend loan payments and interest for former customers of Pink Energy.
Before the North Carolina company filed for bankruptcy and closed its doors last October, their promotional materials attracted Middle Tennesseans with the promises of reduced energy bills, federal tax credits, and a potential increase in property values. Instead, they were left with unanswered questions and, according to one Pink Energy customer interviewed by WSMV, "basically a paperweight on my roof."
Read more on the demise of Pink Energy, the CARP draft, and submit your comment on the Metro Nashville/Davidson County Climate Adaptation and Resilience Plan Comment Form.
From Megan Podsiedlik
↯ GRAPH OF THE DAY: TAXED VS. SPENT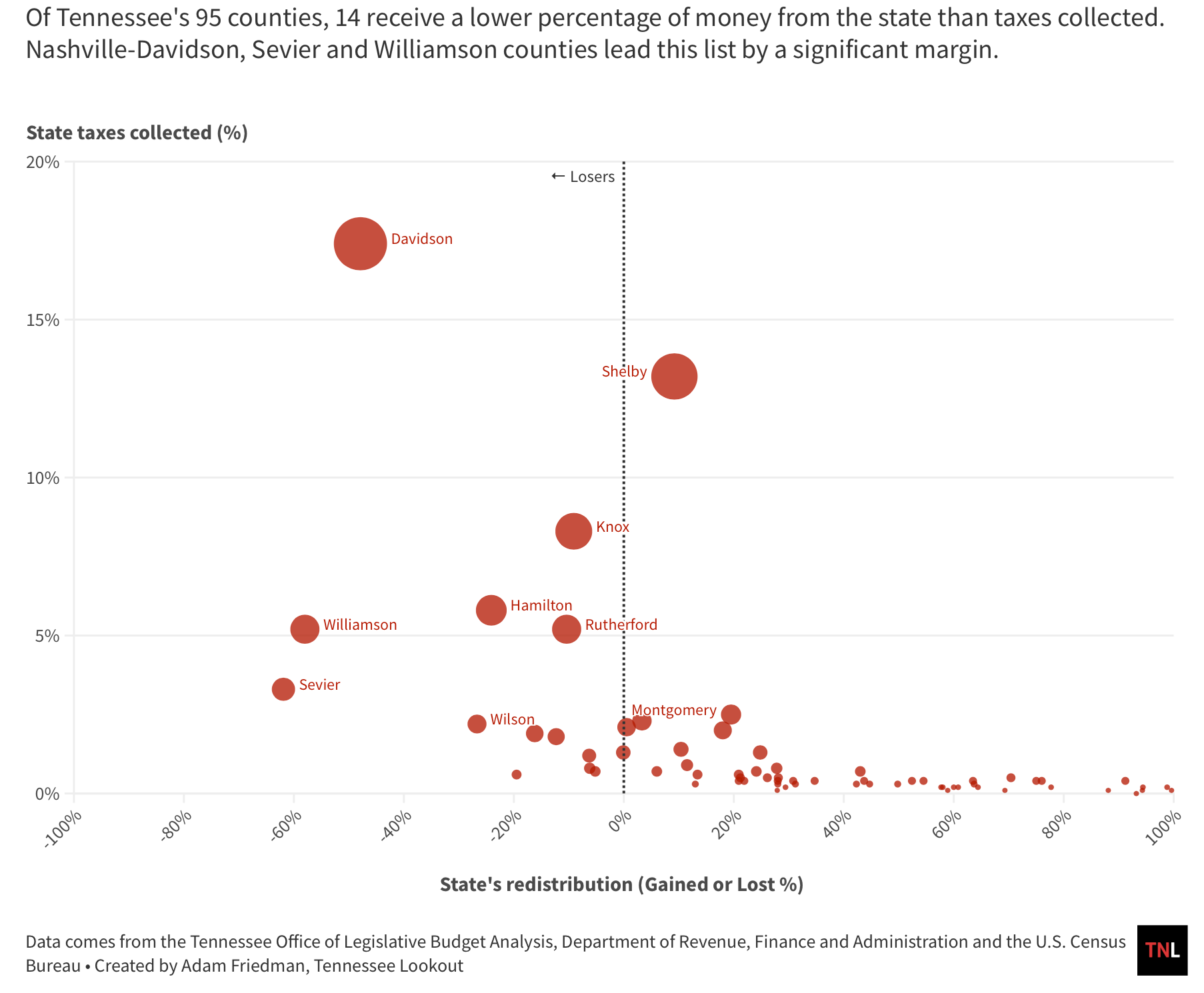 HEADLINES
New airport law casts wide authority over Nashville building and land use permitting (TNJ) The Metro Nashville Airport Authority has assumed broad new powers over zoning decisions and building permits within a large portion of its host county.
Cooper Team's Advice for O'Connell Administration (Scene) As detailed in the transition memos, released to Scene sister publication the Nashville Post in response to a public records request, Cooper's team thinks the O'Connell administration should be paying attention to several key issues.
Tourism dollars flow from Tennessee Whiskey Trail (Lookout) Whiskey is a strong driver of tourism and economic growth in Tennessee, making a $3.45 billion impact on the state economy through sales, overnight lodging, food, and beverage, according to a study commissioned by the Tennessee Whiskey Trail. In addition, whiskey tourism and sales supported 30,000 jobs in the state and created tax revenues of $441.1 million.
DEVELOPMENT

THINGS TO DO
View our calendar for the week here and our weekly film rundown here.
📅 Visit our On The Radar list to find upcoming events around Nashville.
🎧 On Spotify: Pamphleteer's Picks, a playlist of our favorite bands in town this week.
👨🏻‍🌾 Check out our Nashville farmer's market guide and our 2023 southern festival guide and 🎥 2023 movie guide.
TONIGHT
🎸 Unknown Mortal Orchestra @ Brooklyn Bowl, 8p, $32, Info

🎸 Horse Jumper of Love @ DRKMTTR, 7p, $17.28, Info
+ shoegaze
🪕 Bluegrass Monday w/ Missy Raines & Allegheny @ Dee's Lounge, 6p, $10, Info

💀 Grateful Monday @ Acme Feed & Seed, 8p, Free, Info

🕺 Motown Monday @ The 5 Spot, 9p, $5, Info

📰 Check out the full newsletter archive here.
YOU MAY ALSO LIKE