No. 477: By the numbers
⁂ Nashville's Alt-Daily ⁂ Numbers · Spreadsheets · Titans · Draft · State of Metro · Much More!
Good afternoon, everyone.
One little thought  popped up this weekend regarding a form of decision-making that seems to dominate political discourse today. I define spreadsheet governance as the reduction of every problem to numbers, which inevitably produces solutions in an attempt to achieve more desirable (or less undesirable) numbers. Spreadsheet governance tends to ignore the more human, spiritual dimension of politics.
I've commented on this phenomenon at some length since The Pamphleteer's inception.  Much of what we try to do here is find ways to engage problems without reducing people to data points; while data can be useful, it can often obscure more obvious issues. Bertrand Russell's observation that the "mark of a civilized human being is the ability to read a column of numbers and then weep" describes well how problems are addressed in the modern world.
One example of spreadsheet governance run amok are the famously documented Moneyball tactics of the MLB. The reliance on sabermetrics gave way to a one-dimensional sport now seeking rejuvenation through a series of rule changes designed to disrupt the ensuing sterility.
There are other arguments for why baseball has faltered, of course, but I don't think it's too much of an exaggeration to say that the sport's data-centric approach has contributed in no small part to its failure to engage fans. Players and teams are less dynamic.
You no longer see control pitchers like Greg Maddux, who famously completed a game in only 77 pitches. Nor do you see as many drag bunts, stolen bases, slap singles, or any number of small-ball scoring tactics that used to dominate the sport. Like the NBA and the proliferation of the three-pointer, the long ball reigns supreme as the most efficient way to pile up runs.
The rule changes instituted this year attempt to recreate the conditions for a more dynamic sport by upending some of the statistical dogmas haunting America's pastime. There's a lesson in there for how to rejuvenate American political discourse.
Today, Miles Harrington recaps the Titans' efforts at the NFL Draft last week, and Megan rounds up some news from the weekend, including a look at Mayor Cooper's last State of Metro Address.
Onward.
⧖⧗⧖ ENJOY THE PAMPHLETEER? ⧗⧖⧗
It is only because of your donations that we can remain ad-free. Help us grow our coverage, expand our reach, and explore a wider variety of topics.

✤ TITANS 2023 NFL DRAFT RECAP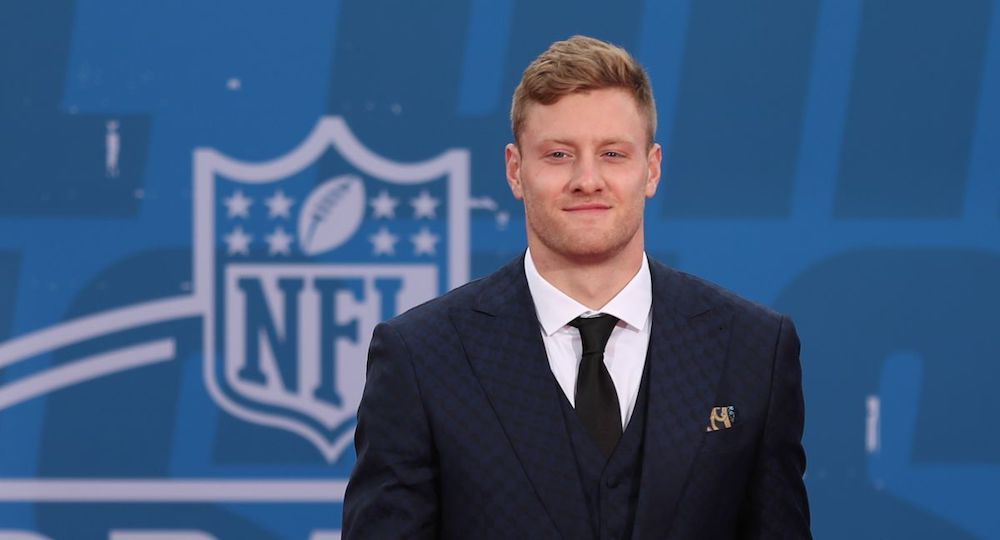 "Roll the dice and play the board."
Titans GM Ran Carthon uttered these words about a half dozen times as the media grilled him, along with head coach Mike Vrabel, on Friday night following two controversial picks in the second and third rounds. Erratic fans had a complete meltdown on social media in response to the team's decision to trade up for highly touted quarterback Will Levis, who many projected to be a top-five overall selection. This was followed by running back Tyjae Spears going to Tennessee with the 81st overall pick, with diehards screaming for Carthon's head because Wide Receiver was a more pressing need.
Let's slow down here and absorb the facts of the situation.
Continue reading...
MORE RECENTLY

⌘ WEEKEND ROUNDUP
It was originally expected that Governor Lee would call a special session on public safety directly following the adjournment of the General Assembly. Since then, however, the window has shifted to a much later date. The postponement seemed to follow the unanimous request from GOP politicians to release the Covenant shooter's manifesto.
Following last week's flurry of online appeals, the governor released a statement: "The. . . shooting was a tragedy beyond comprehension & Tennesseans need clarity," Lee posted on Thursday. "We've been in touch with the Nashville Police Department & today, Chief Drake assured me that documents & information regarding the shooter will be released to the public very soon."
As of this writing, the governor's office has backed off of any immediate call for a special session; instead, sources say, it will likely take place after July 4th, possibly even sometime in August.
REMEMBER, REMEMBER Around this time last year, unvaccinated members of the Tennessee National Guard were pleading with both the governor and the state legislature to call a special session in order to prevent the federal vax mandate from uprooting their livelihoods. Though the governor did send a letter to the Department of Defense in July of 2022 asking for the members' exemptions to be approved, a special session was never called to address the vaccination situation here in Tennessee.
STATE OF METRO "I was trying to think last night… of a funny analogy, basically, to this four-year term," Vice Mayor Jim Shulman said as he reflected upon Cooper's unpredictable tenure. "And the only one that kept popping in my mind was the episode from the I Love Lucy show where Lucy and Ethel went to work in the candy factory." (He's referring to "Job Switching," wherein the ladies tried to keep up with a high-speed candy assembly line to no avail.)
Indeed, Mayor Cooper's term did witness many unforeseen circumstances he often had trouble keeping up with, including the 2020 Tornado, the pandemic lockdowns, significant battles over the 34 percent property tax increase, a head-on collision with the state legislature over the Republican National Convention, an ongoing struggle over Metro Council's being sliced in half, and the recent tragedy at Covenant.
Next came the mayor's final State of Metro Address, during which he made a point to highlight the bright future he is convinced Nashville is set up for despite the adversity. "We have the strongest job market in the country, having just surpassed Austin, Texas for that title," he said. "Our unemployment rate is a mere 2.8 percent." He then mentioned that Austin homeowners, residents of another state with no income tax,  ". . . pay an effective rate 29 percent higher than in Nashville."
It is worth noting that Austin's median household income in 2021 was $86,530, which is about $18,000 higher than the 2021 median household income in Nashville.
Phil Cobucci, the founder and director of Inclusion Tennessee, and Vidalia Anne Gentry, drag artist and entertainer, were invited to say a few words after the mayor wrapped up his speech during the 60th annual address to the city.
"It should be no surprise to anyone in this room that the LGBTQIA+ community, and specifically our transgender community… have been at the brunt of attacks from our state legislature over the last year," Corbucci commiserated with the crowd. "And their [Republicans'] persistent attacks towards our community has been ongoing over the last decade, plus," said Cobucci as he called for Nashville's model of love, equity, and inclusion to spread throughout the state.
JONES FOR 52 Justin Jones officially submitted his petition to run for state representative in District 52 during this year's special election. So far, he is still the only Democratic candidate listed on the petition list; his only challenger is a Republican candidate named Laura Nelson, whose petition was issued on April 20th and verified on April 28th.
HEADLINES
Tennessee gained 62,000 taxpayers, $4.1B in personal income AGI in 2020 (Center Square) Tennessee saw 214,731 new taxpayers filing either a 1040 or W-2 that came from other states while it lost 152,716 for a net gain of more than 62,000 in new tax forms filed in 2021. Tennessee trailed just Florida, Texas, North Carolina, and South Carolina in gains.
Vivian Wilhoite launches mayoral bid (Post) Davidson County Property Assessor Vivian Wilhoite officially launched her bid for mayor on Friday, three weeks after she filed paperwork establishing a campaign. Wilhoite served two terms on the Metro Council and in 2016 was elected countywide as property assessor. She was reelected to that position in 2020.
Is Alive Hospice for Sale? (Banner) After founders and former leaders heard rumors of a sale to a for-profit company, they were rebuffed by the current CEO of the pioneering hospice.
DEVELOPMENT

THINGS TO DO
View our calendar for the week 🗓 here and our weekly film rundown 📽 here.
📅 Visit our On The Radar list to find upcoming events around Nashville.
🎧 On Spotify: Pamphleteer's Picks, a playlist of our favorite bands in town this week.
👨🏻‍🌾 Check out our Nashville farmer's market guide and our 2023 southern festival guide and 🎥 2023 movie guide.
TONIGHT
🎸 Sawyer Fredericks @ City Winery, 7:30p,$20+ Info
+ Americana singer-songwriter

🎷 Jazzy Monday @ Helen's Hot Chicken, 8p, $13, Info

💀 Grateful Monday @ Acme Feed & Seed, 8p, Free, Info

🕺 Motown Monday @ The 5 Spot, 9p, $5, Info

🎹 Jazz Jam @ The Villager, 11p, Free, Info

📰 Check out the full newsletter archive here.