No. 488: Something happened!
⁂ Nashville's Alt-Daily ⁂ Happenings · Texas Chainsaw · Metro Council · Manifesto · Much More!
Good morning, everyone.
As if to support the idea I presented yesterday that "nothing ever happens", the final Durham Report came in yesterday afternoon and revealed that, surprise, the whole Trump-Russia collusion ruse was just that. Of course, no one will be punished and no institutional reforms will take place. The FBI released a statement to this effect which amounted to "Won't happen again! We promise!"
What one would expect to happen here is that all involved in this hoax would be removed from their positions and see their credibility permanently ruined in the eyes of their peers. That's just not how things work now. The permanent bureaucratic state is here to ensure that nothing happens even when it's been proven that something did happen.
Today, Jerod talks about the sprawling Texas Chainsaw movie franchise and its role in shaping viewers' narratives around trauma, and Megan previews tonight's Metro Council meeting, looks at recent efforts to lobby for the release of the Covenant manifesto, and more.
Onward.
⧖⧗⧖ ENJOY THE PAMPHLETEER? ⧗⧖⧗
The Pamphleteer provides a home for those who don't feel served by media and leadership in the city and prioritizes citizens' concerns over those of outside interests.
Your support will help us chart a bold, new course for the city.

❏ Texas Chainsaw Massacre and the Trauma Industry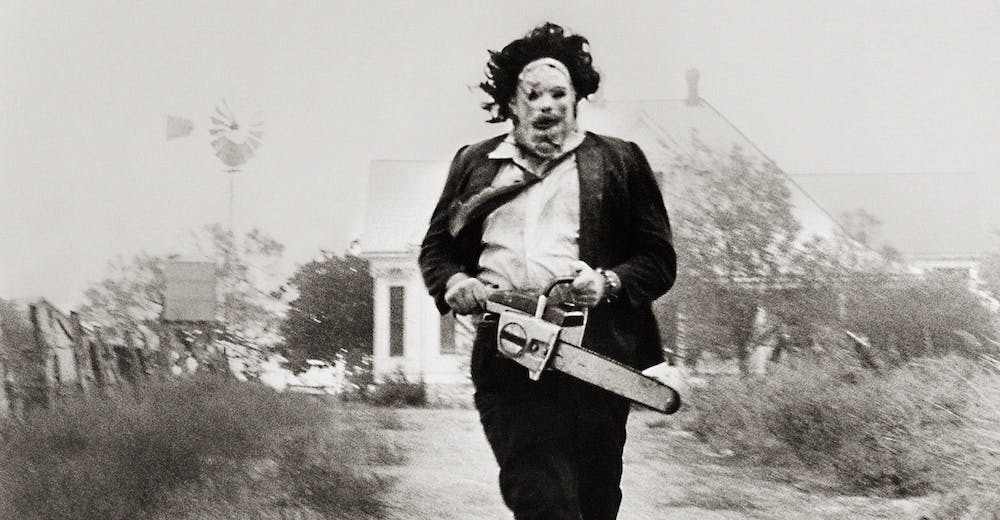 From Jerod Hollyfield
The original The Texas Chainsaw Massacre will celebrate its 50th anniversary in a little over a year. It may not have been the first slasher movie (Michael Powell's Peeping Tom or Alfred Hitchcock's Psycho took that crown in 1960). But it was the film that brought the genre's now cliches to the big screen for the first time: the final girl who fends off the monster, the group of teens who split up, the now-iconic killer who, against all odds and good taste, becomes the main draw for the obligatory onslaught of endless sequels and remakes. A half-century in, it remains a pioneering work and a master class in the horror of suggestion. Thanks to its near documentary aesthetic and on-location shooting in rural Texas, it also remains as terrifying as it ever was, its stark realism defending it against obsolete effects and outmoded performance styles.
Continue reading...
MORE RECENTLY

❍ TONIGHT AT METRO CITY COUNCIL
Tonight may be the night we hear the final word on Councilmember Parker's legislation to redefine the term family. Deferred for the umpteenth time last meeting, the bill is on its final reading once again. No new amendments have been added to the docket. As it stands, the legislation would increase the number of unrelated people who can live in a single "dwelling unit" from three to four-to-five depending on a household's square footage and number of bedrooms.
ZONING BILLS The Belle Meade Plaza zoning bill is also on final reading, this time with new amendments that, if passed, would add a slew of accommodations and amenities, such as free parking and easier access to WeGo busing. For a detailed rundown of the controversy surrounding the zoning changes sought by the developer, AJ Capital Partners, visit our recap of the last council meeting.
Likewise, a zoning plan aimed at developing farming property in Music Valley will be heard on third reading. If passed, the proposal would turn the farmland into a mixed-used "agritainment" vacation destination that includes a campground. The plan has been controversial due to its partial location in a floodplain. As promised, in an attempt to address other conservation concerns, bill sponsor Councilmember Syracuse has added an amendment requiring an archaeological study of the land pre-development in order to preserve any significant local artifacts.
✰ STATE GOP CALLS FOR MANIFESTO
Yesterday, sixty-six of the seventy-five Tennessee House Republicans signed and delivered a letter to MNPD Chief John Drake requesting the release of the Covenant manifesto. "If we hope to pass meaningful legislation that effectively deters this kind of targeted attack, we must have all the facts to make informed decisions," stated House Republican Caucus Chairman Jeremy Faison.
This formal request comes after the department's delay in fulfilling a similar request made by Governor Lee on April 27th, shortly after his special session announcement. At the time, the governor made it clear that Tennesseans deserved clarity and assured the public that MNPD would release more documents about information about the shooter. MNPD has since dragged its feet, chalking up the delay as a result of pending lawsuits.
RESISTANCE TO RELEASE In a motion filed on May 3rd, Metro's lawyers expressed concerns over the release of the manifesto, specifically the impact it may have on the Covenant community. According to the motion, "some parents from The Covenant School have informally indicated to the MNPD that they oppose the release of the shooter's writings. "  The statement was proven correct last Friday, when a group of parents associated with the Covenant School filed their own motion blocking the release of the manifesto "to protect its interests relating to the release of records sought in this matter." The chancery court is set to hear the motion this Thursday, May 18.
⌘ GOVERNOR CREATES ENERGY COUNCIL
Hot off the presses: this morning, Governor Lee signed an executive order creating a Tennessee Nuclear Energy Advisory Council. The council is set to help further the governor's goal of energy independence through nuclear innovation and investment.
"[This] will continue our work to make Tennessee the number one state for nuclear energy companies to invest and thrive, bringing greater opportunity and quality jobs for Tennesseans," the governor stated in today's press release.
HEADLINES
Metro Council At-Large Q&A: Burkley Allen (Scene) The latest Q&A with an at-large candidate is with Burkley Allen, who served two terms as a district councilmember for the Belmont-Hillsboro area before being elected countywide in 2019.
Tennessee Population Surpasses Seven Million Residents (Star) As of July 1, 2022, a total of 7,051,339 residents were living in the Volunteer State, up from 6,968,351 at the same time in 2021, the Census Bureau reports. This is the state's biggest population increase since 2007, according to the Tennessee State Data Center.
Lee to decide on Tennessee airports, teacher pay and sports gambling bills (Center Square) That legislation includes a change to the way the state's sportsbooks are taxed, how the Metropolitan Nashville Airport Authority board members are appointed, an increase in teacher pay in the state, lowering the airplane corporate fuel tax cap and a bill related to posting rules related to partisan primary Election Days.
Haslam to serve as national co-chair for Tim Scott's presidential bid (TNJ) Former Gov. Bill Haslam is slated to serve as national co-chair for U.S. Sen. Tim Scott's imminent presidential campaign, according to Politico reporter Natalie Allison.
DEVELOPMENT

THINGS TO DO
View our calendar for the week here and our weekly film rundown here.
📅 Visit our On The Radar list to find upcoming events around Nashville.
🎧 On Spotify: Pamphleteer's Picks, a playlist of our favorite bands in town this week.
👨🏻‍🌾 Check out our Nashville farmer's market guide and our 2023 southern festival guide and 🎥 2023 movie guide.
TONIGHT
🎻 Brahms's Clarinet Quintet @ Schermerhorn Symphony Center, 6p, Free, Info

🎸 Honky Tonk Tuesday @ American Legion Post 82, 5p, Free, Info‌‌‌‌‌‌‌‌‌‌‌‌‌‌‌‌‌‌
+ two-step lessons @ 7p, The Cowpokes @ 8p
🎺 Todd Day Wait @ The Underdog, 11:30p, Free, Info‌‌‌‌‌‌‌‌‌‌‌‌‌‌‌‌‌‌
+ Honky Tonk Tuesday afterparty, down the street

📰 Check out the full newsletter archive here.