No. 580: The Rump of History
📅 Today, Davis talks about Kevin McCarthy getting ousted, Tyler Hummel talks with David Payne whose one-man-show Churchill plays at TPAC this week, and Megan recaps last night's council meeting.
Good afternoon, everyone.
Grabbing history by the rump, Rep. Matt Gaetz successfully launched a "motion to vacate" against sitting House Speaker Kevin McCarthy yesterday. As a result, for the first time in US history, the sitting House Speaker has been stripped of the gavel.
The position is now temporarily occupied by Patrick McHenry, whose first order of business was to boot former speaker Nancy Pelosi out of her "hideaway office".
The only Tennessee House representative to vote in favor of the ouster was Rep. Tim Burchett (R-Knoxville), who gave a direct address on Twitter citing McCarthy's inability to corral government spending as one of the reasons he supported his removal.
In another address to a gaggle of reporters, Burchett cited a condescending remark McCarthy made to him regarding Burchett's praying over his decision. He noted that the comment "pretty much sealed it right there."
Interestingly, Rep. Andy Ogles, who originally sided with Gaetz & Co. in refusing to confirm McCarthy as speaker back in January, voted against the ouster, declaring that "vacating the Speaker would be premature and risk another bloated continuing resolution in November."
McCarthy has since announced that he does not intend to rerun for the position, leaving it open to a number of potential candidates including Steve Scalise, Tom Emmer, Kevin Hern, and Jim Jordan. Some even threw Trump's hat in the ring.
It all reeks of the theater. The historical factoid about this being the first successful vote to remove the sitting House Speaker reminds me in a way of the weirdly specific stats that sports networks will conjure to make a game feel special: "The Chiefs have won the past three games in which Patrick Mahomes ran for over 20 yards and passed for 50 yards within the first five minutes of the game."
Against the greater problems confronting the country and the general dysfunction of the GOP as a political party, this "historical moment" feels limp and meaningless. Will anything actually change as a result of this momentous historical footnote? Time will tell.
Onward.

❍ A LOOK AT DAVID PAYNE'S CHURCHILL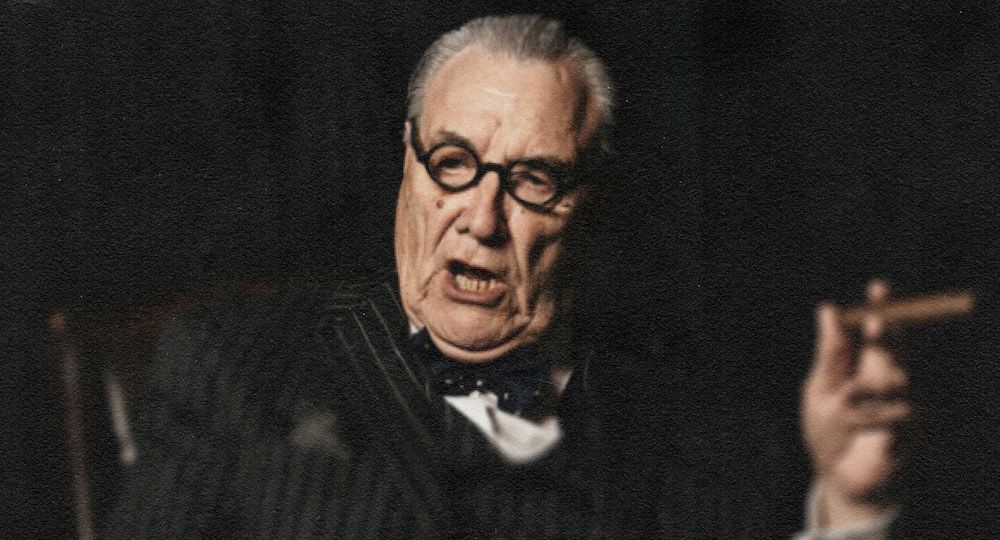 From Tyler Hummel
The figure of Winston Churchill looms large in the Western imagination—both in positive and negative ways. He is both the man who saved Britain during its darkest hour and a confrontational figure of world history—the man who defeated the Nazis and a controversial figure of scorn that latter-day historians enjoy righteously taking down as an imperialist, alleged racist, and enactor of repressive policies against India, Ireland, and Wales.
Regardless, Churchill's figure remains strong. He was one of the most powerful and influential leaders of the 20th century, a master orator, and a figure worthy of admiration. In just the past few years, several entertainment projects have explored his life, including the 2017 film The Darkest Hour and Netflix's The Crown.
The newest production that has emerged exploring the life of Churchill is a modest but popular one-man-play that is set to open this weekend in Nashville, created by a British actor who has spent the past two decades bringing famous figures in British history to life for the stage.
Continue reading...

❏ LAST NIGHT AT METRO COUNCIL
The 16th Metropolitan Council of Nashville and Davidson County held their first meeting last night. Of course, the meeting felt different from the many I've attended over the years: new faces, new personalities, and new council members on a learning curve that now make up half the roster.
Following the invocation, Mayor O'Connell made an appearance and gave a humble speech, encouraging the council and updating the body on the ongoing transition. He outlined his vision for a "customer service-based government," before elaborating on a few of the "fixes" he initiated on day one. "I look forward to what we can accomplish together in the next four years. I will stop short of saying, 'I wish I could join you for the whole meeting,'" he joked before exiting the chambers.
After the meeting commenced, some familiar patterns reestablished themselves: the gallery cheering section made their presence known, tech support began scrambling to fix the queue. The mundane hiccups were oddly comforting as the new council worked their way through their first agenda.
STATE SRO GRANT DEFERRED
"Saying no to this does not get rid of the SROs. Saying yes to it does not add SROs," explained Councilmember Johnston as she spoke out against deferring the vote on a $3.4 million SRO grant to help cover the cost of SRO officers in public schools.
Many in the body simply wanted time to consider other options. That being said, there's a legitimate argument to be made against the council's scrutiny of this particular piece of legislation, considering they pushed through over $3 million in other grant funds. Johnston followed the logic:
What I want to make clear is that this funding is to pay for SROs that are already there. So, saying no to this funding just puts the entire financial burden on Metro taxpayers… There are going to be two SROs in every high school and one SRO in every middle school no matter what, it's who's going to pay for it.
After some back and forth, it was clarified that a one-meeting deferral would not impact the grant's deadline. With that, the body voted to defer the vote to October 17th and refer the resolution back to the Public Health and Safety Committee.
ANNOUNCEMENTS
CM Benedict announced the Nashville Tree Foundation's Tree Adopt-a-thon, which kicks off this Saturday, October 7th. You'll be able to pick up free saplings at various farmer's markets and city community events until November 5th.
Multiple council members wanted to remind their constituents of community cleanup events going on in their areas. If you'd like to find out about one going on in your area, reach out to your district's CM for more information.

HEADLINES
Rep. Justin Jones sues Tennesssee House Speaker over expulsion and silencing rules (Lookout) In the lawsuit, Jones, D-Nashville, said his removal from the Tennessee House earlier this year violated his right to a fair trial and unfairly stripped him of committee assignments. He also alleges rules passed to silence House members during the August special legislative session violated his right to free speech.
Nashville government will bring violence interruption program in-house with $2M dollar DOJ grant (WPLN) The money will fund a three-year program within the city government. The Office of Community Safety will hire and train community members with lived experiences of violence to help quell conflicts before they escalate.
Democrat Gloria Johnson says she has raised $1.3M for her U.S. Senate bid (TNJ) Johnson, who was one of three Democratic lawmakers targeted for expulsion from the state House for mounting a gun protest from the well of the chamber (she avoided the ouster by a single vote), wants to challenge U.S. Sen. Marsha Blackburn (R-Brentwood) next year.
DEVELOPMENT

THINGS TO DO
View our calendar for the week here and our weekly film rundown here.
📅 Visit our On The Radar list to find upcoming events around Nashville.
🎧 On Spotify: Pamphleteer's Picks, a playlist of our favorite bands in town this week.
👨🏻‍🌾 Check out our Nashville farmer's market guide and our 2023 southern festival guide and 🎥 2023 movie guide.
TONIGHT
🎸 Molly Burch @ The Basement, 7p, $18, Info
+ indie-pop crooner

🎸 Sterling Drake @ Station Inn, 8p, $15, Info
+ country & roots

🎸 Noah Kahan @ Ascend Amphitheater, 8p, Info

🎸 Wilderado @ The Basement East, 8p, $25, Info
+ indie-folk

🪕 Bluegrass Night @ The American Legion Post 82, 7p, Free, Info

📰 Check out the full newsletter archive here.
YOU MAY ALSO LIKE